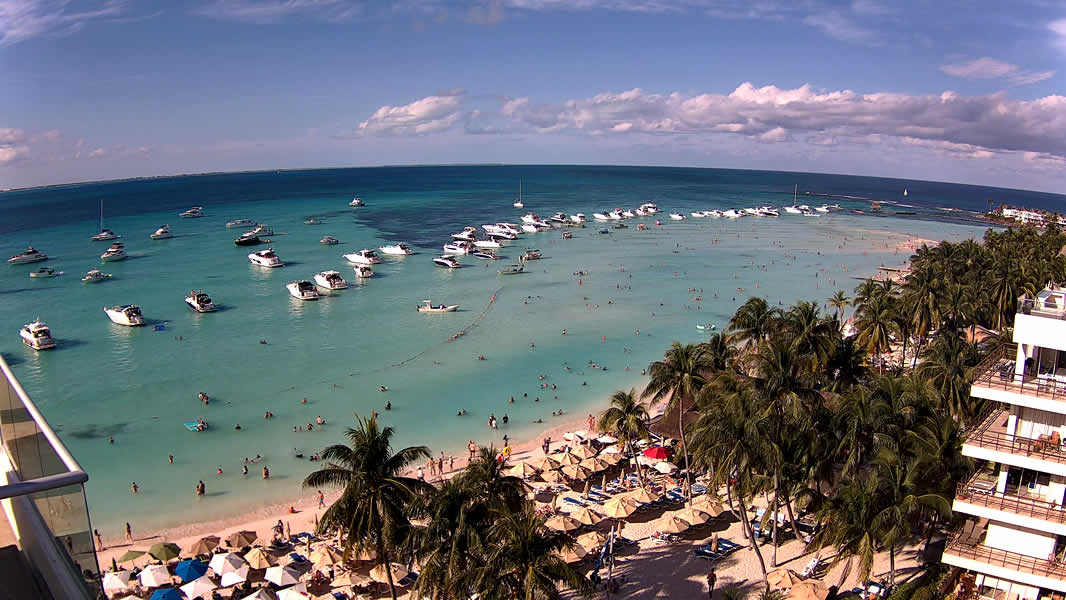 This is the live webcam at North Beach / Playa Norte.
~~~~~~~~~~~~~~~~~~~~~~~~~~~~~
News from the Municipal Facebook site.....

( FB page link)
Carnaval began last night with the coronation of the Kings & Queens
~~~~~~~~~~~~~~~~~~~~~~~~~~~~~
FB News Sites about Isla Mujeres
Tvisla Mujeres
Second day of work stoppages on high school campuses
(
Students on the island were off school for Carnaval on Friday and return Wednesday.
)
The state leader of the Union of Workers of the Colegios Bachilleres of the State of Quintana Roo (SITACOBAQROO), Gabriel Sulú Martínez, said the work stoppage that began on Thursday and continued today, Friday, at the national level, is to protest of the budget cuts for high schools. The Quintana Roo budget was reduced by approximately 78 million pesos. LINK VIDEO
Isla Mujeres Al Dia
Video
from Town Square, waiting for Carnaval to begin
Noti Isla Mujeres
Video
of leader of state teachers union in front of Colegio Bachilleres
IM Noticias
Fidel Trejo Gamboa, Isla Mujeres fisherman, passed away on his 85th birthday, Feb. 28th. Condolences to his family and friends.
Video
of teacher's union leader for the state of Quintana Roo in front of Colegio Bachilleres
The first round of the basketball tournament playoffs was played in Merida last weekend, when the Cahuameros lost both games by scores of 115 to 86 and 102 to 87. This weekend they will play Universidead Modelo again in Isla Mujeres (
see events section below
). To remain in the competition the Isla Mujeres team must win both games or if they only win one, they need an advantage of more than 15 points after the completion of the four games.
Video
of the presentation of the Kings & Queens of Carnaval, with kings and queens from 2018 also.
~~~~~~~~~~~~~~~~~~~~~~~~~~~~~
Link to Por Esto's Isla Mujeres section
Click on Spanish headline for the original article & photos
Security for Carnaval
Security is increased during Carnaval to ensure the safety of the thousands of visitors and residents who will be enjoying the festivities, with coordination between municipal police and other agencies. The police chief said there will be a breathalyzer operation on the edge of town. He advised the citizenry to use moderation in their consumption of alcohol, and if they drink, to avoid driving.
He said Rueda Medina will be closed for the parades on Sunday and Monday, with both beginning at 3p, and encouraged people to remember to call 911 in an emergency. (
It is faster to call directly, the Red Cross is 877 0280 and the police are 998 999 0051
)
Planning to have 27,000 rooms in the municipality
The Director of Tourism, Jose Castillo, said the exponential growth of hotels has begun in the Continental Zone near Punta Sam and Isla Blanca, and by the end of this year 5000 more will be available, for a total of 12,000. He said according to the master plan for municipal development, a total of 27,000 rooms are projected for the next 15 years. There are currently more than 7000 rooms available on the mainland and more than 1000 on the island.
He said the municipality is going through one of its best times in tourism, with occupancy levels over 75 percent during this winter period. He said there have been some adverse factors including a reduction in US tourism and the exponential growth of vacation rentals, however these problems haven't lowered the occupancy rate of the entire municipality, because officials and hoteliers have sought alternatives.
He said,
"In the case of American tourism, the fall was offset by the growth of emerging markets such as the South Americans and Europeans, but above all, by domestic tourism, which represents more than 80 percent of the tourists received by the island throughout the year."
"We're working under protest" at the high school
The work stoppages by the teachers unions are intended to get the attention of President Obrador because they want him to reconsider the budget for the 2018-2019 school year, which has cut jobs and caused a reduction of 78 million pesos in Quintana Roo
for operating expenses, infrastructure, and benefits such as seniority payments and bonuses. The union president said they are working under protest due to the reduced budgets for high schools.
Isla Mujeres news briefs
The police are conducting crime prevention talks in the school. There is an announcement about the Cahuameros games this weekend.
Most of the students were off school on Friday and will return on Wednesday, and the teachers had a Technical Council meeting on Friday. Most of the City offices are closed, but staff of the police and Civil Protection are working. There will be a security guard on duty at the Revenue Office.
This blog is brought to you by....
View from the rooms.
MaraVilla Caribe
Bed & Beach
Three rentals with large glass doors overlooking our white sand beach and the beautiful Caribbean sea, with kitchenettes &

fast WIFI.
In the coastal neighborhood of Bachilleres, among upscale villas & boutique hotelitos, convenient to downtown or the colonias, yet separate.

Quiet & Private.
Kitchen in a large studio. (Sur & Norte are identical)



Kitchenette in small room, Medio. There's a table & chairs across from it & a double bed.
A large slider opens from each of the 3 rooms onto the patio where each has a table & chairs, hammock & clotheslines. The BBQ is behind the pole, and the outdoor shower is outa the pic at left.
Large studio (Norte), I'm standing in the kitchen. A queen & single bed.
Free amenities such as hammocks,bikes, BBQ grills, safes, portable beach chairs & beach towels, washer & dryer, loungers.

Breathtaking panoramic views from the rooftop terrace. Large sliding doors open to a patio & our backyard-beach, overlooking the Caribbean sea. Upstairs room also available.

Downtown is ~ a mile away; if you don't feel like walking, flag a $2 taxi. Parking.

You can enjoy the music & crowds downtown, then come home our quiet neighborhood of Bachilleres where you'll

sleep to the sounds of the sea.

.

$275/$325/$425 wk $40/50/$65nt Monthly Discounts


Large studio (Sur) with Queen & Single bed. Slider door & view are behind me.




Fine dining a few steps away at Da Luisa or try the neighborhood eateries a couple blocks farther. Within ten minutes walk are a variety of restaurants including Mango Cafe, Brisas, Manolitos, La Chatita, Green Verde, Kash Kechen Chuc, and the large department store-grocery , Chedraui. Visit marinas, bars, & beach clubs that are minutes away by bike or on foot. Attend Yoga classes a couple villas away at hotelito Casa Ixchel. Fresh juice, produce & tortillas a few blocks away in the village, as well as a variety of other stores and small local restaurants. It takes 20-30 minutes to walk downtown.
```````````````````````````````````````````````````````````````````````
March 20 6:51
March 21 7:54
March 22 8:55
March 23 9:55
March 24 10:53
March 25 11:50
Painting by Pamela Haase
Sunset
~6:50-7
Sunrise ~7:05-6:40
Plogging events to clean up the island are held on Saturday mornings 8-11, meetup locations at this LINK . Volunteers welcome! Here's the Accion Isla LINK
Saturday, March 2 at 8p and Sunday, March 3 at noon
at the Convention Center: Basketball Playoffs
On the first Monday of each month, there is usually a civic ceremony in the morning, often on the Town Square.
Fishermen in this region are banned from catching Lobster, Grouper and Octopus in March.
Lobsters kept in captivity continue to be available, along with frozen tails.
LINK
Friday, March 1st Noche de Gala/Gala Night
Coronation of the Kings & Queens in all categories
Presentation of dance troupes
Dance to live music byYerbabuena
Town Square 8:30p
Saturday, March 2 Noche Cubana/Cuban Night
Presentation of dance troupes
Dance to live music by Grupo Junior Klan
Town Square 8:30p
Sunday, March 3 Carnaval Parade-Fantasy
Contest of Decorated Floats/Carts
Procession is on Rueda Medina from the Naval base to the Fishermen's Monument at the Traffic Circle
Show by DJ's
Playa Centro 3p
Afternoon of Fantasy
Bouncy houses, Children's Costume contest, dance troupe performances and show for kids
Town Square 5p
Night of Fantasy
Presentation of the Queen of Diversity, Performances by dance troupes, Performance by Silvanna Show
Town Square 8:30p
T
he parades are Sunday & Monday at 3p from the Naval Base to the Monument to the Fishermen, so Rueda Medina will be closed. Although the map doesn't show it, traffic is usually detoured down Juarez & the section of Hidalgo that is south of the Square (which usually affects where parking is allowed on Juarez, temporarily.)
It says...Due to celebrations for Carnaval 2019 in Isla Mujeres, March 1-5, there will partial, temporary road closures for the performances of the dance troupes.
On March 3 & 4, Rueda Medina will be closed during the parade. Please plan ahead, and thank you for your understanding
.
Monday, March 4-Carnaval Parade-Regional & Comedy
Contest of Decorated Floats/Carts
Procession is on Rueda Medina from the Naval Base to the Fishermen's Monument at the traffic circle.
Show by DJ's
Playa Centro 3p
Comedy & Regional Night
Costume Contest for Adults
Presentation of Dance Troupes
Comedy by Macta
Town Square 8:30p
Tuesday, March 5-Fat Tuesday
Show by DJ's
Playa Centro 3p
Tuesday Night of Carnaval (Fat Tuesday)
Presentation of Dance Troupes, The Will & Burning of Juan Carnaval
Dance to live music by Caribbean Kings
Town Square 8:30p
On March 5th, there is usually a ceremony commemorating the arrival of Francisco Hernandez Cordoba
in 1517, who is credited with discovering the Yucatan and what is now Mexico, after landing on Isla Mujeres. The expedition of 110 men and 3 boats sailed from Cuba and and sailed around the coast, battling with the Maya, until all but one were injured, and over 50 had died.
Friday, March 8 International Women's Day
Monday, March 18
is a day off for the birthday of Benito Juarez, which is on March 21st.
Tuesday, March 19 is Dia de San Jose
which may be celebrated with a dance on the Town Square
Wednesday, March 20 is Spring Equinox
Sources for Weather Information:
LINK
to Civil Protection Q Roo weather bulletin (Spanish)
LINK
to Mexico National Weather Service (Spanish)
LINK
to satellite images for the Mexico National Weather Service
LINK
to GOES East Band 16 GIF (animation)
LINK
to a private weather station on Isla Mujeres