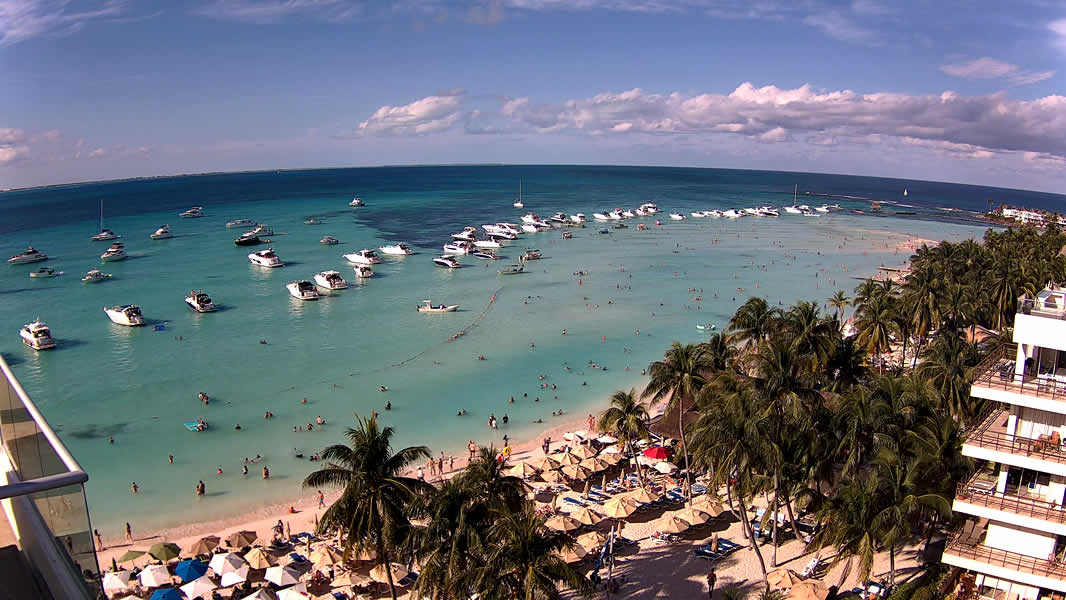 This is the live webcam at North Beach / Playa Norte.
Follow Isla Mujeres News & Events on Facebook for highlights of news & events, and more photos & videos
~~~~~~~~~~~~~~~~~~~~~~~~~~~~~~~~~~~~~~~~~
~~~~~~~~~~~~~~~~~~~~~~~~~~~~~
News from the Municipal Facebook site.....

( FB page link)
From the Cultura Isla Mujeres FB page
Wear your helmet
Free pet sterilization on Tuesdays
~~~~~~~~~~~~~~~~~~~~~~~~~~~~~
FB News Sites about Isla Mujeres
Tvisla Mujeres
Tickets on sale for Sonora Dinamita
VIDEO
Lobster ban begins March 1st
LINK
Isla Mujeres Al Dia
The municipal police department is encouraging crime victims to file complaints with the FIscalia
(formerly the Ministerio Publico), because otherwise the alleged criminal can only be held for 36 hours. Complaints must be filed for serious crimes like theft and attempted homicide.
Those arrested for misdemeanor offenses such as being drunk & disorderly or urinating in public are taken before the Judge Calificador within 36 hours, and given their liberty when their requirements are completed.(article and photo)
Property tax discount program concluded successfully
The discount was 25% in the first half of December and 20% for the second half, and then 15% until the end of February. (article & photos)
Awards were given for the top three teams in the municipal volleyball league
"Fidel Villanueva Madrid" in male and female categories, after the final game between the Panthers and Marlins. In the female category, the Panthers took first and in the male category the winners were the "Rickys Love" team. (article & photo)
Lobster ban has begun
VIDEO
Noti Isla Mujeres
Sunrise
video
Video:
The soccer field in colonia Caribeña has entered its second stage of rehabilitation
and should be ready for the soccer players within 15 days.
IM Noticias
Successful 2018-2019 lobster season
The president of the Federation of Fishing Cooperative of the state of Quintana Roo, Baltazar Gomez Catzin, said that nearly 100 tons of lobster were caught during the 2018-2019 lobster season. The five fishing cooperatives of Isla Mujeres are
"Caribe", "Por la Justicia Social", "Isla Blanca", "Patria y Progreso" and"Laguna Makáx". Together they caught
80 tons of live lobster, 7 tons of whole dead lobster, and 10 tons of tails.
They are banned from catching lobster during the next four months, until the season resumes July 1st. Grouper and octopus are also under ban this month. (Photos & article)
Students began an extended puente (long weekend) vacation at the end of the school day yesterday
(Thursday), and they will return to classes on Wednesday, when Carnaval is over. On Friday, the teachers will participate in the Technical Counsel. City workers will also take a break during Carnaval when their offices will be closed, except personnel with Civil Protection and the Police Department.
The state Revenue Collection office
(Recaudación de Rentas) will be closed on Saturday and Sunday, on Monday there will be security personnel 8a-1p, and they will be closed on Tuesday. State and Federal offices will close at end of day on Friday and reopen on Wednesday. (photos & article)
Thursday, February 28th is the deadline to renew liquor licenses for alcohol sold by the container or by the drink. The previous week, Jesus Contreras Gomez, director of the state Revenue Collection office had said only 200 establishments had taken advantage of the discounts they are eligible for, out of a total of 500 businesses. (photos & article)
Seamen who provide tours and other services in the National Marine Park are offering to contribute so that surveillance by authorities will resume in the area of El Farito and Manchones. (article and photos)
~~~~~~~~~~~~~~~~~~~~~~~~~~~~~
Link to Por Esto's Isla Mujeres section
Click on Spanish headline for the original article & photos
Good hotel occupancy at end of February
At the end of February, overall occupancy in Isla Mujeres, on the mainland and the island, was 77.68%. The highest rates occurred on the mainland, peaking on Sunday with 85%. On the island, the best day was the 23rd, with 78% and the slowest was Feb. 19 with 72%. Hoteliers expect March to be a good month, according to their reservations, and they expect to be full during the Easter holidays.
Entrepreneurs were also pleased with the recent TripAdvisor Travelers Awards for 2019 with North Beach as #9 in the top beaches worldwide. (And voted #1 beach in Mexico!)
Insufficient fuel to monitor National Parks
Isla Mujeres news briefs
On Thursday, a gate was being installed at the Middle School, Benito Juarez. The work was donated by a construction company, which is appreciated. Also on Thursday, the garbage container was inaugurated, which will facilitate concentration of trash.
High incidence of decompression
When the eight-month lobster catching season closed on February 28th, there had been 74 cases of fishermen who required treatment for decompression, with one death. The last two cases occurred on Wednesday, and were successfully treated, with one being mild and the other was moderate.

~~~~~~~~~~~~~~~~~~~~~~~~~~~~~
This blog is brought to you by....
View from the rooms.
MaraVilla Caribe
Bed & Beach
Three rentals with large glass doors overlooking our white sand beach and the beautiful Caribbean sea, with kitchenettes &

fast WIFI.
In the coastal neighborhood of Bachilleres, among upscale villas & boutique hotelitos, convenient to downtown or the colonias, yet separate.

Quiet & Private.
Kitchen in a large studio. (Sur & Norte are identical)



Kitchenette in small room, Medio. There's a table & chairs across from it & a double bed.
A large slider opens from each of the 3 rooms onto the patio where each has a table & chairs, hammock & clotheslines. The BBQ is behind the pole, and the outdoor shower is outa the pic at left.
Large studio (Norte), I'm standing in the kitchen. A queen & single bed.
Free amenities such as hammocks,bikes, BBQ grills, safes, portable beach chairs & beach towels, washer & dryer, loungers.

Breathtaking panoramic views from the rooftop terrace. Large sliding doors open to a patio & our backyard-beach, overlooking the Caribbean sea. Upstairs room also available.

Downtown is ~ a mile away; if you don't feel like walking, flag a $2 taxi. Parking.

You can enjoy the music & crowds downtown, then come home our quiet neighborhood of Bachilleres where you'll

sleep to the sounds of the sea.

.

$275/$325/$425 wk $40/50/$65nt Monthly Discounts


Large studio (Sur) with Queen & Single bed. Slider door & view are behind me.




Fine dining a few steps away at Da Luisa or try the neighborhood eateries a couple blocks farther. Within ten minutes walk are a variety of restaurants including Mango Cafe, Brisas, Manolitos, La Chatita, Green Verde, Kash Kechen Chuc, and the large department store-grocery , Chedraui. Visit marinas, bars, & beach clubs that are minutes away by bike or on foot. Attend Yoga classes a couple villas away at hotelito Casa Ixchel. Fresh juice, produce & tortillas a few blocks away in the village, as well as a variety of other stores and small local restaurants. It takes 20-30 minutes to walk downtown.
```````````````````````````````````````````````````````````````````````
Full moon rising over the Caribbean
March 20 6:51
March 21 7:54
March22 8:55
March 23 9:55
March 24 10:53
March 25 11:50
Painting by Pamela Haase
Sunset
~6:50-7
Sunrise ~7:05-6:40
Provided by MaraVilla Caribe & Isla Mujeres Daily News & Events
Plogging events to clean up the island are held on Saturday mornings, meetup locations at this LINK . Volunteers welcome! Here's the Accion Isla LINK
On the first Monday of each month, there is usually a civic ceremony in the morning, often on the Town Square.
Fishermen in this region are banned from catching Lobster, Grouper and Octopus in March.
Lobsters kept in captivity continue to be available, along with frozen tails.
LINK
Friday, March 1st Noche de Gala/Gala Night
Coronation of the Kings & Queens in all categories
Presentation of dance troupes
Dance to live music byYerbabuena
Town Square 8:30p
Saturday, March 2 Noche Cubana/Cuban Night
Presentation of dance troupes
Dance to live music by Grupo Junior Klan
Town Square 8:30p
Sunday, March 3 Carnaval Parade-Fantasy
Contest of Decorated Floats/Carts
Procession is on Rueda Medina from the Naval base to the Fishermen's Monument at the Traffic Circle
Show by DJ's
Playa Centro 3p
Afternoon of Fantasy
Bouncy houses, Children's Costume contest, dance troupe performances and show for kids
Town Square 5p
Night of Fantasy
Presentation of the Queen of Diversity, Performances by dance troupes, Performance by Silvanna Show
Town Square 8:30p
Monday, March 4-Carnaval Parade-Regional & Comedy
Contest of Decorated Floats/Carts
Procession is on Rueda Medina from the Naval Base to the Fishermen's Monument at the traffic circle.
Show by DJ's
Playa Centro 3p
Comedy & Regional Night
Costume Contest for Adults
Presentation of Dance Troupes
Comedy by Macta
Town Square 8:30p
Tuesday, March 5-Fat Tuesday
Show by DJ's
Playa Centro 3p
Tuesday Night of Carnaval (Fat Tuesday)
Presentation of Dance Troupes, The Will & Burning of Juan Carnaval
Dance to live music by Caribbean Kings
Town Square 8:30p
On March 5th, there is usually a ceremony commemorating the arrival of Francisco Hernandez Cordoba
in 1517, who is credited with discovering the Yucatan and what is now Mexico, after landing on Isla Mujeres. The expedition of 110 men and 3 boats sailed from Cuba and and sailed around the coast, battling with the Maya, until all but one were injured, and over 50 had died.
Friday, March 8 International Women's Day
Monday, March 18
is a day off for the birthday of Benito Juarez, which is on March 21st.
Tuesday, March 19 is Dia de San Jose
which may be celebrated with a dance on the Town Square
Wednesday, March 20 is Spring Equinox
Sources for Weather Information:
LINK
to Civil Protection Q Roo weather bulletin (Spanish)
LINK
to Mexico National Weather Service (Spanish)
LINK
to satellite images for the Mexico National Weather Service
LINK
to GOES East Band 16 GIF (animation)
LINK
to a private weather station on Isla Mujeres