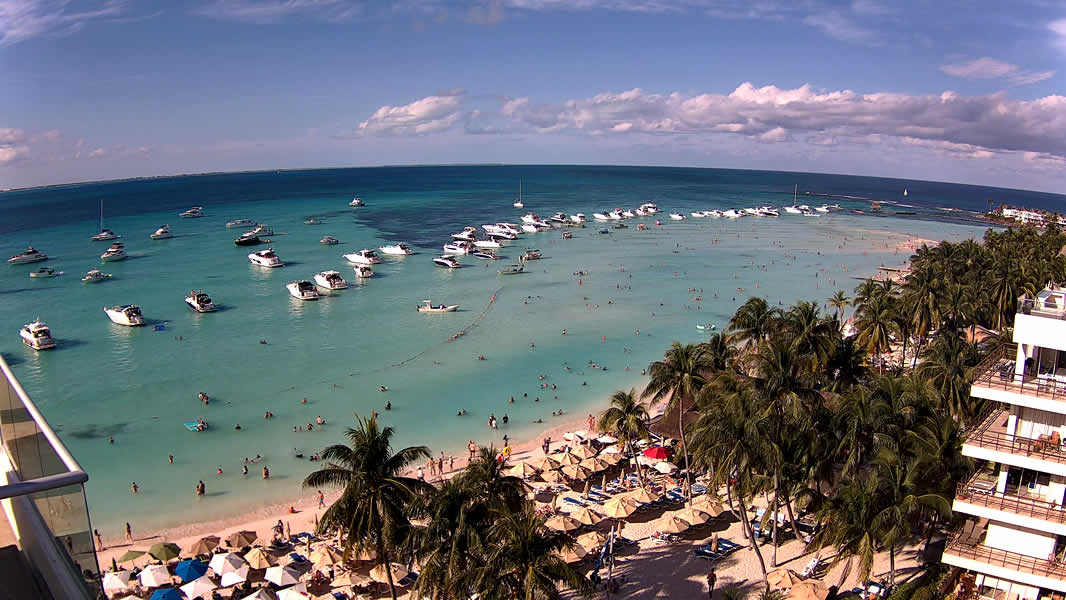 This is the live webcam at North Beach / Playa Norte.
~~~~~~~~~~~~~~~~~~~~~~~~~~~~~
News from the Municipal Facebook site.....

( FB page link)
JUAN CARRILLO NAMED CHAIRMAN OF THE COMMITTEE ON CLIMATE CHANGE AND SUSTAINABILITY. LINK (I'll translate this in the next edition)
A reminder about junk pickup on Tuesdays and Thursdays 11a-2p
There is a reminder to participate in the Altar competitions
and to register before the deadline on Oct. 24. There are cash prizes in the Public category. (see Events section below)
~~~~~~~~~~~~~~~~~~~~~~~~~~~~~
FB News Sites about Isla Mujeres
Tvisla Mujeres
The newly appointed
Director of Social Development will seek to resume programs
LINK
(I'll translate this for the next edition)
Successful breakfast benefit for islander with breast cancer
LINK
(
I'll translate this for the next editio
n)
Public audience with the Governor
Isla Mujeres Al Dia
Merchants at the mercado in colonia Canotal complain about recent robberies.
There is a police casita (booth) there, which they want manned 24 hours, because they say it is closed and not being used.
VIDEO

Lucero Araiza is looking for his father, Mr. Arturo Alejandro Araiza Moreno aka
"Ardilla". The last time he was seen was on Isla Mujeres, where he used to sing on the streets. (reports to the inbox of Isla Mujeres al Dia)
Resident reports to media that "signs need maintenance"
(photos of street signs that are leaning)
A request for financial donations for
Merly Che Celis, 34, who was diagnosed with breast cancer a month ago and she lacks health insurance and is facing expensive treatments. (The funds from the Por Siempre Viva benefit breakfast were dedicated to this.) Part of her expenses include a vaccine that costs 40,000 pesos or about $2200usd . She will need four chemotherapy treatments, surgery, and then a year of treatment.
Notice and photo about a taxista returning a forgotten wallet.
Photos and caption about cabbies cleaning the beach of sargasso on Saturday morning
VIDEO of checkpoint of Traffic police for review of documents of residents to ensure they have a current driver's license and current license plates & registration
Photos and article about the City providing services to senior citizens
(
I'll translate this in the next edition
)
Noti Isla Mujeres
IM Noticias
~~~~~~~~~~~~~~~~~~~~~~~~~~~~~
Link to Por Esto's Isla Mujeres section
Click on Spanish headline for the original article & photos
Complaints about Aguakan
(
I'll translate this in the next edition
)
Group conducting clinic to assist island diabetics
On Nov. 7th, a civil association consisting of a group of volunteers will provide assistance for islanders who suffer from diabetes and lack the resources to address this. The clinic, which is sponsored by the Pro-Diabetic Patient Club A.C., is scheduled to begin at 9am. The organization is working in coordination with the DIF social service agency.
The event will take place at the CAVI (Support Center for Victims of Domestic Violence), and will include blood testing, diabetic education, and nutritional counseling, as well as the distribution of glucometers, strips, and lancets to residents with diabetes. The announcement for the event says:
"We will teach you how to use the equipment so that you can manage your diabetes better.
If you have a glucose meter that you are using, bring it to the clinic and if you've run out of strips, we can restock them for you."
Karen Rosenberg, event organizer, explained that this clinic is completely free and is financed by the generosity of people who visit and live on this beautiful island, and she encouraged residents to inform their family, friends, neighbors, and co-workers about the clinic. Geovanny Avalos is one of the local residents behind this event and this nonprofit organization, which has been working with families for some time and was created to serve the people of Isla Mujeres.
This civil organization, and its volunteers, are working with great purpose to provide this opportunity for those with limited resources, as well as offering preventive measures against this disease, which affects young people and adults.
Not all homes are connected to the wastewater network
(I'll translate this in the next edition)
Cockteleros: Baseball champions
Cockteleros: campeones en beisbal
~~~~~~~~~~~~~~~~~~~~~~~~~~~~~
It's been 13 years since Hurricane Wilma, but I don't have time right now to publish an article about it. Here's a photo of Rueda Medina, main street, afterward. The island suffered considerable damage, and was without water and electricity, but recovered in an impressively short time and was ready to receive tourists. However, Cancun and the region in general took much longer to recover, and the media were advising tourists not to come to the area.
This blog is brought to you by....
View from the rooms.
MaraVilla Caribe
Bed & Beach
Three rentals with large glass doors overlooking our white sand beach and the beautiful Caribbean sea, with kitchenettes &
free WIFI.
In the coastal neighborhood of Bachilleres, among upscale villas & boutique hotelitos, convenient to downtown or the colonias, yet separate.

Quiet & Private.
Kitchen in a large studio. (Sur & Norte are identical)



Kitchenette in small room, Medio. There's a table & chairs across from it & a double bed.
A large slider opens from each of the 3 rooms onto the patio where each has a table & chairs, hammock & clotheslines. The BBQ is behind the pole, and the outdoor shower is outa the pic at left.
Large studio (Norte), I'm standing in the kitchen. A queen & single bed.
Free amenities such as hammocks, BBQ grills, outdoor shower, portable beach chairs & beach towels, washer & dryer, loungers.

Breathtaking panoramic views from the rooftop terrace. Large sliding doors open to a patio & our backyard-beach, overlooking the Caribbean sea. Upstairs room also available.

Downtown is ~ a mile away; if you don't feel like walking, flag a $2 taxi. Parking.

You can enjoy the music & crowds downtown, then come home our quiet neighborhood of Bachilleres where you'll

sleep to the sounds of the sea.

.

$275/$325/$425 wk $40/50/$65nt Monthly Discounts


Large studio (Sur) with Queen & Single bed. Slider door & view are behind me.




Fine dining a few steps away at Da Luisa or try the neighborhood eateries a couple blocks farther. Within ten minutes walk are a variety of restaurants including Mango Cafe, Brisas, Manolitos, La Chatita, Green Verde, Kash Kechen Chuc, and the large department store-grocery , Chedraui. Visit marinas, bars, & beach clubs that are minutes away by bike or on foot. Attend Yoga classes a couple villas away at hotelito Casa Ixchel. Fresh juice, produce & tortillas a few blocks away in the village, as well as a variety of other stores and small local restaurants. It takes 20-30 minutes to walk downtown.
```````````````````````````````````````````````````````````````````````
Oct. 24 6:39
Oct. 25 7:21
Oct. 26 8:07
Oct. 27 8:58
Oct. 28 9:52
Oct. 29 10:51
Oct. 30 11:52
Painting by Pamela Haase
Sunset ~6:30 to ~6:10p (beginning vs end of month)
Sunrise ~6:40
Plogging events to clean up the island are held on Saturdays
LINK
and here's the
Accion Isla LINK
who are having events associated with project RESCATE.
Monday, Oct. 1 Lighting of the pink lights at the Town Square for Breast Cancer Awareness Month at 8:30 pm
Saturday, Oct. 6 Plogging Clean-up Event. Location TBA
Sunday, Oct. 7 All Star Baseball game 11a at El Pescador stadium (in front of Chedraui).
Monday,
Oct. 8: 43nd Anniversary of the Free & Sovereign State of Quintana Roo
Tuesday, Oct. 9 Day of Fishermen
Wednesday, Oct. 10 Tournament Finale for the municipal inter-company Futbol Rapido/Fast Soccer competition and the stadium in Salina Chica. The game for 3rd place is at 8 between the "Taxistas" and the "Dolphin Discover" teams, and the contest for 1st & 2nd starts at 9p between "Bepensa" and "Garrafon".
Thursday, Oct. 11 Performances on the Town Square 6p-9p by students as part of the celebrations of the 60th anniversary of the middle school, "Benito Juarez"
Friday, Oct. 12 Student race from 7a-8a from the middle school "Benito Juarez" to Playa Centro beach, where there will be activities and music until 1:30 as the finale for the
celebrations of the 60th anniversary of the middle school, "Benito Juarez"
Friday, Oct. 12 Dia de la Raza
Saturday, Oct. 13 Plogging Clean-up Event. Location TBA
Friday, Oct. 19
Guitarists performing at the Casa de la Cultura at 7pm
Saturday, Oct. 20 Plogging Clean-up Event. Location TBA
Saturday, Oct. 20 at 8pm and Sunday, Oct. 21 at noon at the Convention Center: Isla Mujeres Cahuameros VS Escuela Modelo (a Merida University team). Grand inaugural game of the season!
Sunday, Oct. 21, starting at 7am at Playa Centro, the Pink Race. 1km, 5km, and 10km.
Funds will be used to help women obtain testing for timely detection of breast cancer.
Sunday, Oct. 21 Anniversary of the birth of Ramon Bravo
Friday, Oct. 26
Festival of the Living for the Dead, Hanal Pixan Altar Competition on the Town Square in 2 categories: Hoteliers & Merchants, and the General Public, with cash prizes for the latter and recognition for the former. At 8p with two dance troupes performing..2 categories: Merchants & Hoteliers and the General Public. Register at the Casa de la Cultrua 9a-4p. Surprise Prizes!
Saturday, Oct. 27 Plogging Clean-up Event. Location TBA
Saturday, Oct. 27
Altars contest for the governmental agencies on the Town Square at 8p with a singer & a dance troupe performing.
Wednesday, Oct. 31 Halloween
on Hidalgo after dark. Bring lil toys & such and expect to be mobbed by cute kiddos & enjoy the clever costumes. There's also a golf cart/scooter procession planned with Chedraui as the meeting point at 6pm to toss treats & participants are encouraged to decorate their vehicles and to wear costumes.
Thursday, Nov. 1 All Saint's Day Dia de los Muertos
Festival for The Souls of the Dead with Dance, Music, and traditions. The procession will begin at 6pm beside the downtown Cemetery, going down Hidalgo, and ending at the Casa de a Cultura. There will be an exhibition of altars from different states of Mexico and a presentation of a Un Tzompantli (rack of skulls), performances by artists from the schools of dance and music, and a competition of Catrina costumes. Coordinated by Jean Piaget school.
Most of the participants in the procession are in catrina makeup or wearing regional clothing, and the rest are in white, and they carry candles.


Friday, Nov. 2 All Soul's Day Dia de los Muertos
At this time of year, Mexican families remember & celebrate their departed relatives. Hanal Pixan is the name of the Mayan celebration. Altars are made with photos of the deceased, where offerings of favorite foods and items are placed, copal incense is burned, and marigold flower petals are often used.
All Saints Day & All Souls Day, Nov. 1 & 2, are the Dias

de los Muertos...one for children, one for adults, when families visit graves & clean & decorate them. On the island, these are private moments in the cemeteries, not public celebrations like in many parts of Mexico.
Try some seasonal Pibi Pollo tamales & Pan de los Muertos pastry.
Sunday, Nov. 4 Noches Magicas performances on the Town Square at 8p with a Festival of the Living for the Dead will feature two dance troupes and a Catrina costume contest with a Children's category and an Open category and cash prizes.
Sources for Weather Information:
LINK
to Civil Protection Q Roo weather bulletin (Spanish)
LINK
to Mexico National Weather Service (Spanish)
LINK
to satellite images for the Mexico National Weather Service (Yucatan peninsula is under Satellite GOES Este, I recommend "Animacion")
LINK
to GOES East Band 16 GIF (animation)
LINK
to a private weather station on Isla Mujeres
LINK
to Tropic Watch (in English)
LINK
to NHC in US (in English)
LINK
to Tropical Tidbits (in English)