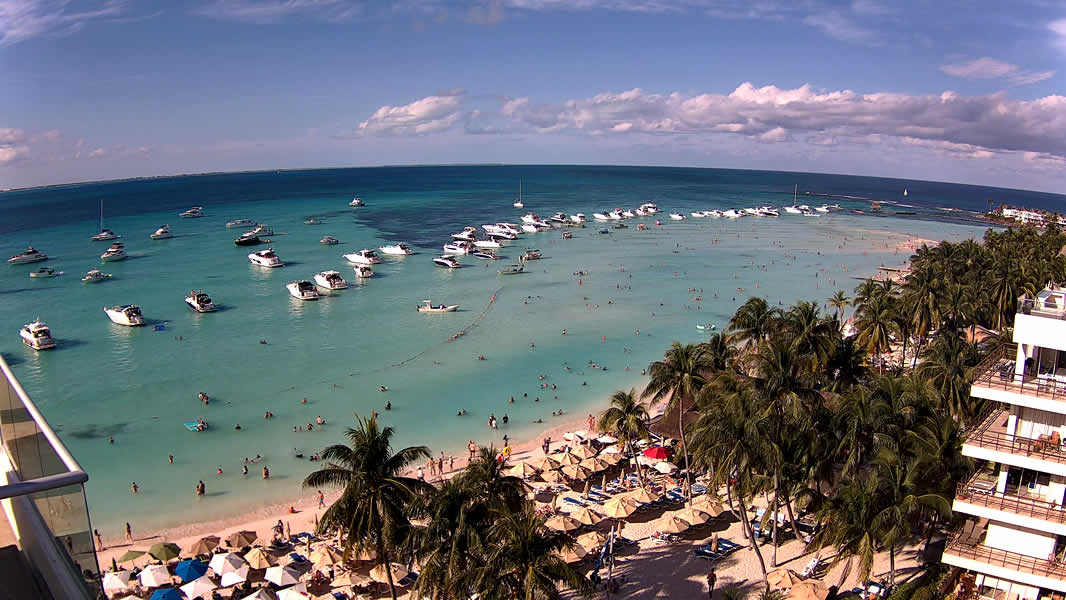 This is the live webcam at North Beach / Playa Norte.

~~~~~~~~~~~~~~~~~~~~~~~~~~~~~ News from the Municipal Facebook site.....

( FB page link)

City commemorates United Nations Day

The City held a commemorative parade as part of the celebrations for the LXXIII anniversary of the United Nations. Participants included the small children who attend the CENDI daycare, as well as preschool and kindergarten students from schools on the island and in the Continental Zone, including the schools

"Tláloc", "María Enriqueta", "Gabriela Mistral" and "Jean Piaget".

The marched from the Naval base to the Town Square, carrying banners and dressed in costumes representing different nations around the world.

Dance performances were presented by the students of each school, which delighted the audience, which included municipal authorities, and many of their names and titles are given. The City Secretary General, Miriam Trejo Leon, thanked the attendees and spoke about childhood development being a priority and primary objective for this administration, therefore they are working to promote ethical values and respect from a very young age.




We remember with affection the musician and composer,

Virgilio "El Chino" Fernández,

who passed away on Oct. 24 in 1962 (He was born Jan 24, 1917.)

Agreement signed between the City and Ultramar to provide discounts for athletes.

The agreement was signed between the City and the Ultramar Ferry company to create a discount program for athletes between the ages of 2 and 45 who belong to a team, which has been previously registered and who are traveling together, but it doesn't apply to those traveling individually. The discounted cost of a round trip ticket between the island and Puerto Juarez will be 52 pesos for adults, and 32 pesos for children and youths up to age 25, and free for young children between the ages of 2 and 7 years old. This will begin on Oct. 26. The team directors must register at the Ultramar offices at least four days in advance with the information about team members. Team members must also show a voter registration card if they are of legal age, or a credential from their school, which proves residence in Isla Mujeres.

Appreciation was expressed toward both the City administration and the Ultramar ferry company.

The United Nations charter went into force 73 years ago

so that this and every day we can reflect on what we can do for peace and the development of human rights.

Attend the "Festival of the Living for the Dead" Sunday, October 28th!

There will be dance troupes performing, as well as

a costume contest and a Catrina contest, with cash prizes and two categories: Open and Children's. You can register at the Casa de la Cultura from Monday thru Friday 9a to 4p. The contests begin at 7pm and the event starts at 8p.
Implanting microchips in the turtles at the Tortugranja continues LINK

Another 15 microchips have been placed in sea turtles sheltered at the Tortugranja, in addition to the 45 that were previously implanted, for a total of sixty. This is being done with support from PROFEPA (Federal Attorney for Environmental Protection), the state Committee for Sea Turtles, the veterinarian Ana Negrete, biologist Gisela Maldonado, the Mayor, and the staff of the Tortugranja.

Through these devices it is possible to know the state of health of the turtles, their weight, size, cranial size, shell design, age, development of their growth and even if they need food, which is information that will facilitate their care and monitoring.

Deline Garcia Canto, director of the Tortugranja, said that the protection of wildlife is one of the main commitments of the current administration headed by Mayor Juan Carrillo Soberanis. The microchips are placed by in the turtle's right front flipper, by their neck. She said the City is committed to taking actions that contribute to the care and protection of all the marine fauna who visit the coasts of this destination, as well as to ensure the sustainable development of the municipality, in harmony with nature and society.

~~~~~~~~~~~~~~~~~~~~~~~~~~~~~
FB News Sites about Isla Mujeres Tvisla Mujeres
Complaint from business owners about increased electrical rates

in recent months, to the CFE (Federal Electrical Commission) with over 100 signatures

. LINK

The document was presented to Customer Service representative Eusebio Uitz Basto, who signed for its receipt. The entrepreneurs complain that their bills have increased 30 to 60%, with the highest increases being 500 to 600%. Those who presented the document included Guadalupe Martinez, representing the hoteliers, Baltazar Maldonado, representing the restaurateurs, representatives from the business organization CANACO, and others. They requested a meeting with

the superintendent of the Federal Electricity Commission (CFE) of Isla Mujeres, Orlando Roque Flores, but were told he was not in his office at that time and would contact them to set up a meeting at a later date.

Ultramar donated 400 life jackets to the fishermen LINK For the third consecutive year, Ultramar recycled their used life jackets by donating them to various fishing cooperatives. They have donated about 400 in Isla Mujeres, and about 2000 overall. In accordance with the company's safety standards, the life jackets are replaced annually, and those that are removed are in excellent condition, and are donated to the fishermen and tourism service providers. The vests are practically unused, but are replaced in compliance with the new requirements of the Mexican Law (it's number is given). The law also requires that all vessels must have the minimum safety equipment, and fishermen and other small boats are not exempt.

On Tuesday, Dylan Alexander Méndez Garrido, 24, suffered a moderate decompression and was the 47th diver treated in the Hyperbaric Chamber so far this season (which began July 1st and ends Feb. 28th) He is a fisherman with the Caribe cooperative and was discharged after two sessions. This was the third time Mr. Mendez has required treatment in the hyperbaric chamber, tho not all in the same season. He arrived complaining of arm pain and swelling in his chest. He spent the night, receiving two sessions before he was discharged on Wednesday. LINK This weekend, Saturday, Oct. 27 and Sunday, Oct. 28, 14th season will begin for the Major Basketball League of Quintana Roo, with six teams participating LINK

The teams are: the Dorados de Playa del Carmen, Cahuameros de Isla Mujeres, Ingeniería de Cancún, Manatíes de Chetumal, Isleños de Cozumel, and last season's champions, the Universidad Modelo de Mérida. On Saturday at 8:30pm and Sunday at noon, the Isla Mujeres Cahuameros will play the Islanders of Cozumel at the Convention Center, here on the island. The other matches are given.

Change of date for the Talk with Governor event
Unsuccessful burglary attempt at lottery business "La Cuchilla",

with the only loss being a broken window.

LINK

A stone was found outside the premises that had apparently been used to break a window, but the thieves were unable to open the door or gain access. The incident must have occurred in the wee hours of Tuesday morning, since the sales clerk arrived at 7am to find the window had been broken. He immediately called the municipal police to make a report. He was interviewed by the police, noting that nothing was taken since they couldn't enter the building. They managed to open the cashier area (la caja), by introducing a hand, but they left when they didn't find anything. The employee explained that they never leave cash in the caja, just coins for change to the amount of about 500 pesos, but in another location.

Medical evacuation of cruise ship passenger LINK

The Navy responded to a request for assistance from the cruise ship "Carnaval Vista" to provide medical transport for a 54 year old female passenger from the United States. She was taken to Puerto Juarez and placed in an ambulance to receive specialized medical attention in Cancun.


Implanting microchips in the turtles at the Tortugranja continues LINK Isla Mujeres Al Dia
VIDEO of UN parad

e

VIDEO of Mayor regarding approval of the Hacienda Municipal.Law

.

VIDEO

of Special Session of City Council

Promos for the Diabetic Clinic on Wednesday, Nov. 7 from 9am to 11am, with registration beginning at 7am, at the CAVI facility

(Center for Assistance for Victims of Domestic Violence). Provided by the Club Pro-Paciente Diabetico of Isla Mujeres, in coordination with the DIF social service agency. Providing glucometers to enable islander diabetics to manage their illness better, as well as providing supplies, education, glucose testing, and nutritional counseling. Diabetics wh

o already have meters are encouraged to attend to receive more strips and lancets. This clinic is completely free and is financed by the generous donations of people who visit and reside in Isla Mujeres.
Please share this information with your islander friends. Thank you!!
Contributions are enthusiastically appreciated. $25 provides 3 months of testing strips. This is a grass roots, all volunteer group of Mexicans & foreigners, including nurses, paramedics, social workers, nutritionists, and doctors. Here's the Facebook page:
https://www.facebook.com/isladiabetesclinic/ Noti Isla Mujeres Leyli Guadalupe Osorio Mares. Director of reproductive health in an VIDEO interview about contraceptive methods

that are available, including oral and injectable horemones, transdermal patches, condoms, emergency contraceptives, subdermal implants, and various IUD's.

The Director of the municipal Traffic police

, Carlos Pech Pat,

distributed a memo to owners of stores and golf rental agencies advising them that they cannot have vehicles parked in the street in front of their businesses or they will face fines.

(photos)


There have been 47 cases of decompression illness treated at the Hyperbaric Chamber so far this lobster season

(which began July 1st

) VIDEO IM Noticias A temporary mesh fence has been placed near the Caribe cooperative's area along Rueda Medina to protect tourists while construction is taking place

during low season, and it will be removed when the work is completed (photos)

~~~~~~~~~~~~~~~~~~~~~~~~~~~~~
Link to Por Esto's Isla Mujeres section
Click on Spanish headline for the original article & photos
There is a sufficient supply for reproductive health
While beneficiaries who use the ISSSTE clinic say there is a lack of sufficient birth control supplies, the Director of Reproductive Health at the Community Hospital says they are well supplied, and she listed the available methods, which are available for free,with or without Seguro Popular insurance. They also provide vasectomies without a scalpel for free, which only takes 20 minutes and is performed with local anesthesia.
Business owners present complaint to the electric company about increased bills
Judicial authorities free former hotel
The former hotel "Martinez" was the scene of two homicides on September 20th, and now the security tapes which were installed at that time have been removed, and the building was released by the judicial authorities and turned back over to the Martinez family. The family members are in a leal disagreement over ownership of the property. No new information was released about the murders of Jorge GOM "el Chino" and J.A.A., and it is noted that release of the property does not indicated that the investigation is concluded. Police had guarded the building around the clock for a little over a month, and now the relatives placed a padlock and chain to prevent outsiders from entering. In addition to this double murder, there have been two other murders this year on the island, which are allegedly related to a dispute between organized crime groups for control.
Donation of life jackets to fishing cooperatives
Unsuccessful attempt to burglarize lottery store
Cruise shop passenger suffered a heart attack
Operation to regularize motorcycles
On Monday afternoon, five motorcycles were impounded because their owners did not have up to date documentation, which includes a valid driver's license and current plates and registration. They were caught at a checkpoint established on Rueda Medina that was reviewing vehicles heading south toward the colonias, focusing on motorcycles. The authorities also verify that the vehicle has no theft report and isn't involved in illicit activities. It is noted that criminals usually use stolen vehicles to commit unlawful acts, removing the license plates, and therefor it is important to implement verification procedures. One of the officers in charge said,
"We know that citizens are annoyed, but these operations are well-founded and implemented for the islanders' own security."
The day's influx wasn't bad
~~~~~~~~~~~~~~~~~~~~~~~~~~~~~
Excerpt from the NHC Tropical Weather Discussion: 
Gentle to moderate trades will prevail across the Caribbean Sea 
through Sat. A cold front crossing the Gulf of Mexico will become 
stationary across Yucatan Channel Sat night and Sun. Expect fresh 
trade winds over the S central Caribbean early next week.

 
This blog is brought to you by....
View from the rooms.
MaraVilla Caribe
Bed & Beach
Three rentals with large glass doors overlooking our white sand beach and the beautiful Caribbean sea, with kitchenettes &
free WIFI.
In the coastal neighborhood of Bachilleres, among upscale villas & boutique hotelitos, convenient to downtown or the colonias, yet separate.

Quiet & Private.
Kitchen in a large studio. (Sur & Norte are identical)



Kitchenette in small room, Medio. There's a table & chairs across from it & a double bed.
A large slider opens from each of the 3 rooms onto the patio where each has a table & chairs, hammock & clotheslines. The BBQ is behind the pole, and the outdoor shower is outa the pic at left.
Large studio (Norte), I'm standing in the kitchen. A queen & single bed.
Free amenities such as hammocks, BBQ grills, outdoor shower, portable beach chairs & beach towels, washer & dryer, loungers.

Breathtaking panoramic views from the rooftop terrace. Large sliding doors open to a patio & our backyard-beach, overlooking the Caribbean sea. Upstairs room also available.

Downtown is ~ a mile away; if you don't feel like walking, flag a $2 taxi. Parking.

You can enjoy the music & crowds downtown, then come home our quiet neighborhood of Bachilleres where you'll

sleep to the sounds of the sea.

.

$275/$325/$425 wk $40/50/$65nt Monthly Discounts


Large studio (Sur) with Queen & Single bed. Slider door & view are behind me.




Fine dining a few steps away at Da Luisa or try the neighborhood eateries a couple blocks farther. Within ten minutes walk are a variety of restaurants including Mango Cafe, Brisas, Manolitos, La Chatita, Green Verde, Kash Kechen Chuc, and the large department store-grocery , Chedraui. Visit marinas, bars, & beach clubs that are minutes away by bike or on foot. Attend Yoga classes a couple villas away at hotelito Casa Ixchel. Fresh juice, produce & tortillas a few blocks away in the village, as well as a variety of other stores and small local restaurants. It takes 20-30 minutes to walk downtown.
```````````````````````````````````````````````````````````````````````
Oct. 24 6:39
Oct. 25 7:21
Oct. 26 8:07
Oct. 27 8:58
Oct. 28 9:52
Oct. 29 10:51
Oct. 30 11:52
Painting by Pamela Haase
Sunset ~6:30 to ~6:10p (beginning vs end of month)
Sunrise ~6:40
Plogging events to clean up the island are held on Saturdays
LINK
and here's the
Accion Isla LINK
who are having events associated with project RESCATE.
Monday, Oct. 1 Lighting of the pink lights at the Town Square for Breast Cancer Awareness Month at 8:30 pm
Saturday, Oct. 6 Plogging Clean-up Event. Location TBA
Sunday, Oct. 7 All Star Baseball game 11a at El Pescador stadium (in front of Chedraui).
Monday,
Oct. 8: 43nd Anniversary of the Free & Sovereign State of Quintana Roo
Tuesday, Oct. 9 Day of Fishermen
Wednesday, Oct. 10 Tournament Finale for the municipal inter-company Futbol Rapido/Fast Soccer competition and the stadium in Salina Chica. The game for 3rd place is at 8 between the "Taxistas" and the "Dolphin Discover" teams, and the contest for 1st & 2nd starts at 9p between "Bepensa" and "Garrafon".
Thursday, Oct. 11 Performances on the Town Square 6p-9p by students as part of the celebrations of the 60th anniversary of the middle school, "Benito Juarez"
Friday, Oct. 12 Student race from 7a-8a from the middle school "Benito Juarez" to Playa Centro beach, where there will be activities and music until 1:30 as the finale for the
celebrations of the 60th anniversary of the middle school, "Benito Juarez"
Friday, Oct. 12 Dia de la Raza
Saturday, Oct. 13 Plogging Clean-up Event. Location TBA
Friday, Oct. 19
Guitarists performing at the Casa de la Cultura at 7pm
Saturday, Oct. 20 Plogging Clean-up Event. Location TBA
Saturday, Oct. 20 at 8pm and Sunday, Oct. 21 at noon at the Convention Center: Isla Mujeres Cahuameros VS Escuela Modelo (a Merida University team). Grand inaugural game of the season!
Sunday, Oct. 21, starting at 7am at Playa Centro, the Pink Race. 1km, 5km, and 10km.
Funds will be used to help women obtain testing for timely detection of breast cancer.
Sunday, Oct. 21 Anniversary of the birth of Ramon Bravo
Thursday, Oct. 25
Halloween Makeup class at the Casa de la Cultura 5p-7p. Bring your own makeup and someone to practice on. 50p.
Friday, Oct. 26
Festival of the Living for the Dead, Hanal Pixan Altar Competition on the Town Square in 2 categories: Hoteliers & Merchants, and the General Public, with cash prizes for the latter and recognition for the former. At 8p with two dance troupes performing..2 categories: Merchants & Hoteliers and the General Public. Register at the Casa de la Cultrua 9a-4p. Surprise Prizes!
Saturday, Oct. 27 Plogging Clean-up Event. Location TBA
Saturday, Oct. 27
Altars contest for the governmental agencies on the Town Square at 8p with a singer & a dance troupe performing.
Sunday, Oct. 28
Attend the "Festival of the Living for the Dead" Sunday, October 28th! There will be dance troupes performing, as well as a Costume contest and a Catrina contest, with cash prizes and two categories: Open and Children's. You can register at the Casa de la Cultura from Monday thru Friday 9a to 4p. Contests at 7p and event at 8p.
Wednesday, Oct. 31 Halloween
on Hidalgo after dark. Bring lil toys & such and expect to be mobbed by cute kiddos & enjoy the clever costumes. There's also a golf cart/scooter procession planned with Chedraui as the meeting point at 6pm to toss treats & participants are encouraged to decorate their vehicles and to wear costumes.
Thursday, Nov. 1 All Saint's Day Dia de los Muertos
Festival for The Souls of the Dead with Dance, Music, and traditions. The procession will begin at 6pm beside the downtown Cemetery, going down Hidalgo, and ending at the Casa de a Cultura. There will be an exhibition of altars from different states of Mexico and a presentation of a Un Tzompantli (rack of skulls), performances by artists from the schools of dance and music, and a competition of Catrina costumes. Coordinated by Jean Piaget school.
Most of the participants in the procession are in catrina makeup or wearing regional clothing, and the rest are in white, and they carry candles.

Friday, Nov. 2 All Soul's Day Dia de los Muertos
At this time of year, Mexican families remember & celebrate their departed relatives. Hanal Pixan is the name of the Mayan celebration. Altars are made with photos of the deceased, where offerings of favorite foods and items are placed, copal incense is burned, and marigold flower petals are often used.
All Saints Day & All Souls Day, Nov. 1 & 2, are the Dias

de los Muertos...one for children, one for adults, when families visit graves & clean & decorate them. On the island, these are private moments in the cemeteries, not public celebrations like in many parts of Mexico.
Try some seasonal Pibi Pollo tamales & Pan de los Muertos pastry.
Sources for Weather Information:
LINK
to Civil Protection Q Roo weather bulletin (Spanish)
LINK
to Mexico National Weather Service (Spanish)
LINK
to satellite images for the Mexico National Weather Service (Yucatan peninsula is under Satellite GOES Este, I recommend "Animacion")
LINK
to GOES East Band 16 GIF (animation)
LINK
to a private weather station on Isla Mujeres
LINK
to Tropic Watch (in English)
LINK
to NHC in US (in English)
LINK
to Tropical Tidbits (in English)