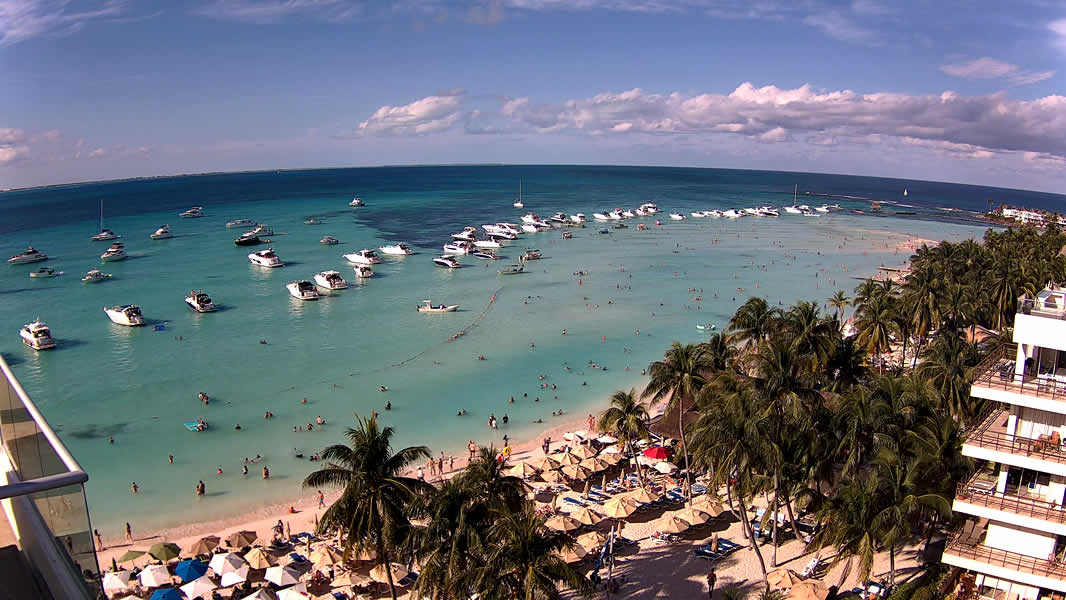 This is the live webcam at North Beach / Playa Norte.
Follow Isla Mujeres News & Events on Facebook for highlights of news & events, and more photos & videos
~~~~~~~~~~~~~~~~~~~~~~~~~~~~~~~~~~~~~~~~~
~~~~~~~~~~~~~~~~~~~~~~~~~~~~~
News from the Municipal Facebook site.....

( FB page link)
Excellent results at Pueblos Magicos Fair
LINK
With the purpose of disseminating information about the historical, cultural and natural attractions of Isla Mujeres, a delegation of authorities and providers of tourism services participated in the Fifth National Pueblos Magicos Fair, which took place in Morelia, Michoacán, from October 11 to 14.
José Castillo Magaña, director of Tourism,
said,
"Thanks to the commitment of our municipal president, now ours is a world class destination that is known for its nature, culture, history and wonderful tourism, which we presented at this important event."
He said there was a great response from the attendees and the Isla Mujeres booth had about 2500 visitors daily.
He said the media were interested in promoting the gastronomic wealth of the island, and the sale of local crafts was among the most fruitful of the entire fair.
"Without a doubt, Isla Mujeres has excelled at this event. Our natural, historical and cultural wealth attracted the attention of assistants and service providers. The commitment now is to continue working to maintain ourselves among the most important Pueblos Magicos of Mexico," he said.
This
summer Isla Mujeres registered a 25 percent increase in tourist arrivals and hotel occupancy, compared to 2017.
During the event, Mr. Castillo Magaña was given recognition by the Autoridad Municipal in the category of best performance as Municipal Tourism Director. He gave assurances
that the municipal government will not 'lower their guard' and will continue carrying out actions that promote the development of tourist in Isla Mujeres, for the benefit of all the island families.
Thanks to the support of the island community, the municipal governmental agencies, merchants and hoteliers, we can now enjoy beaches free of sargasso. VIDEO showing the beach before and after, with captions that say:
With the union of all we continue to maintain the beauty of our beaches.

Today Isla Mujeres continues to look radiant.

Let's continue making a future together!
The caption with this graphic says:
Forget everything and come enjoy Isla Mujeres
~~~~~~~~~~~~~~~~~~~~~~~~~~~~~
FB News Sites about Isla Mujeres
Tvisla Mujeres
Forty fishermen have been treated for decompression illness in the Hyperbaric Chamber, and one died on Saturday
LINK
Between July 1st and October 14th, forty fishermen were treated in the hyperbaric chamber for decompression illness, and one of them died Saturday, after being treated in the chamber. The fisherman who passed away was
José Antonio Jiménez Juárez, who belonged to the cooperative "Patria y Progreso". (A comment says he belonged to the "Isla Blanca" coop.) Although his injury was considerable, he was stable when he left the chamber. However, later he suffered tachycardia problems, and was transferred from the Community Hospital in Isla Mujeres to Cancun, where he died later.
Another fisherman was treated in the hyperbaric chamber on Saturday,
Carlos Iván Sarmiento, 23, of the cooperative "Caribe", who began to feel bad after three dives to a depth of 135 feet.
With this last case, there have been 40 fishermen who have been treated within the hyperbaric chamber, some of them with serious injuries and sequelae.
Talk to the Governor.
One registration day only at the Bicentennial Dome at 10a on Oct. 16
Isla Mujeres Al Dia
Saturday, Oct. 20 at 8pm and Sunday, Oct. 21
at noon at the Convention Center: Isla Mujeres Cahuameros VS Escuela Modelo (a Merida University team). Grand inaugural game of the season!
The municipal government acquired two new trash collection trucks
which will be added to the fleet to provide better service to the community. (photos)
Aguakan and the Community Hospital invite you to breakfast on Wednesday, Oct. 17 at 9:30am at the USPS Multi-use Room at the Community Hospital. Come and receive a free mammogram (
which I think will be done in Cancun
).
Noti Isla Mujeres
Two motorcycles had a collision on Devil Curve
(photos)
Excellent results at the Pueblo Magico Fair
(photos & article)
IM Noticias
~~~~~~~~~~~~~~~~~~~~~~~~~~~~~
Link to Por Esto's Isla Mujeres section
Click on Spanish headline for the original article & photos
Por Esto still has the articles I translated yesterday.
~~~~~~~~~~~~~~~~~~~~~~~~~~~~~
Showers and thunderstorms associated with a broad area of low
pressure located over the southwestern Caribbean Sea are showing
some signs of organization. The system is moving west-northwestward,
and it is possible that it could become a tropical depression before
it moves inland over Central America by Tuesday.  
Regardless of development, locally heavy rainfall, which could cause flash
flooding, is possible across portions of Central America for much of
the week.
* Formation chance through 48 hours...medium...40 percent.
* Formation chance through 5 days...medium...40 percent.
~~~~~~~~~~~
The Orionid meteor shower is expected to peak this weekend, after midnight, with the most "shooting stars" appearing in the few hours before dawn, after the moon sets. In Isla Mujeres, on Friday night/Saturday morning, the moon sets at 3:08am, and on Sunday morning at 3:59am. The meteors should also be prolific on Sunday night/Monday morning, but there is a smaller window before dawn, with the moon setting at 4:51am.
These streaks of light are caused by vaporizing bits from Halley's comet, and you may see 10-15 (or more) if you watch for an hour during the peak periods & allow another 20 minutes for your eyes to adjust. Some experts predict this will be a good year.
LINK
~~~~~~~~~~~~~~~~~~~~~~~~~~~~~
This blog is brought to you by....
View from the rooms.
MaraVilla Caribe
Bed & Beach
Three rentals with large glass doors overlooking our white sand beach and the beautiful Caribbean sea, with kitchenettes &
free WIFI.
In the coastal neighborhood of Bachilleres, among upscale villas & boutique hotelitos, convenient to downtown or the colonias, yet separate.

Quiet & Private.
Kitchen in a large studio. (Sur & Norte are identical)



Kitchenette in small room, Medio. There's a table & chairs across from it & a double bed.
A large slider opens from each of the 3 rooms onto the patio where each has a table & chairs, hammock & clotheslines. The BBQ is behind the pole, and the outdoor shower is outa the pic at left.
Large studio (Norte), I'm standing in the kitchen. A queen & single bed.
Free amenities such as hammocks, BBQ grills, outdoor shower, portable beach chairs & beach towels, washer & dryer, loungers.

Breathtaking panoramic views from the rooftop terrace. Large sliding doors open to a patio & our backyard-beach, overlooking the Caribbean sea. Upstairs room also available.

Downtown is ~ a mile away; if you don't feel like walking, flag a $2 taxi. Parking.

You can enjoy the music & crowds downtown, then come home our quiet neighborhood of Bachilleres where you'll

sleep to the sounds of the sea.

.

$275/$325/$425 wk $40/50/$65nt Monthly Discounts


Large studio (Sur) with Queen & Single bed. Slider door & view are behind me.




Fine dining a few steps away at Da Luisa or try the neighborhood eateries a couple blocks farther. Within ten minutes walk are a variety of restaurants including Mango Cafe, Brisas, Manolitos, La Chatita, Green Verde, Kash Kechen Chuc, and the large department store-grocery , Chedraui. Visit marinas, bars, & beach clubs that are minutes away by bike or on foot. Attend Yoga classes a couple villas away at hotelito Casa Ixchel. Fresh juice, produce & tortillas a few blocks away in the village, as well as a variety of other stores and small local restaurants. It takes 20-30 minutes to walk downtown.
```````````````````````````````````````````````````````````````````````
Full moon rising over the Caribbean
Oct. 24 6:39
Oct. 25 7:21
Oct. 26 8:07
Oct. 27 8:58
Oct. 28 9:52
Oct. 29 10:51
Oct. 30 11:52
Painting by Pamela Haase
Sunset ~6:30 to ~6:10p (beginning vs end of month)
Sunrise ~6:40
Provided by MaraVilla Caribe & Isla Mujeres Daily News & Events
Plogging events to clean up the island are held on Saturdays
LINK
and here's the
Accion Isla LINK
who are having events associated with project RESCATE.
Monday, Oct. 1 Lighting of the pink lights at the Town Square for Breast Cancer Awareness Month at 8:30 pm
Saturday, Oct. 6 Plogging Clean-up Event. Location TBA
Sunday, Oct. 7 All Star Baseball game 11a at El Pescador stadium (in front of Chedraui).
Monday,
Oct. 8: 43nd Anniversary of the Free & Sovereign State of Quintana Roo
Tuesday, Oct. 9 Day of Fishermen
Wednesday, Oct. 10 Tournament Finale for the municipal inter-company Futbol Rapido/Fast Soccer competition and the stadium in Salina Chica. The game for 3rd place is at 8 between the "Taxistas" and the "Dolphin Discover" teams, and the contest for 1st & 2nd starts at 9p between "Bepensa" and "Garrafon".
Thursday, Oct. 11 Performances on the Town Square 6p-9p by students as part of the celebrations of the 60th anniversary of the middle school, "Benito Juarez"
Friday, Oct. 12 Student race from 7a-8a from the middle school "Benito Juarez" to Playa Centro beach, where there will be activities and music until 1:30 as the finale for the
celebrations of the 60th anniversary of the middle school, "Benito Juarez"
Friday, Oct. 12 Dia de la Raza
Saturday, Oct. 13 Plogging Clean-up Event. Location TBA
Saturday, Oct. 20 Plogging Clean-up Event. Location TBA
Sunday, Oct. 21, starting at 7am at Playa Centro, the Pink Race. 1km, 5km, and 10km.
Funds will be used to help women obtain testing for timely detection of breast cancer.
Sunday, Oct. 21 Anniversary of the birth of Ramon Bravo
Friday, Oct. 26
Festival of the Living for the Dead, Hanal Pixan Altar Competion on the Town Square.2 categories: Merchants & Hoteliers and the General Public. Register at the Casa de la Cultrua 9a-4p. Surprise Prizes!
Saturday, Oct. 27 Plogging Clean-up Event. Location TBA
Wednesday, Oct. 31 Halloween
on Hidalgo after dark. Bring lil toys & such and expect to be mobbed by cute kiddos & enjoy the clever costumes. There's also a golf cart/scooter procession planned with Chedraui as the meeting point at 6pm to toss treats & participants are encouraged to decorate their vehicles and to wear costumes.
Thursday, Nov. 1 All Saint's Day Dia de los Muertos

Friday, Nov. 2 All Soul's Day Dia de los Muertos
At this time of year, Mexican families remember & celebrate their departed relatives. Hanal Pixan is the name of the Mayan celebration. Altars are made with photos of the deceased, where offerings of favorite foods and items are placed, copal incense is burned, and marigold flower petals are often used.
All Saints Day & All Souls Day, Nov. 1 & 2, are the Dias

de los Muertos...one for children, one for adults, when families visit graves & clean & decorate them. On the island, these are private moments in the cemeteries, not public celebrations like in many parts of Mexico.
Try some seasonal Pibi Pollo tamales & Pan de los Muertos pastry.
There is usually a silent procession from the Cemetery down Hidalgo, ending at the Casa de la Cultura, where there are usually altars representing various regions of Mexico, and a Catrina contest. Most of the participants in the procession are in catrina makeup or wearing regional clothing, and the rest are in white, and they carry candles.
Efforts are made to not let the Halloween overshadow the Mexican celebrations and traditions, and there are usually altar contests and/or exhibitions in the schools. There have also been competitions on the Town Square, and altars can be seen in various businesses, at the Town Hall and they are present in many homes.
Sources for Weather Information:
LINK
to Civil Protection Q Roo weather bulletin (Spanish)
LINK
to Mexico National Weather Service (Spanish)
LINK
to satellite images for the Mexico National Weather Service (Yucatan peninsula is under Satellite GOES Este, I recommend "Animacion")
LINK
to GOES East Band 16 GIF (animation)
LINK
to a private weather station on Isla Mujeres
LINK
to Tropic Watch (in English)
LINK
to NHC in US (in English)
LINK
to Tropical Tidbits (in English)