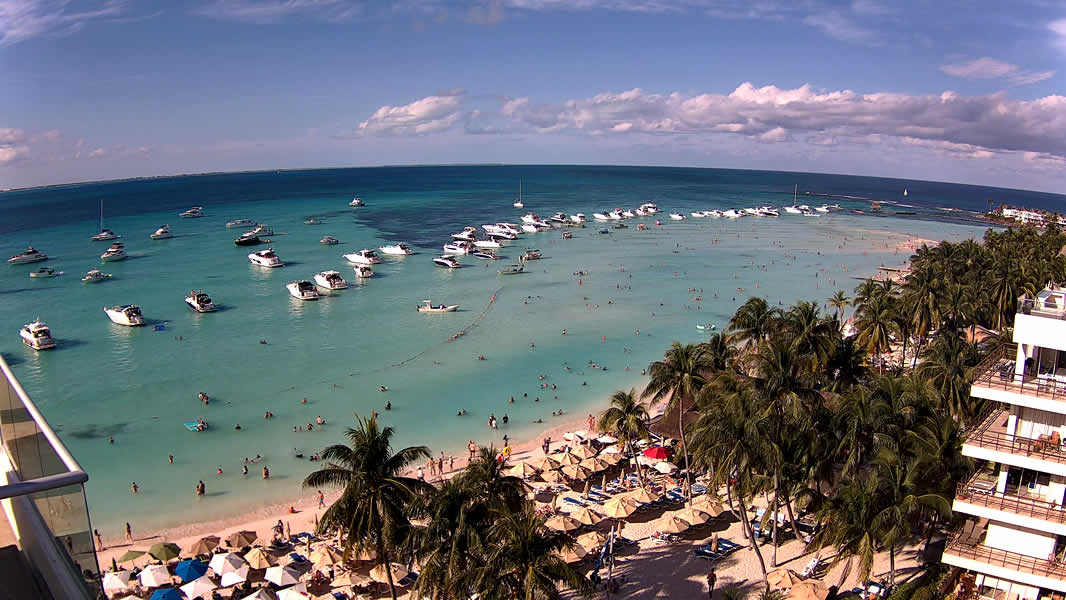 This is the live webcam at North Beach / Playa Norte.
Follow Isla Mujeres News & Events on Facebook for highlights of news & events, and more photos & videos
~~~~~~~~~~~~~~~~~~~~~~~~~~~~~~~~~~~~~~~~~
~~~~~~~~~~~~~~~~~~~~~~~~~~~~~
News from the Municipal Facebook site.....

( FB page link)
Surround yourself with the magic of Isla Mujeres
The clean safe beaches of Isla Mujeres receive thousands of visitors
LINK
~~~~~~~~~~~~~~~~~~~~~~~~~~~~~
FB News Sites about Isla Mujeres
Tvisla Mujeres
Strong winds prevented the vehicle ferry Sergio Gracia Aguilar from docking on its dock and it ended up tied to the concrete dock, without the possibility of it being able to lower his load. At the time this was posted, the vehicles had been waiting an hour. Video Link
Isla Mujeres Al Dia
Maintenance work has begun on the iconic lighthouse
across from Playa Centro (photo of it being painted).
Due to the strong winds and waves which are affecting the coasts of the state,
caused by cold front number 18,

one of the Maritima vehicle ferries that crosses between Isla Mujeres and Punta Sam had trouble docking and therefore they chose to dock at the concrete pier for safety and they had to improvise a ramp so that the vehicles could disembark.
Video of the waves and the car ferry
Noti Isla Mujeres
Video
of Harbor Master saying the port is closed for boats under 40 feet, for the second consecutive day.
IM Noticias
~~~~~~~~~~~~~~~~~~~~~~~~~~~~~
Link to Por Esto's Isla Mujeres section
Click on Spanish headline for the original article & photos
Occupancy expected to reach 100% at Christmas
Winds impede ferry docking
Winds & cool air impede activities
Isla Mujeres news briefs
Pardon my not finishing this....busy week...hasta manana
!

~~~~~~~~~~~~~~~~~~~~~~~~~~~~~
This blog is brought to you by....
View from the rooms.
MaraVilla Caribe
Bed & Beach
Three rentals with large glass doors overlooking our white sand beach and the beautiful Caribbean sea, with kitchenettes &

fast WIFI.
In the coastal neighborhood of Bachilleres, among upscale villas & boutique hotelitos, convenient to downtown or the colonias, yet separate.

Quiet & Private.
Kitchen in a large studio. (Sur & Norte are identical)



Kitchenette in small room, Medio. There's a table & chairs across from it & a double bed.
A large slider opens from each of the 3 rooms onto the patio where each has a table & chairs, hammock & clotheslines. The BBQ is behind the pole, and the outdoor shower is outa the pic at left.
Large studio (Norte), I'm standing in the kitchen. A queen & single bed.
Free amenities such as hammocks,bikes, BBQ grills, safes, portable beach chairs & beach towels, washer & dryer, loungers.

Breathtaking panoramic views from the rooftop terrace. Large sliding doors open to a patio & our backyard-beach, overlooking the Caribbean sea. Upstairs room also available.

Downtown is ~ a mile away; if you don't feel like walking, flag a $2 taxi. Parking.

You can enjoy the music & crowds downtown, then come home our quiet neighborhood of Bachilleres where you'll

sleep to the sounds of the sea.

.

$275/$325/$425 wk $40/50/$65nt Monthly Discounts


Large studio (Sur) with Queen & Single bed. Slider door & view are behind me.




Fine dining a few steps away at Da Luisa or try the neighborhood eateries a couple blocks farther. Within ten minutes walk are a variety of restaurants including Mango Cafe, Brisas, Manolitos, La Chatita, Green Verde, Kash Kechen Chuc, and the large department store-grocery , Chedraui. Visit marinas, bars, & beach clubs that are minutes away by bike or on foot. Attend Yoga classes a couple villas away at hotelito Casa Ixchel. Fresh juice, produce & tortillas a few blocks away in the village, as well as a variety of other stores and small local restaurants. It takes 20-30 minutes to walk downtown.
```````````````````````````````````````````````````````````````````````
Full moon rising over the Caribbean
Dec. 22 6:25
Dec. 23 7:28
Dec. 24 8:33
Dec. 25 9:38
Dec. 26 10:42
Dec. 27 11:42
Painting by Pamela Haase
Sunset ~6:04 to ~6:16p (beginning vs end of month)
Sunrise ~7:08 to 7:24
Provided by MaraVilla Caribe & Isla Mujeres Daily News & Events
Plogging events to clean up the island are held on Saturdays
LINK
and here's the
Accion Isla LINK
Patron saint festivities on the Town Square in front of the Church of Immaculate Conception (except the horse processions on Sat, Dec. 1st).
Saturday, Dec. 1
...HORSES!
Noon: Cabalgata (probably on the runway)
1p: Horse caravan (procession around the isle)
Sunday, Dec. 2
7:30p Dance troupe & local singers perform
Monday, Dec. 3
7:30p Dance troupe & local singers perform
Tuesday, Dec. 4
7:30p Dance troupe & local singers perform
Wednesday, Dec. 5
7:30 Juanita Mendez & local singers perform
Thursday, Dec. 6
7:30p Dance troupe & local singers perform
Friday, Dec. 7
7p Large caravan in honor of Our Lady of Immaculate Conception
10p Las Mañanitas Mass
11p Mariachi
11:30 Local artists singing Las Mañanitas
Saturday, Dec. 8
3p Boat procession with the icon in the Bay
5:30p Mass for the returning of the icon to her niche
7p Juanita Mendez & dance troupes perform
8p Closing dance with band Picante Plus
The other schedule shows events by the private groups in her honor at their facilities. The confirmations are at the church on Wednesday, Dec. 5 at 7pm.
"Toro Goal" events at the "Plaza de Toros y Feria" in Amplification La Gloria are where two teams of audience members get a small bull to chase them between chairs for goals. Regarding event tonight (Saturday) at 7p, Isla Mujeres al Dia says:
Organizers have told us that they do not kill or mistreat the bulls, it will be good to go and see in what manner the event takes place. T
he stadium is in Amplificacion La Gloria (along the coastal road, just north of Isla 33).
Saturday, Dec. 1 Inauguration Day
Plogging clean up 8a-10a meeting at the Mundaca palapa to clean the mangroves
Saturday, Dec. 8 Plogging clean up 8a-10a
Join the Plogging crew behind the Casa de la Cultura, (backstreet Guerrero at the cross street Abasolo) by the Isla Mujeres photo op sign & spend a couple hours with some great folks making the isle a lil cleaner & enjoying the breezes & beauty of the Caribbean sea!
Saturday, Dec. 8 Friend's of Isla Mujeres 2nd Annual Festival of Culture & Family at the Open Air Theater in colonia La Gloria at 5:30pm featuring shows, clowns, prizes & more. Family Fun, Surprises, Free. Don't Miss it!
Sunday, Dec. 9 Noches Magicas performances on the Town Square at 8pm
Tuesday, Dec. 11 Singing of Las Mananitas outside the Chapel of Our Lady of Guadalupe (Salina Chica)
Wednesday, Dec. 12 Dia de Guadalupe, the Patron Saint of Mexico.There is usually a run in the morning from the downtown church to Punta Sur to the Guadalupe Chapel.There is usually a procession in the afternoon with children dressed up as Juan Diego, shepherds, and shepherdesses, probably between the Chapel Guadalupana and the downtown church.
Thursday, Dec. 13 Artist Fair at the Casa de la Cultura. On the back street Guerrero at the cross street Abasolo. The captions says it starts at 4p.
Thursday, Dec. 13 Tonight is the peak of the Geminid meteor shower, which is considered one of the best & "most reliable", because the individual meteors are bright, and they come fast and furious. With the quarter moon setting at midnight this year, more than 100 per hour may be visible, depending on the level of light pollution. Space.com advises giving your eyes 20 minutes to adjust & to lean back and take in the whole sky, since they can appear anywhere, traveling away from that point. Some meteors may be visible as early as 9-10p, but the most can be seen around 2a.
Saturday, Dec. 15 Plogging clean up 8a-10a location TBA.
Saturday, Dec. 15 at 8p and Sunday, Dec. 16 at noon at the Convention Center the Isla Mujeres Cahuameros will play the Chetumal Manatees (basketball).
Sunday, Dec. 16 Noches Magicas performances on the Town Square starting at 8pm will feature two dance troupes.
Dec, 16-24 Posadas Navidenas
During the Posadas, there is usually a dance on the Town Square, featuring regional dances & costumes from different states of Mexico. The schools may have Posada plays, which are reenactments of Mary & Joseph being refused shelter. Posada means 'inn'.
Monday, Dec. 17 at
7p on the Town Square, you are invited to attend & see a performance by local dance troupes and entertainment "This isn't another dum & boring nativity play"
Thursday, Dec. 20
Artist Fair at the Casa de la Cultura. On the back street Guerrero at the cross street Abasolo.4p-8p
Dec. 21 Winter Solstice
Friday, Dec. 21 "Elmo's" Golf Cart caravan meeting in front of the Bachilleres dome at 5:30 with decorated carts, led by Santa, Minnie & Mickey, and Elmo, tossing treats & toys to the kids.
Saturday, Dec. 22 Plogging clean up 8a-10a location TBA.
Sunday, Dec.23 Noches Magicas performances on the Town Square at 8pm
Thursday, Dec. 27
Artist Fair at the Casa de la Cultura. On the back street Guerrero at the cross street Abasolo.4p-8p
Friday, Dec. 28 Dia de los Santos Innocentes A day of practical jokes, similar to "April Fool's Day"

Monday, Dec.31 New Year's Eve celebration on the Town Square. Tables can be purchased in advance, details TBA. The last ferry is usually cancelled.

Tuesday, Jan. 1 New Year's Day People observe the sunrise at Punta Sur The first ferries are usually suspended.