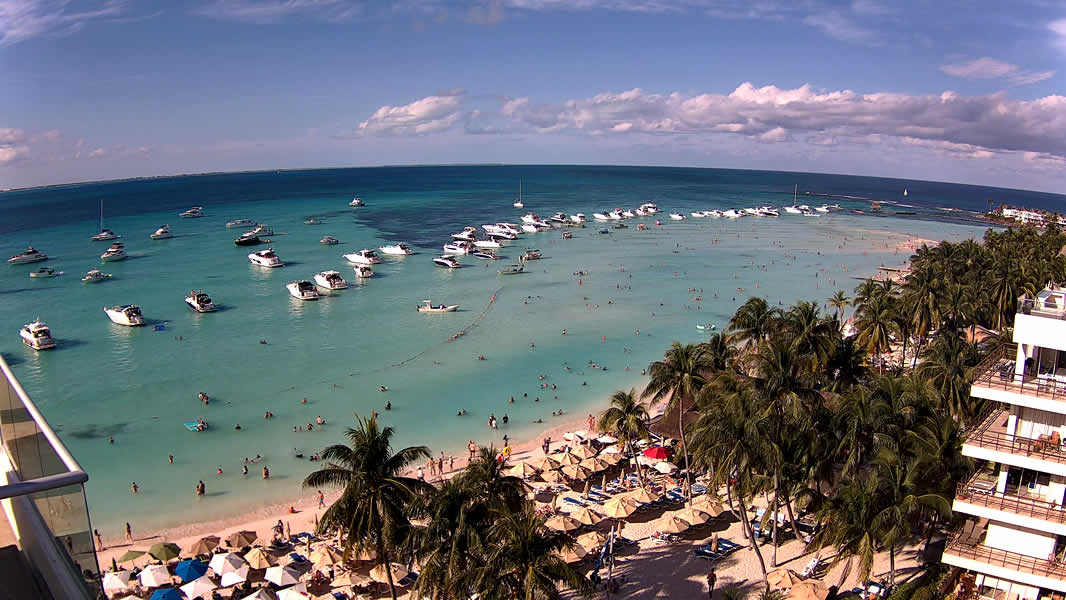 This is the live webcam at North Beach / Playa Norte.
~~~~~~~~~~~~~~~~~~~~~~~~~~~~~
News from the Municipal Facebook site.....

( FB page link)
Promo about the property tax discounts of 25%, 20%, and 15% available from Dec. 1 thru the end of February
.
The municipal government continues improving the sports facilities
LINK
The installation of artificial turf on the soccer field in colonia Salina Chica is 70% complete. The Mayor spoke about his commitment to providing quality sports facilities for the community and the benefits of sports for young people and their development. He said the field will be finished soon.
Gender violence is never justified. Let's end the gender violence

, break the silence

, don't stand idly by,

act!
~~~~~~~~~~~~~~~~~~~~~~~~~~~~~
FB News Sites about Isla Mujeres
Tvisla Mujeres
The Isla Mujeres Cahuameros remain the leaders in the league after two victories this weekend
against the Cancun Aluxes.
LINK
On Saturday night the Cahuameros won by a score of 89 to 71, and on Sunday the final score was 70 to 47. So far this season they have won seven games and lost one, to the Dorados of Playa del Carmen. A full house is expected next weekend at the Isla Mujeres Convention Center when the Cahuameros will play the team of the Modelo University of Merida, who are the champions of last season.
Activities by the City toward the elimination of violence against women for "Orange Month"
LINK
Isla Mujeres Al Dia
Photos of small boats & caption saying An important part of our identity Isla Mujeres Pueblo Magico.
Photos of the streets downtown, showing tourists visiting.
The soccer field in colonia Salina Chica is 70% complete
Noti Isla Mujeres
IM Noticias
~~~~~~~~~~~~~~~~~~~~~~~~~~~~~
Link to Por Esto's Isla Mujeres section
Click on Spanish headline for the original article & photos
SEFIPLAN verifying that construction projects are paying 3% payroll tax
The head of the SEFIPLAN (Secretary of Planning & Finance) in Isla Mujeres said they have applied economic sanctions to construction sites that are not paying the 3% payroll tax, but this has mainly been in the Continental Zone (on the mainland part of the municipality).
Isla Mujeres news briefs
The port remained open for navigation by all vessels and the fishermen were out taking advantage of the results of Cold Front #10 which caused an abundance of seafood near the coast, and manydidn't have to go out farther than two miles, and some caught 60 to 80 kilos of fish, of various species.
Other fishermen went out about 12 miles to catch shark, and other species that ended up in their nets, which they filleted directly on the beach to sell to impatient customers. The lobster fishermen who are camping at the cabins on Isla Contoy reported they are beginning to see the first good lobster "runs".
See translation above regarding Noches Magicas on Sunday.
The first game of the municipal Volleyball League "Fidel Villanueva Madrid" was a friendly game between the women's team "Panteras" (Panthers) and the team of the SEFIPLAN agency (Secretary of Finance and Planning). There are 13 teams currently registered in the league, of whom eight are in the men's division and five are in the women's. The games will be held on Tuesdays and Thursdays from 8 to 9p and 9p-10p. Islanders are encouraged to participate and to attend the games to support their favorite teams and to have fun.
Merchants given one week to display prices
Merchants on Hidalgo have been given a one week grace period by the PROFECO (Federal Consumer Protection Agency) to display their prices, so that tourists can comparison shop. After the week is up, the agency will conduct a verification operation, and those not in compliance could be subject to an administrative or economic sanction. Many handicraft/souvenir stores have not displayed prices, forcing tourists to ask, which gives the seller an opportunity to cajole the potential customer and possibly get a higher price than if the amount was in sight. The official said they have warned the owners, managers, and employees of the businesses they visited that they have one week to place price tags on each of the objects, handicrafts, and merchandise that is offered for sale, so that consumers can see their cost at a glance.
Victorious Cahuameros basketball team
See translation above.
~~~~~~~~~~~~~~~~~~~~~~~~~~~~~
Photos by Bruce from this morning's Dia de la Revolucion parade
This blog is brought to you by....
View from the rooms.
MaraVilla Caribe
Bed & Beach
Three rentals with large glass doors overlooking our white sand beach and the beautiful Caribbean sea, with kitchenettes &
free WIFI.
In the coastal neighborhood of Bachilleres, among upscale villas & boutique hotelitos, convenient to downtown or the colonias, yet separate.

Quiet & Private.
Kitchen in a large studio. (Sur & Norte are identical)



Kitchenette in small room, Medio. There's a table & chairs across from it & a double bed.
A large slider opens from each of the 3 rooms onto the patio where each has a table & chairs, hammock & clotheslines. The BBQ is behind the pole, and the outdoor shower is outa the pic at left.
Large studio (Norte), I'm standing in the kitchen. A queen & single bed.
Free amenities such as hammocks, BBQ grills, outdoor shower, portable beach chairs & beach towels, washer & dryer, loungers.

Breathtaking panoramic views from the rooftop terrace. Large sliding doors open to a patio & our backyard-beach, overlooking the Caribbean sea. Upstairs room also available.

Downtown is ~ a mile away; if you don't feel like walking, flag a $2 taxi. Parking.

You can enjoy the music & crowds downtown, then come home our quiet neighborhood of Bachilleres where you'll

sleep to the sounds of the sea.

.

$275/$325/$425 wk $40/50/$65nt Monthly Discounts


Large studio (Sur) with Queen & Single bed. Slider door & view are behind me.




Fine dining a few steps away at Da Luisa or try the neighborhood eateries a couple blocks farther. Within ten minutes walk are a variety of restaurants including Mango Cafe, Brisas, Manolitos, La Chatita, Green Verde, Kash Kechen Chuc, and the large department store-grocery , Chedraui. Visit marinas, bars, & beach clubs that are minutes away by bike or on foot. Attend Yoga classes a couple villas away at hotelito Casa Ixchel. Fresh juice, produce & tortillas a few blocks away in the village, as well as a variety of other stores and small local restaurants. It takes 20-30 minutes to walk downtown.
```````````````````````````````````````````````````````````````````````
Nov. 23 6:49
Nov. 24 7:43
Nov. 25 8:42
Nov. 26 9:44
Nov.27 10:47
Nov. 28 11:49
Painting by Pamela Haase
Sunset ~6:10 to ~6:05p (beginning vs end of month)
Sunrise ~6:50 to 7:10
Plogging events to clean up the island are held on Saturdays
LINK
and here's the
Accion Isla LINK
who are having events associated with project RESCATE.
Thursday, Nov. 1 All Saint's Day Dia de los Muertos
Festival for The Souls of the Dead with Dance, Music, and traditions. The procession will begin at 6pm beside the downtown Cemetery, going down Hidalgo, and ending at the Casa de a Cultura. There will be an exhibition of altars from different states of Mexico and a presentation of a Un Tzompantli (rack of skulls), performances by artists from the schools of dance and music, and a competition of Catrina costumes. Coordinated by Jean Piaget school.
Most of the participants in the procession are in catrina makeup or wearing regional clothing, and the rest are in white, and they carry candles.
Friday, Nov. 2 All Soul's Day Dia de los Muertos
Saturday, Nov. 3 Plogging event 8a-10a
Friday, Nov. 16-Monday, Nov.19 Buen Fin weekend (sales)
Saturday, Nov. 17 Plogging event 8a-10a
Saturday, Nov. 17 The second annual Biker Fest begins at noon on the runway & events include a tour around the island, contests, demonstrations, and other activities. They will have activities on Playa Centro on Sunday. It is sponsored by"Club Evolution FZ Isla Mujeres" in celebration of the club's sixth anniversary, and they expect motorcyclists from all over Mexico to attend.
Saturday on the runway
Noon: Registration
1p: Get Together
2p: Inauguration of the Event

3p: Quarter Mile
4p: Procession around the isle & official photo
5p: Final Quarter Mile
6p: Stunt Biker, PDC.
7p: Contests & Surprises
7:30: Comedy Show
9p: Rock band
10:30: Rap w. Lil Chanek & Royal
11:30: Fire Show El Dragon H
12a DJ music
Sunday, Nov. 18 Town Square 8p Noches Magicas The Senior Citizen's choir will be accompanied by Jose Concepcion Najera, and singer Ernesto Rodriguez will also perform, as well as a dance troupe from the Academy Baile TuTu.
Tuesday, Nov. 20 Revolution Day. Parade on Rueda Medina, starting in front of the Naval base at 8a.
Saturday, Nov. 3 Plogging event 8a-10a
Wednesday Nov. 28 The Patron Saint festivities will begin when Our Lady of Immaculate Conception is taken down from her niche, followed by a dance on the Town Square. There will also be a dance at the closing festivities on Sat. Dec. 8, after the procession returning her to the church. The night before, Las Mañanitas will be sung in her honor. In between, there will be religious ceremonies and celebrations at the ~two dozen guilds & groups that honor her, with the schedule TBA. The Confirmations will be performed on Dec. 5 by Monsignor Pedro Pablo Elizondo.
Saturday, Dec. 1 Inauguration Day
According to the Prosecutor's office, she was last seen late Monday night at the Tiny Gecko bar, near the area where a tourist was reported to have entered the water around 1am, which prompted a search by the Navy & local agencies, that continued for hours on Tuesday. Over the years, many people have lost their lives along that stretch, which has dangerous currents.
Sources for Weather Information:
LINK
to Civil Protection Q Roo weather bulletin (Spanish)
LINK
to Mexico National Weather Service (Spanish)
LINK
to satellite images for the Mexico National Weather Service
LINK
to GOES East Band 16 GIF
LINK
to a private weather station on Isla Mujeres
LINK
to NHC in US (in English)