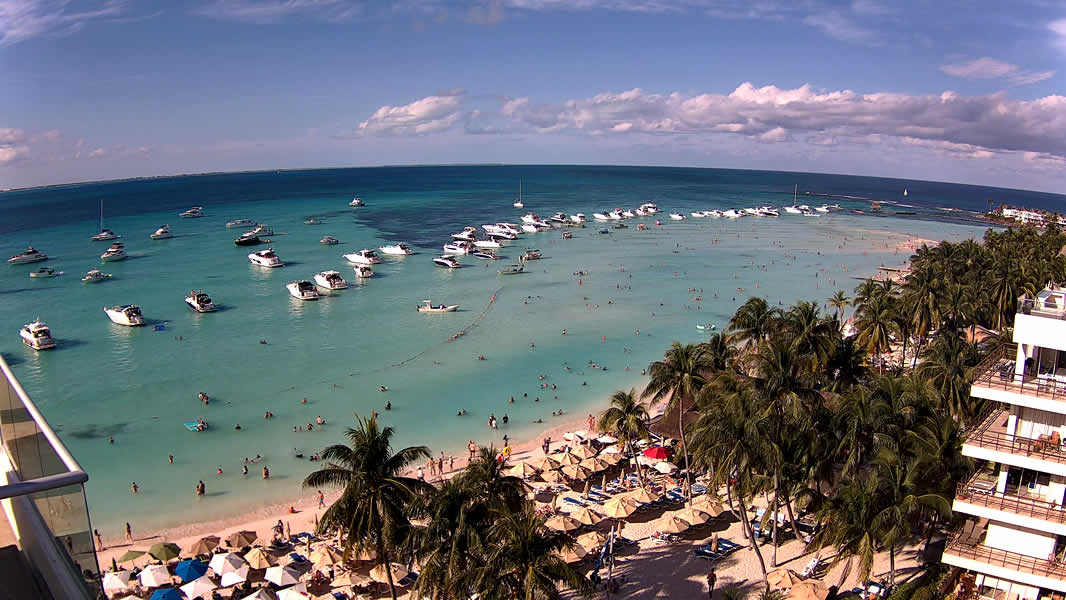 This is the live webcam at North Beach / Playa Norte.
~~~~~~~~~~~~~~~~~~~~~~~~~~~~~
News from the Municipal Facebook site.....

( FB page link)
Route of the parade for Independence Day...it says September 14when Rueda Medina will be closed from 7:30a m to 10am. Begins at the stairs by the Naval Base and goes to the Fishermen's Monument, and up to the Gas Station, according to the diagram.
I'll post the other graphics tomorrow which are about the Mayors upcoming report of the accomplishments of his administration during his second term in office.
~~~~~~~~~~~~~~~~~~~~~~~~~~~~~
FB News Sites about Isla Mujeres
Tvisla Mujeres
Cancun, q. Roo.- two vehicular accidents were recorded this Friday on the section of road between Cancun andPuerto Morelos; the first was a pick up pickup truck that was consumed by the fire and the second was a trailer that fell from the bridge in front of the hotel Moon Palace.
LINK
Mayor announces arrival of new trash trucks next month
LINK
In response to citizen requests and in keeping with his campaign promises, Mayor Juan Carrillo Soberanis announced the purchase of a new fleet of garbage trucks. He said he is committed to having these vehicles in October, and that they will be worthy of this Pueblo Magico. He said they will be suitable for trash collection service, but didn't specify the number of trucks.
Interviewed before the commemorative parade to the 208th anniversary of the start of the struggle for the independence of Mexico, the mayor said that there will be significant changes in the next administration, that it will be very "dynamic" ("con mucho dinamismo").
He said, "Although the staff of the Public Services Department make a significant effort every day, it is important that they also have the necessary tools to be able to perform this work well."
This graphic is an ad from Maritima Isla Mujeres for any size car for $482 pesos (Between Isla Mujeres & Punta Sam).."Sardine Car" as in "packed in like sardines"...
Yesterday...
Thirty years since Hurricane Gilbert
LINK
There is information
HERE
in English about hurricane Gilberto & see below for photos of some of the destruction in Isla Mujeres.
UPDATE...see section below...there are now just Remnants of Issac, moving west toward Jamaica, DR & Haiti with 35 mph winds & likely to cause 2-4 inches of rain.
As of 8pm on September 13, the weather system Issac was 2906 kilometers from Quintana Roo and posing no threat to the state's coasts. You are advised to pay attention to official sources and no listen to rumors.
LINK
(
The NHC has downgraded Issac from a Tropical Storm to a Tropical Depression
)
Isla Mujeres Al Dia
Photos of Playa Riito yesterday
City press release about improvements in the police force during this administration, which has already been translated, with photos.
Noti Isla Mujeres
VIDEO
with caption
Thirty years since Hurricane Gilberto hit Isla Mujeres
(see photos & comments below)
VIDEO
whose caption says Parade in Isla Mujeres celebrating the 208th anniversary of Mexican independence
IM Noticias
~~~~~~~~~~~~~~~~~~~~~~~~~~~~~
From por esto Link to their Isla Mujeres articles & photos
Advance celebration for Independence of Mexico
Festejo anticipado de la Independencia de México
[+]
Ver mas
The parade celebrating the start of the Independence of Mexico took place on Friday morning down Rueda Medina, with participation by the school children of Isla Mujeres and the Navy. It was led by a group of senior citizens and started near the Harbor Master's office, stretching down 300 meters in front of the Navy base. It began at 9am and more than 1000 people participated, traveling north up the main street for one kilometer to the Fishermen's Monument.
The official group viewing the parade was led by Mayor Juan Carrillo Soberanis and the groups stopped to perform in front of them. The parade included groups from the public primaries, and middle and high schools, as well as groups from the private schools and military personnel. There was an exhibition by the three dogs who are trained to fight crime relating to drugs. There were military personnel in camouflage and heavily armed, as well as divers who specialize in rescues. The parade also included the military and Red Cross ambulances.
Rueda Medina avenue was blocked, with two way traffic on Juarez as a detour, which caused traffic to slow down for three hours, until everything was back to normal at 10am. Those who were annoyed by the traffic detour have suggested that the Revolution Day parade on Nov. 20th be held in colonia La Gloria. Deliveries were also delayed to the colonias from vendors who come from the countryside of the Yucatan peninsula bringing tamales and produce to the local Island families.
Raising awareness against suicide
Se crea conciencia contra el suicidio
In honor of World Day for Prevention of Suicide, the DIF social service agency held various activities during the week. It is noted that the suicide rate in Mexico doubled between 1990 and 2015, from 2.4 per 100,000 to 5.4, with the highest increase among men under 44 years of age. Although statistics in Isla Mujeres are very minimal, officials explained that it is important to provide young people with the necessary tools and information so they know they are not alone and there are always other alternatives. Talks were given to students in the middle school and high school on the island, as well as in the Continental Zone.
Recognition for "Picho" Magana
Reconocimiento al "Picho" Magaña
Ariel "Picho" Magaña passed away five years ago, who was the first Mayor of Isla Mujeres, and played an important role in the development of the sport of baseball in Isla Mujeres and in the region. His name will be given to the All-Star game that will be held in Isla Mujeres on September 30th at the El Pescador stadium.
He wore numerous uniforms during his lifetime, managing teams which included Tecolotes of los dos Laredos and Leones of Yucatán, de la Liga Mexicana de Beisbol. the Mexican Baseball League, together with his brother, Romeo Magana Carrillo, who passed away the same year.
On Saturday at 2p the team from Puerto Morelos, the "Baseball Boys" will play the Cocteleros here on the island. (today).
Yesterday....
The port reopened for general navigation
Reabren el puerto
]
Ver mas
The winds decreased and the Harbor Master removed the restriction that has been in place for small boats for three days. Whale shark tours and other nautical activities resumed on Thursday, including trips to Isla Contoy and diving excursions. Dozens of smaller boats arrived from Puerto Juarez, Punta Sam, Isla Blanca, and the Hotel Zone of Cancun, with thousands of visitors taking tours of the Bay and disembarking at various public and private dock to enjoy the island's attractions, including Playa Norte.
Skies were clear and hundreds of visitors could be seen from 10am onward enjoying themselves after three days of poor weather. See information below regarding Issac.
The bad weather brought sargasso to Playa Riito
Llegó el sargazo a Playa Norte por mal tiempo
[+]
Ver mas
An estimated several tons of sargasso arrived to the eastern part of Playa Norte, which is known as Playa Riito, in front of the Mia Hotel. Workers with the ZOFEMAT agency (Federal Zone) worked from an early hour removing it from the 300 meter section. It is noted that most of the beaches are free of seaweed, due to the geographical orientation of the island, and there is a great deal of space to enjoy the beaches, which are kept clean by workers daily. Hotel staff also help keep the beaches clean, to meet the standards of the White Flag and Blue Flag designations at Playa Norte and Playa Centro, respectively.
There has been some sargasso arriving at the eastern beaches of the isle, facing the Caribbean Sea, but it is very minimal compared to the amounts arriving on the other beaches of the Mexican Caribbean.
Narco banner appeared
Aparece otra narcomanta
+]
Ver mas
Before dawn on Thursday, a banner was placed on a fence near the former "Romeo" packing plant, down from the middle school. It was signed by "La Gente de Cancun" (gente-people), addressing a dozen people by their nicknames, advising they do not align with 'Los Gemelos" (lit-the twins) or face consequences. The police removed the banner and the Prosecutors office opened an investigation.
Predawn theft on Playa Norte
Ratero madrugador en Playa Norte
. [+]
Ver mas
A tourist from China went skinny-dipping at 6am for exercise, leaving his clothing and keys in a bag on the beach, which were stolen, leaving him "en pelotas", so he covered himself with a plastic trash bag. Soon after, workers at the Lima family restaurant (Buho's) arrived and gave him a pair of shorts to wear while he waited for assistance.
His money and documents were safely locked in his rental car, and the Director of the office of Tourism Promotion, Gustavo Rodriguez Orozco, brought him a locksmith at 11am, to open his rented vehicle which was parked on Carlos Lazo street, since his keys had been stolen. The tourist paid $15 to the locksmith, and he was able to get a duplicate from the rental agency in Cancun, so he could continue his trip to other destinations in the Mexican Caribbean. He expressed his gratitude to the Mexican authorities, in particular to Mr. Rodriguez and his department, and for help from the Tourism police.
In response to questions from the reporter, Mr. Rodriguez confirmed that several tourists and tourism service providers have complained about a fellow called "Rex" who has been harassing foreign women at Playa Norte. It appears he "is a vagrant who is not always in his right mind because he is dedicated to vices", according to comments made about him. Annoyance about him has been expressed on social media, which are generating a bad image of this tourism destination. He is described as having tattoos, including an image of himself on his neck. Those who are concerned want authorities to put a stop to his activities and to return him in jail, according to unofficial accounts.
~~~~~~~~~~~~~~~~~~~~~~~~~~~~~
Celebrating Independence tonight!! (And mañana you'll find Isleños treating 'la cruda' with pozole, mondongo, & menudo.)
At 11pm tonight, on the Town Squares across Mexico, Mayors will read El Grito, and the townspeople will enthusiastically reply
"Viva México!" and "Viva la Independencia!", as the town bell rings, celebrating the start of the War for Independence from Spain (which lasted over 10 years).
Just before midnight on September 15th, 1810, Miguel Hidalgo gathered the people of Dolores in front of the church on the town square, ordered the church bells to be rung, and urged them to take back the lands stolen from their forefathers. His speech ended with the now-famous Grito:
"Viva México!" (Isla Mujeres was named Dolores when it was founded in 1850, in honor of this event.)
In Isla Mujeres, there are usually folklorico dancers performing before the Grito, then fireworks, and it will be followed by live music by Grupo Mojado & MegaBoom, and partying all night long.
Here's more information about the significance of this holiday, which many folks in the US think occurs on the fifth of May:
https://www.nationalgeographic.com/…/mexico-independence-d…/
Thirty years ago today, the island was in tragic shape after being hit by Hurricane Gilberto,
which arrived with sustained winds of 160 mph, gusting over 200 mph. It was 500 miles in diameter and its storm surge penetrated over three miles inland, with Cancun reporting 18 foot waves. A large Cuban fishing boat that tried to seek refuge in Isla Mujeres, ended up lodged into a Cancun hotel.
The first picture was posted today by
Freddy Medina
, giving recognition to the Islanders
who responded to the devastation after Hurricane Gilberto, thirty years ago, by working together, and who should not be forgotten. The island is known for its people, who have united in times of crisis, as a community, including "los amigos del Barrio Tuxpeño."
In the comments below Freddy's post, the town Historian, Fidel Villanueva Madrid, acknowledges their work, as well as that of the family Figueroa Paz, and all the fishermen & lancheros (owners & crew of small boats) who worked together, day and night, to rescue the water pipes, restoring tap water in just 13 days.
The other three photos are from Aclarando blog (9/14/11) crediting PPFigueroa
BELOW...
Fishing boat "Portachernera" on Las Perlas beach in the Cancun Hotel Zone. The Cuban government donated the ship to Mexico, which was not able to be returned to the sea, and was dismantled months later for scrap....after being well-photographed. (From Aclarando blog 3/28/2010.)
While the islanders are known for having an awareness and a history of preparedness for hurricanes & working together after them, Gilberto was the first hurricane to hit Cancun since it was established in the mid 70's. And what a terrible hurricane it was!!

Here's a link to an article about Isleños pulling together after the hurricane of 1922, when of the 120 homes, only 40 remained standing and just three were considered habitable. But the first thing the homeless islanders did, was rescue the victims of a shipwreck on the little islet offshore when "El Farito" lighthouse stands. http://islamujereshistory.blogspot.com/.../the-hurricane... (The article was written by our town historian, Fidel Villanueva Madrid and I translated it.)
Today....
This morning the NHC said: NOAA HURRICANE HUNTER PLANE INDICATES ISAAC HAS DISSIPATED......THIS IS THE LAST ADVISORY.
Maximum sustained winds are near 35 mph (55 km/h) with higher gusts.
The remnants of Isaac will likely continue to produce gusty winds
and occasional heavy rains while moving westward across the central
and western Caribbean during the next few days.
There are no coastal warnings or advisories. Hazards affecting land are rainfall of 2-4 inches, a maximum of six inches in DR, Haiti, & Jamaica.
Yesterday...
The NHC has downgraded Issac to a Tropical Depression since the last advisory because winds have dropped to 35mph, according to the latest ASCAT data. (That's a satellite scatterometer that measures surface wind speeds using microwaves.) Issac is expected to weaken into an open wave as the northwesterly wind shear and dry mid-level air continue taking a toll.
When the system reaches the western Caribbean, the shear may relax somewhat and moisture levels are expected to be higher, which could allow for regeneration. However, forecast models predict Issac weakening and moving over the western Caribbean as an open wave, and the NHC forecast follows this scenario. A low to mid level ridge over the southwestern Atlantic continues to steer Issac westward at 15mph and this general motion is expected to continue until dissipation occurs.
FORECAST POSITIONS AND MAX WINDS

INIT  14/0900Z 15.0N  65.5W   30 KT  35 MPH(Today)
 12H  14/1800Z 15.1N  67.3W   30 KT  35 MPH
 24H  15/0600Z 15.2N  69.7W   30 KT  35 MPH(Sat morn)
 36H  15/1800Z 15.2N  72.0W   25 KT  30 MPH(Sat evening)
 48H  16/0600Z 15.4N  73.8W   25 KT  30 MPH(Sun)
 72H  17/0600Z 16.4N  77.7W   25 KT  30 MPH(Mon)
 96H  18/0600Z...DISSIPATED (Tue)
This blog is brought to you by....
View from the rooms.
MaraVilla Caribe
Bed & Beach
Three rentals with large glass doors overlooking our white sand beach and the beautiful Caribbean sea, with kitchenettes &
free WIFI.
In the coastal neighborhood of Bachilleres, among upscale villas & boutique hotelitos, convenient to downtown or the colonias, yet separate.

Quiet & Private.
Kitchen in a large studio. (Sur & Norte are identical)



Kitchenette in small room, Medio. There's a table & chairs across from it & a double bed.
A large slider opens from each of the 3 rooms onto the patio where each has a table & chairs, hammock & clotheslines. The BBQ is behind the pole, and the outdoor shower is outa the pic at left.
Large studio (Norte), I'm standing in the kitchen. A queen & single bed.
Free amenities such as hammocks, BBQ grills, outdoor shower, portable beach chairs & beach towels, washer & dryer, loungers.

Breathtaking panoramic views from the rooftop terrace. Large sliding doors open to a patio & our backyard-beach, overlooking the Caribbean sea. Upstairs room also available.

Downtown is ~ a mile away; if you don't feel like walking, flag a $2 taxi. Parking.

You can enjoy the music & crowds downtown, then come home our quiet neighborhood of Bachilleres where you'll

sleep to the sounds of the sea.

.

$275/$325/$425 wk $40/50/$65nt Monthly Discounts


Large studio (Sur) with Queen & Single bed. Slider door & view are behind me.




Fine dining a few steps away at Da Luisa or try the neighborhood eateries a couple blocks farther. Within ten minutes walk are a variety of restaurants including Mango Cafe, Brisas, Manolitos, La Chatita, Green Verde, Kash Kechen Chuc, and the large department store-grocery , Chedraui. Visit marinas, bars, & beach clubs that are minutes away by bike or on foot. Attend Yoga classes a couple villas away at hotelito Casa Ixchel. Fresh juice, produce & tortillas a few blocks away in the village, as well as a variety of other stores and small local restaurants. It takes 20-30 minutes to walk downtown.
```````````````````````````````````````````````````````````````````````
Sept. 24 6:46
Sept. 25 7:24
Sept. 26 8:02
Sept. 27 8:42
Sept. 28 9:25
Sept. 29 10:11
Sept. 30 11:02
Painting by Pamela Haase
Sunset ~7p to ~6:30p (beginning vs end of month)
Sunrise ~630
It's whale shark tour season (thru mid September) and turtle nesting season (thru mid October). September is the Mes de la Patria/patriotic month, celebrating Mexico's independence from Spain
Saturday, Sept. 1 Boat procession to Isla Contoy taking the Virgin of Caridad del Cobre to the chapel at the Fishermen's camp there departing from the concrete pier at 8am after the Mass at 7am and the procession from the Church of Immaculate Conception. 19th annual edition.
Saturday, Sept. 1 Weekly plogging event to clean up litter, meeting at the park "Hormiguitas Oberas", to continue cleaning at Salina Grande lake 8a-10a.
Sunday, Sept. 2 RESCATE skating event on the hill by Julio Saury grade school 10a-3p, followed by a drone video then a BBQ at the RESCATE site in Sac Bajo, at the old Cristalmar hotel next to Playa Tiburon, with a raffle for youth, live music, and circus performers until 8p.
Tuesday, Sept. 4 Last day to register for the lionfish competition
Friday, Sept. 7 Lionfish culinary competition at the Town Square starting at 6pm
Saturday, Sept. 8 Plogging event, 8a-10a, meeting place TBA
Saturday, Sept. 8 Rockabilly Festival from Cancun at Mayan Beach Club starting at 2p
Friday, Sept. 14 Independence Day parade on Rueda Medina from the Naval Base to the Fishermen's monument. Starting around 8a, maybe 9a. Traffic will be detoured to Juarez for a couple hours.
Saturday, Sept. 15 Plogging event, 8a-10a, meeting place TBA
Saturday, Sept. 15 Celebration on the Town Square for Independence with the reading of the Grito by the Mayor who rings the bell. Probably with fireworks, performers, live music & dancing, and crowning of Miss Independencia. Schedule TBA
The bands playing for the Independence celebrations on the Town Square on Saturday night will be Grupo Mojado & Megaboom. Tables are on sale at the Office of Public Relations from 10a to 4p, and there is a phone number & extension for more information. Your entire family is invited to come and celebrate!
Sunday, Sept. 16 Independence Day
There is usually a parade on Rueda Medina starting at 8a
. Parade was held Friday morning.
Monday, Sept. 17 End of the Whale Shark tour season. The licensees and their families usually have a celebration on the weekend after it closes and a Mass to express their gratitude.
Wednesday, Sept. 19 The Mayor's second municipal Report will be given on Sept. 19th at 4pm on the Town Square, according to the caption with this graphic, which says the City Council will have a special session at 4:30 on the Town Square.
Wednesday, Sept. 19 There will be a national earthquake simulation, preceded by a moment of silence for the victims of the 2017 earthquake, and afterwards you are invited to raise your right fist as a symbol of unity and brotherhood among the people of Mexico
Saturday, Sept. 22 Fall Equinox
Thursday, Sept. 27 World Tourism Day There may be an event to commemorate the anniversary of becoming a Pueblo Magico
Saturday, Sept. 29 Plogging event, 8a-10a, meeting place TBA
Plogging events to clean up the island are held on Saturdays
LINK
and here's the
Accion Isla LINK
who are having events associated with project RESCATE.
Sources for Weather Information:
LINK
to Civil Protection Q Roo weather bulletin (Spanish)
LINK
to Mexico National Weather Service (Spanish)
LINK
to satellite images for the Mexico National Weather Service (Yucatan peninsula is under Satellite GOES Este, I recommend "Animacion")
LINK
to GOES East Band 16 GIF (animation)
LINK
to a private weather station on Isla Mujeres
LINK
to Tropic Watch (in English)
LINK
to NHC in US (in English)
LINK
to Tropical Tidbits (in English)