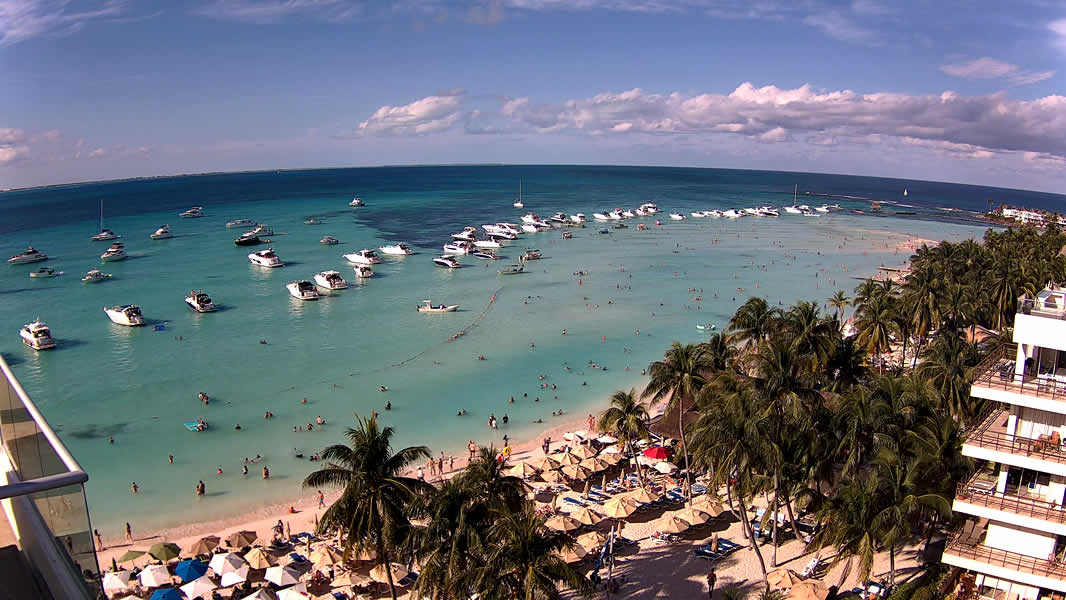 This is the live webcam at North Beach / Playa Norte.
Follow Isla Mujeres News & Events on Facebook for highlights of news & events, and more photos & videos
~~~~~~~~~~~~~~~~~~~~~~~~~~~~~~~~~~~~~~~~~
~~~~~~~~~~~~~~~~~~~~~~~~~~~~~
News from the Municipal Facebook site.....

( FB page link)
~~~~~~~~~~~~~~~~~~~~~~~~~~~~~
FB News Sites about Isla Mujeres
Tvisla Mujeres
The Ultracarga II has also entered into operation
(
Providing cargo-vehicle, and passenger, service between the isle and Punta Sam
) (photo)
Isla Mujeres Al Dia
Salina Grande and the eastern Malecon have been provided with 100% lighting, at a cost of 5 million pesos to provide and install the solar lights
. An inauguration held by the Mayor who acknowledged the support from the federal government, which is a benefit for tourism and security.
The head of Public Works explained that 2.5 million pesos from the federal Fondo de Fortalecimiento Financiero was invested in the lighting of the eastern malecon which consisted of material and installation of 46 galvanized poles that are 6 meters tall and the 46 solar lights, as well as the concrete. The same fund paid for the materials and installation of 40 solar LED lights of 60 watts each and their 40 poles, plus concrete, around Salina Grande lake, which were added to the 50 lights installed in 2017, which were paid for by the Fondo para Fronteras, and now the area has achieved 100% lighting. Names of other officials attending the event are given. (photos).
Noti Isla Mujeres
There is a
video
about an pro-shark organization (
I couldn't catch their name
,
it should be available tomorrow in other reports.
) who are assisting with
maintenance and repairs on the hyperbaric chamber,
which serves the fishing sector of the isle.
VIDEO
pointing out the new parts, repairs, & help they've provided to the chamber at a cost of 155,000 pesos. He also talks about the importance of the chamber & that it has passed its normal useful life after 20 years, that they are good for about 15 years. He notes this chamber gets a lot of use, and is necessary to save lives, and sometimes is needed by more than one fisherman at a time, and there are a need for multiple lines & oxygen tanks, which it now has.
There is a video of a fellow helping a turtle in Cozumel t
hat had gotten herself flipped over & was helpless. He flipped her & video'd her returning to the sea at sunrise.
There is
a VIDEO
of Marissa Barracuda explaining
what happened at the RESCATE site in Sac Bajo this weekend when their group was evicted,
and their response to continue working together for the community.
Marissa
is explaining what happened in Sac Bajo... all the dirty, hard work they they did & their intentions to provide a space for the community and for many talented & well intentioned people to come together with a library, housing, classrooms & com
munity spaces, etc. How the facility was abandoned with legal issues & a general mess & all the repairs they've done, tons of trash removed, Africanized bees, etc, and building the skate park w its big ramp that took a month to construct. The day before the free event, a pre-opening, they were evicted, their tools & materials taken (stolen), the mural of the 104 year old midwife from Rancho Viejo was painted over (& she hadn't had a chance to see it yet) & their own donated materials were used as blockades. She talks about their ideals, values, morals, dreams and says that although their tools were taken, they still have their hands & goals & are united & will continue fighting to create their dreams for the community & they invite ideas & help. The reporter asks about their plans legally & if they will file legal complaints? She said this happened on the weekend, and they will be talking more about that when lawyers are available on the
Post from RESCATE
about the eviction (It's in English).
IM Noticias
~~~~~~~~~~~~~~~~~~~~~~~~~~~~~
From por esto Link to their Isla Mujeres articles & photos
Environmental awareness unites locals and foreigners
Conciencia ambiental une a propios y extraños
. [+]
Ver masFull article at this link
I'll translate this one manana
Lighting installed along eastern malecon & Salina Grande lake
Vivieron un lustro de penumbra
.. [+]
Ver masFull article at this link
See translation above.
Proposal for an exhibition for sea turtles
Exhibición sobre la tortuga marina
a .. [+]
Ver masFull article at this link
There are plans to open an exhibition with information about sea turtles and the protection program in Isla Mujeres, which has taken place for over fifty years. The proposal could be finalized before the end of the year and could be put in place in 2019, if it is approved. There is not enough room at the Tortugranja for a museum, but there would be a search for an area to display information about the turtles who nest on Isla Mujeres.
The Director of the Tortugranja said that during high seasons, thousands of tourists visit the facility, including children, who are given the necessary information during the tours, but with this space they could provide more information and statistics for those who are interested in conservation of the species.
It is recalled that it was Don Chale who began rescuing sea turtle eggs when they were being fished commercially in a large manner. And then reproducing specimens were captured at the southern part of the island by staff of the facility to study the recovery of this resource. Today only the eggs are collected by the Tortugranja staff and volunteers from the ten beaches of Isla Mujeres where the sea turtles nest.
Skaters of Isla Mujeres are united
Se unen patinadores de Isla Mujeres
[+]
Ver masFull article at this link
I'll translate this one manana.
~~~~~~~~~~~~~~~~~~~~~~~~~~~~~
This blog is brought to you by....
View from the rooms.
MaraVilla Caribe
Bed & Beach
Three rentals with large glass doors overlooking our white sand beach and the beautiful Caribbean sea, with kitchenettes &
free WIFI.
In the coastal neighborhood of Bachilleres, among upscale villas & boutique hotelitos, convenient to downtown or the colonias, yet separate.

Quiet & Private.
Kitchen in a large studio. (Sur & Norte are identical)



Kitchenette in small room, Medio. There's a table & chairs across from it & a double bed.
A large slider opens from each of the 3 rooms onto the patio where each has a table & chairs, hammock & clotheslines. The BBQ is behind the pole, and the outdoor shower is outa the pic at left.
Large studio (Norte), I'm standing in the kitchen. A queen & single bed.
Free amenities such as hammocks, BBQ grills, outdoor shower, portable beach chairs & beach towels, washer & dryer, loungers.

Breathtaking panoramic views from the rooftop terrace. Large sliding doors open to a patio & our backyard-beach, overlooking the Caribbean sea. Upstairs room also available.

Downtown is ~ a mile away; if you don't feel like walking, flag a $2 taxi. Parking.

You can enjoy the music & crowds downtown, then come home our quiet neighborhood of Bachilleres where you'll

sleep to the sounds of the sea.

.

$275/$325/$425 wk $40/50/$65nt Monthly Discounts


Large studio (Sur) with Queen & Single bed. Slider door & view are behind me.




Fine dining a few steps away at Da Luisa or try the neighborhood eateries a couple blocks farther. Within ten minutes walk are a variety of restaurants including Mango Cafe, Brisas, Manolitos, La Chatita, Green Verde, Kash Kechen Chuc, and the large department store-grocery , Chedraui. Visit marinas, bars, & beach clubs that are minutes away by bike or on foot. Attend Yoga classes a couple villas away at hotelito Casa Ixchel. Fresh juice, produce & tortillas a few blocks away in the village, as well as a variety of other stores and small local restaurants. It takes 20-30 minutes to walk downtown.
```````````````````````````````````````````````````````````````````````
Full moon rising over the Caribbean
Sept. 24 6:46
Sept. 25 7:24
Sept. 26 8:02
Sept. 27 8:42
Sept. 28 9:25
Sept. 29 10:11
Sept. 30 11:02
Painting by Pamela Haase
Sunset ~7p to ~6:30p (beginning vs end of month)
Sunrise ~630
Provided by MaraVilla Caribe & Isla Mujeres Daily News & Events
It's whale shark tour season (thru mid September) and turtle nesting season (thru mid October). September is the Mes de la Patria/patriotic month, celebrating Mexico's independence from Spain
Saturday, Sept. 1 Boat procession to Isla Contoy taking the Virgin of Caridad del Cobre to the chapel at the Fishermen's camp there departing from the concrete pier at 8am after the Mass at 7am and the procession from the Church of Immaculate Conception. 19th annual edition.
Saturday, Sept. 1 Weekly plogging event to clean up litter, meeting at the park "Hormiguitas Oberas", to continue cleaning at Salina Grande lake 8a-10a.
Sunday, Sept. 2 RESCATE skating event on the hill by Julio Saury grade school 10a-3p, followed by a drone video then a BBQ at the RESCATE site in Sac Bajo, at the old Cristalmar hotel next to Playa Tiburon, with a raffle for youth, live music, and circus performers until 8p.
Tuesday, Sept. 4 Last day to register for the lionfish competition
Friday, Sept. 7 Lionfish culinary competition at the Town Square starting at 6pm
Saturday, Sept. 8 Plogging event, 8a-10a, meeting place TBA
Saturday, Sept. 8 Rockabilly Festival from Cancun at Mayan Beach Club starting at 2p
Saturday, Sept. 15 Plogging event, 8a-10a, meeting place TBA
Saturday, Sept. 15 Celebration on the Town Square for Independence with the reading of the Grito by the Mayor who rings the bell. Probably with fireworks, performers, live music & dancing, and crowning of Miss Independencia. Schedule TBA
Sunday, Sept. 16 Independence Day There is usually a parade on Rueda Medina starting at 8a
Monday, Sept. 17 End of the Whale Shark tour season. The licensees and their families usually have a celebration on the weekend after it closes and a Mass to express their gratitude.
Saturday, Sept. 22 Plogging event, 8a-10a, meeting place TBA
Saturday, Sept. 22 Fall Equinox
Thursday, Sept. 27 World Tourism Day There may be an event to commemorate the anniversary of becoming a Pueblo Magico
Saturday, Sept. 29 Plogging event, 8a-10a, meeting place TBA
Plogging events to clean up the island are held on Saturdays
LINK
and here's the
Accion Isla LINK
who are having events associated with project RESCATE.
Sources for Weather Information:
LINK
to Civil Protection Q Roo weather bulletin (Spanish)
LINK
to Mexico National Weather Service (Spanish)
LINK
to satellite images for the Mexico National Weather Service (Yucatan peninsula is under Satellite GOES Este, I recommend "Animacion")
LINK
to GOES East Band 16 GIF (animation)
LINK
to a private weather station on Isla Mujeres
LINK
to Tropic Watch (in English)
LINK
to NHC in US (in English)
LINK
to Tropical Tidbits (in English)