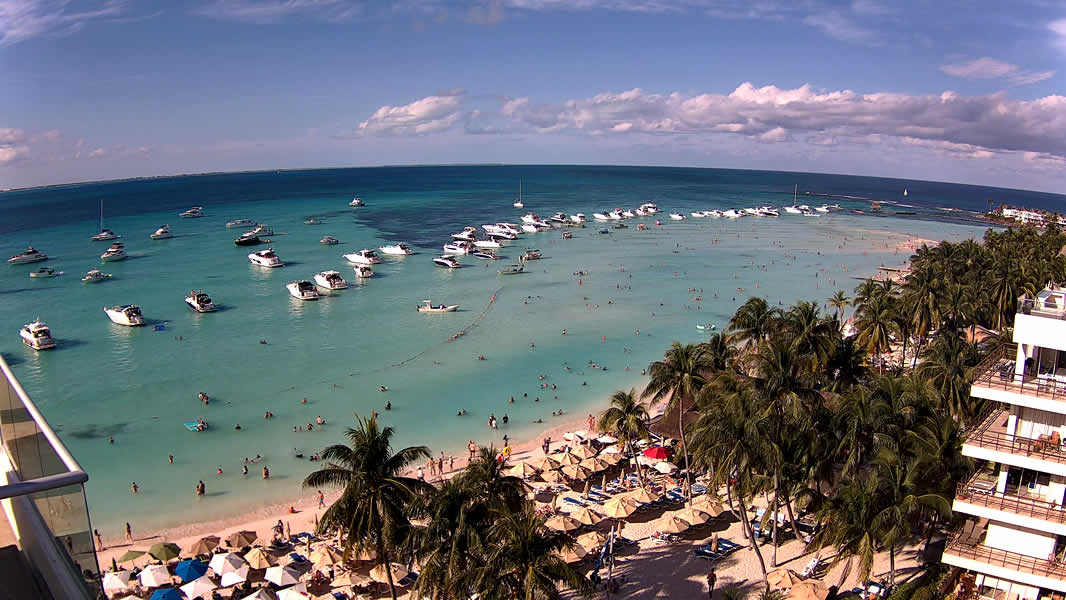 This is the live webcam at North Beach / Playa Norte.
Follow Isla Mujeres News & Events on Facebook for highlights of news & events, and more photos & videos
~~~~~~~~~~~~~~~~~~~~~~~~~~~~~~~~~~~~~~~~~
~~~~~~~~~~~~~~~~~~~~~~~~~~~~~
News from the Municipal Facebook site.....

( FB page link)
Committed to supporting entrepreneurs, including small and medium entrepreneurs, we are providing the requirements to be able to participate in courses, funding and incentives that are available for you
Be careful on Sunday, Aug. 26th when the 2nd Isla Mujeres Race "Aire/"LIK" will take place causing road closures along the route on one side of Rueda Medina from the Monument to the Fishermen to the Mundaca Hacienda, and back
VIDEO from the Mayor whose caption says:

For your safety, wear your helmet to protect your life. Don't take risks, it's in your hands to avoid an accident.

VIDEO

whose caption says:

In Isla Mujeres, we

continue to be a destination with clean beaches, today we started the Temporary Employment Program. There will be 190 people responsible for cleaning beaches and removing sargasso. Interview with the Director of ZOFEMAT, Karem Pinto Aguilar.

To ensure the protection of our children

Isla Mujeres

is now part of the Mexican network of child friendly cities VIDEO Wear your helmet to save your life
~~~~~~~~~~~~~~~~~~~~~~~~~~~~~
FB News Sites about Isla Mujeres
Tvisla Mujeres
Increasing crime in Isla Mujeres
On Friday morning shortly after 9am, moments after the manager of the Yamaha store and two employees had opened the business, two men entered, armed with a gun and a knife, and threatened them. The men gagged and handcuffed them, and stole their belongings as well as the money in the safe. The amount stolen from the safe is unknown, but included sales from the previous day, and they took the business managers personal possessions and 3000 pesos in cash.
As soon as the robbery was reported, the municipal police coordinated an operation at the Isla Mujeres Maritime Terminal, watching for the two individuals. It is noted that this occurred within 72 hours of a young man's homicide, and that on June 6 a security guard was found brutally murdered at the beer distribution plant, 200 meters from the Yamaha dealer, and there are still no arrests in that case.
LINK
VIDEO
Once again, the tranquility of Isla Mujeres was interrupted and the Code Red was activated, after a woman was shot twice in colonia La Gloria last night. LINK
The incident occurred at 10:45 when a person, walking, approached and shot her at close range, then ran off down the main street. Red Cross paramedics immediately transferred her to the Isla Mujeres Community Hospital, and an emergency transfer to Cancun was planned. Her status is unknown.
Meanwhile, the road was closed, and the victims helmet and blood were on the sidewalk. It is noted that on Tuesday night, a young islander was executed by a gunshot in colonia Caridad del Cobre, without any clues so far. (There has been a follow up story noting that the motorcycle used in that crime, which was later found, was stolen in Cancun.)
The 5 K / 10 k / 15 k race named "IK"/ "Air 2018" will take place tomorrow, Sunday,
on Isla Mujeres, and some 300 athletes from different states of the Mexican Republic and abroad are expected to participate. It is one of four races, representing the four elements, that are part of the circuit, in four Pueblos Magicos of the region.
The categories are: Teen (12-17 years), Juvenile (18-24 years), Free (25-34 years), Master (35-44)
years), Senior (45-54 years), "Veterans" (55-64 years) and Plus (65+ years), in both men's and women's categories. There will be recognition awards for the first three places in each category, and prizes for those who place first, of everyone, in the 15k race.
The registration fee of 400 pesos (or 250 pesos for islanders) includes:
Hydration service, Medal of Participation, Recovery supply with fruit at the end of the race, Water resistant runner number, Commemorative t-shirt, Chip for electronic timing, Ambulance service, Storage area, and Restrooms.
LINK
(See events section below)
VIDEO
A child of 8-10 months died today at Dolphin Discovery, with preliminary information indicating it was a natural, accidental death which occurred in the area of the pools, which is cordoned off.
LINK
The motorcycle allegedly used in the execution on Tuesday night and found abandoned behind the middle school was reported stolen in Cancun.
Isla Mujeres Al Dia
Video of one of the sargasso free beaches of Isla Mujeres, Pueblo Magico
.
The graphic says, Thinking of you, we created a service for women. Best security and trust, Quality of service, Personally accredited.
Taxi Naranja
There was an organizational meeting for the procession to the the Virgin of Caridad del Cobre to Isla Contoy,

which occurs annually at the beginning of September, and she remains there until the end of the lobster catching season. More than 100 boats are expected to participate, and further details are not available at this time.

VIDEO

of

Playa El Riito is very popular with families

because its water is shallow and clear. Snorkelers like the area by the bridge and the rocks, where they find many fish.

Sunset

VIDEO

To ensure the protection of our children,

Isla Mujeres

is now part of the Mexican network of child friendly cities.

The Honorary President of the Isla Mujeres DIF, Paola Orrico De Carrillo, who attended the Conference of Child Friendly Cities in Tepic Nayarit, representing her husband, Mayor Juan Carrillo Soberanis. The conference took place on Aug. 23 & 24, and she expressed her gratitude for the work that has been done coordinating a system of comprehensive protection of the rights of girls and women with SIPINNA, and at the victim care center CAVI, in the municipality. Article & photos.




Article & photo about tomorrow's race.


SINTRA delegate, Isis Morales on Video regarding results of their recent operation. She says they issued four citations and explains the details of each.
Photos from the impound yard of two taxis and a golf cart that is captioned "Vehicles that have been impounded by SINTRA during its operation. Some are for offering transportation services to the public without having their documentation in order and the others were for providing transportation services without having a corresponding concession, according to the SINTRA delegate, Isis Morales. Noti Isla Mujeres Video

showing ambulance at the hospital, with the same information as above, noting she is in a delicate state of health. Another V

IDEO

The other photos, articles, & Videos have the same information as those translated above, and a photo of a fellow who is accused of stealing a case of "El Mexcalito" (he's holding the carton in the photo).

IM Noticias

The motorcycle allegedly used in the execution Tuesday night was reported stolen in Cancun, article & photos.




~~~~~~~~~~~~~~~~~~~~~~~~~~~~~
From por esto Link to their Isla Mujeres articles & photos
Mobility Law & study could affect golf cart concessions
Prevén revertir concesiones de carros de golf
[+]
Ver masFull article at this link
I'll translate this tomorrow...the Mobility Law doesn't go into effect until mid-September.
Armed robbery at Yamaha dealer
Primer robo a mano armada en Isla Mujeres
.. [+]
Ver masFull article at this link
This article notes there are no closed circuit cameras and people at nearby businesses did not see anything unusual.
Health campaign by CROC union
Jornada de salud
ver mas Full article at this link
Race Sunday: "II Circito Maya"
Participarán en el II Circuito Maya
. [+]
Ver masFull article at this link
This article contains information that has already been translated.
YESTERDAY:
No progress on execution case
Ejecución sin avance
[+]
Ver mas
This article contains information that has already been translated.
Deterioration at base of downtown hurricane wall
Malecón en riesgo
[+]
Ver mas
This information has been translated previously, a few times, tho not in the past week or so.
Trash collection is manageable
Recolecta de basura es "manejable"
]
Ver mas
Public Services reports on improvement since the end of summer high season & I'll translate it manana
.
Postal Service in a state of abandonment
Servicio Postal Mexicano en abandono
é.. [+]
Ver mas
The Isla Mujeres post office hasn't been well-staffed in quite some time. I'll translate this manana
.
~~~~~~~~~~~~~~~~~~~~~~~~~~~~~
On Wednesday, the US State Department updated its Travel Advisory for CIUDAD JUAREZ, (the border city by El Paso, Tx), and the US press responded by telling everyone not to go to Cancun. There is NO change in the advisory for the Cancun area, nor for Quintana Roo, nor for any other state in Mexico. They are all are the same as they were in January, when the new advisory system was inaugurated, I checked. This update concerned ONE BORDER CITY, and particular areas of that city, and has NOTHING to do with our region, which is ~2000 miles from Ciudad Juarez.
Perhaps they were confused because Cancun is in the municipality of Benito Juarez? Or maybe because the advisory came out on Wednesday and Cancun had a rather violent Tuesday (after 6 homicide-free days), so a careless journalist decided to associate the two unconnected events, & the national press just ran with it, without bothering to check the facts or the previous advisories?
In January, the US State Dept. inaugurated its new system and put Mexico at level 2, along with France, England, Italy, and Germany, and a variety of other countries. This means all the states in Mexico are at level 2, except those considered more risky, which are classed at 3 & 4. Our state, Quintana Roo, is and was at level 2, nothing has changed. The unchanged advisory states: There are no restrictions on U.S. government employees for travel in Quintana Roo state, which includes tourist areas such as: Cancun, Cozumel, Playa del Carmen, Tulum, and the Riviera Maya.
Level 1 - Exercise Normal Precautions: This is the lowest advisory level for safety and security risk. There is some risk in any international travel. Conditions in other countries may differ from those in the United States and may change at any time.
Level 2 - Exercise Increased Caution: Be aware of heightened risks to safety and security. The Departments of State provides additional advice for travelers in these areas in the Travel Advisory. Conditions in any country may change at any time.
Level 3 - Reconsider Travel: Avoid travel due to serious risks to safety and security. The Department of State provides additional advice for travelers in these areas in the Travel Advisory. Conditions in any country may change at any time.
Level 4 – Do Not Travel: This is the highest advisory level due to greater likelihood of life-threatening risks. During an emergency, the U.S. government may have very limited ability to provide assistance. The Department of State advises that U.S. citizens not travel to the country or to leave as soon as it is safe to do so. The Department of State provides additional advice for travelers in these areas in the Travel Advisory. Conditions in any country may change at any time.
Here's the US State Dept's interactive world map showing the levels they've assigned different countries (and the different states in Mexico):
https://travelmaps.state.gov/TSGMap/
Here's the US State Dept's advisory for Mexico, and each of the states, updated on August 22, with the new restrictions for Ciudad Juarez:
https://travel.state.gov/…/trav…/mexico-travel-advisory.html
~~~~~~~~~~~~~~~~~~~~~~~~~~~~~
This blog is brought to you by....
View from the rooms.
MaraVilla Caribe
Bed & Beach
Three rentals with large glass doors overlooking our white sand beach and the beautiful Caribbean sea, with kitchenettes &
free WIFI.
In the coastal neighborhood of Bachilleres, among upscale villas & boutique hotelitos, convenient to downtown or the colonias, yet separate.

Quiet & Private.
Kitchen in a large studio. (Sur & Norte are identical)



Kitchenette in small room, Medio. There's a table & chairs across from it & a double bed.
A large slider opens from each of the 3 rooms onto the patio where each has a table & chairs, hammock & clotheslines. The BBQ is behind the pole, and the outdoor shower is outa the pic at left.
Large studio (Norte), I'm standing in the kitchen. A queen & single bed.
Free amenities such as hammocks, BBQ grills, outdoor shower, portable beach chairs & beach towels, washer & dryer, loungers.

Breathtaking panoramic views from the rooftop terrace. Large sliding doors open to a patio & our backyard-beach, overlooking the Caribbean sea. Upstairs room also available.

Downtown is ~ a mile away; if you don't feel like walking, flag a $2 taxi. Parking.

You can enjoy the music & crowds downtown, then come home our quiet neighborhood of Bachilleres where you'll

sleep to the sounds of the sea.

.

$275/$325/$425 wk $40/50/$65nt Monthly Discounts


Large studio (Sur) with Queen & Single bed. Slider door & view are behind me.




Fine dining a few steps away at Da Luisa or try the neighborhood eateries a couple blocks farther. Within ten minutes walk are a variety of restaurants including Mango Cafe, Brisas, Manolitos, La Chatita, Green Verde, Kash Kechen Chuc, and the large department store-grocery , Chedraui. Visit marinas, bars, & beach clubs that are minutes away by bike or on foot. Attend Yoga classes a couple villas away at hotelito Casa Ixchel. Fresh juice, produce & tortillas a few blocks away in the village, as well as a variety of other stores and small local restaurants. It takes 20-30 minutes to walk downtown.
```````````````````````````````````````````````````````````````````````
Full moon rising over the Caribbean
Aug 1 10:45
Aug 2 11:23
Aug 26 7:32
Aug 27 8:10
Aug 28 8:46
Aug 29 9:24
Aug 30 10:02
Aug 31 10:42
Painting by Pamela Haase
Sunset ~7:25 to ~7:05 (beginning vs end of month)
Sunrise ~6:20 to ~630
The Perseid meteor shower peaks Aug 11, 12, 13
Mars is visible in the night sky (it's red) to the southeast (until ~4:30a)
On Aug. 15 & 16, look west at the Crescent Moon & see
Jupiter to the left & Venus to the right
Provided by MaraVilla Caribe & Isla Mujeres Daily News & Events
It's whale shark tour season (thru mid September) and turtle nesting season (thru mid October).
Saturday, August 4
The Plogging volunteers will meet at the Mundaca Hacienda at 8am, and clean up from there until they reach Zama Beach Club, where they will enjoy soft drinks and fruit. A reminder to bring you reusable water bottle and to wear gym shoes.
Sunday, August 5
on the Town Square at 8p Dance troupes and singers from Isla Mujeres and Cancun....Noches Magicas!
Cancelled and you are invited to enjoy Noches Magicas next Sunday at 8p on the Town Square
Tuesday, August 8
Inauguration of the Dog Friendly Beach at 4:30p, below the cell tower and municipal slaughterhouse.
Sunday, August 12
Noches Magicas on the Town Square at 8p
(See August 15-19 Founder's Festivities below)
LINK to an historical article about the town being founded by war refugees.
Friday, August 17 at 7pm
..Eight rounds For the 168th anniversary of the founding of Isla Mujeres at the Pescador Beach Club, just inside the entrance to Sac Bajo
Saturday, August 18
Plogging Day Clean-up 8am Location TBA
Saturday, August 18
Youth Rally at the Posada Beach (aka Playa Centro) at 9am with surprise prizes. Teams of three people. Commemorating World Youth Day
Saturday, August 18:
at Muelle Azul is Orquideas Pasarela Isla Summer 2018 Fashion Show which will feature designers from Cancun, Merida, and Isla Mujeres, as well as spotlighting new talent in the fashion industry from Estudio Creativo Cancún.
It begins with
a Cocktail Party at 7:30 and the Runway show starts at 8:30.Pre-Sale Tickets are available for $200 or $250 pesos at the door. and a portion of the proceeds are going to help a local woman who is battling cancer. Get your tickets at Muelle Azul, by messaging
Jul Isla
or calling 9981176871
Note: Muelle Azul is on the wooden pier formerly known as the Magana dock, next to the taxi stand.
Festivities for the 168th Anniversary of the Founding of Isla Mujeres
Wednesday, August 15 at 8p
: Night of the Assumption on the Town Square at the conclusion of the Parish program. Dance troupe performances featuring Las Mestazas de Agua Salada, Al Son Del Corazon, Anoranzas de Isla Mujeres, and Ballet Folklorico de Isla Mujeres
Thursday, August 16 at 2p
Conference with the town historian: Fidel Villanueva Madrid at the Casa de la Cultura (Guerrero at Abasolo)
Friday, August 17 at 8:45a
: Wreath offering at the Cross in the Bay commemorating 24 years since its submersion, departing from the dock at the Maritime Terminal at 8:45am, limited capacity.
At 7p:
Special City Council meeting recognizing the descendants of the founders and presenting the annual awards for citizenship and tourism, as well as a youth prize, on the Town Square
Saturday, August 18 at 8p
: "Danzarte" dance encounter featuring troupes from around the state on the Town Square
Sunday, August 19:
1p at the Pescadores baseball field (in front of Chedraui) Isla Mujeres teams Cocteleros vs Pescadores.
Sunday, August 19 at 8p
: Noches Magicas of Isla Mujeres featuring performances by Grupos Artisticos and the comic "Madame Yaxchilan" on the Town Square.
Sunday, August 26
The Circuito Maya race in Isla Mujeres will take place on Sunday, August 26, starting at 6:30am, with registration limited to 300 participants, and there will be 5k, 10k, and 15k categories. The kits will be available Saturday, August 25 from noon to 8p. The cost is 250 pesos for residents who present a voter registration card with an Isla Mujeres address and 400 pesos for others.
The Circuito Maya race in Isla Mujeres is the "Air" (Iik') element of the four races, which take place in four Pueblos Magicos in Quintana Roo and Yucatan. The other elements are Fire (K'aak'), Earth (Lu'um), and Water (Ha'). The other races are in Tulum, Bacalar, and Valladolid.
See website for more information: https://www.circuitomaya.mx/
Last year the Gastronomic Competition for Lionfish was held at the end of August.
Plogging events to clean up the island are held on Saturdays
LINK
and here's the
Accion Isla LINK
who are having events associated with project RESCATE.
Sources for Weather Information:
LINK
to Civil Protection Q Roo weather bulletin (Spanish)
LINK
to Mexico National Weather Service (Spanish)
LINK
to satellite images for the Mexico National Weather Service (Yucatan peninsula is under Satellite GOES Este, I recommend "Animacion")
LINK
to GOES East Band 16 GIF (animation)
LINK
to a private weather station on Isla Mujeres
LINK
to Tropic Watch (in English)
LINK
to NHC in US (in English)
LINK
to Tropical Tidbits (in English)