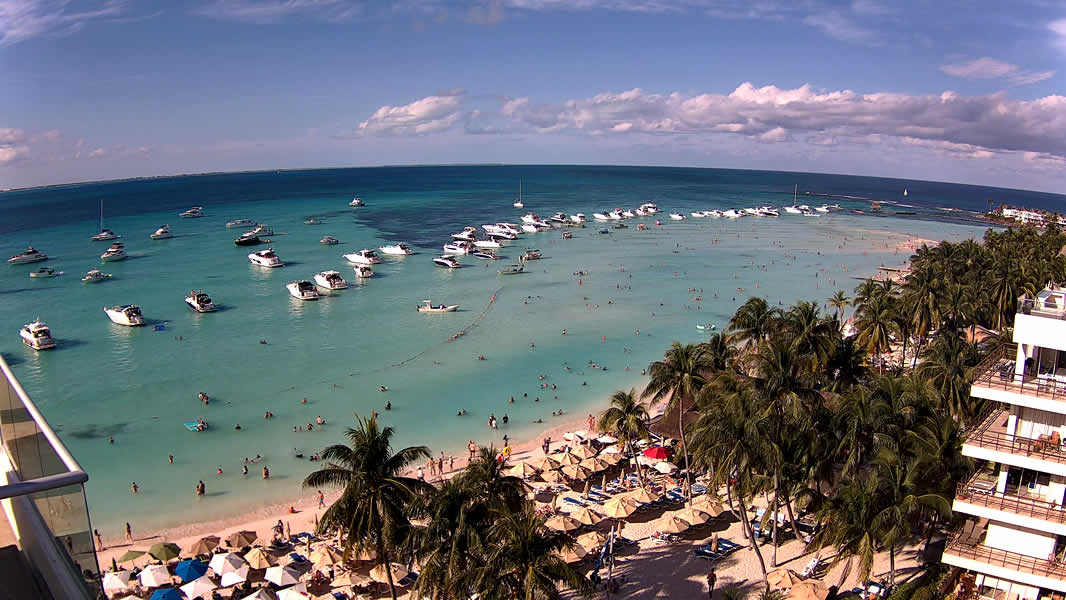 This is the live webcam at North Beach / Playa Norte.
Follow Isla Mujeres News & Events on Facebook for highlights of news & events, and more photos & videos
~~~~~~~~~~~~~~~~~~~~~~~~~~~~~~~~~~~~~~~~~
~~~~~~~~~~~~~~~~~~~~~~~~~~~~~
News from the Municipal Facebook site.....

( FB page link)
~~~~~~~~~~~~~~~~~~~~~~~~~~~~~
FB News Sites about Isla Mujeres
Tvisla Mujeres
Isla Mujeres Al Dia
In a VIDEO interview with Mari Delgado, Director of the Department Tourism Services,
(and article), she explains that 13 complaints have been brought to the tourism office during this holiday season, which include loss of cell phones and backpacks, and complaints about tourism service providers and about returning of purchases. Regarding the purchases, they were mostly resolved by the tourism office, and regarding the lost items, some were returned, including a passport that was lost on the street.
Hector Gil Chablé announced that the baseball team Cocteleros de Picus will participate in the Tecnológico League
, which begins this upcoming Sunday.
VIDEO
There will be eight teams participating, from the northern region of Quintana Roo.
Noti Isla Mujeres
VIDEO
of
the delegate of the Secretary of Infrastructure and Transport (SINTRA) on Isla Mujeres, Isis Morales Melendez, reporting the result of the verification operations that were implemented this weekend at the service of Transport (taxis) and golf carts. (The acoustics make it difficult for me to understand what she is saying)
VIDEO of
Jaime Ongay, Isla Mujeres Police Chief, reporting that the breathalyzer operation will continue to be used on weekends, with the aim of reducing the accident rate. The reporter asks if this operation will be similar to those being conducted in Cancun (Benito Juarez municipality). He explains that those driving under the influence won't be deprived of their liberty (jailed), and that this is a preventative program to reduce accidents. If you drink, don't drive.
VIDEO of Mayor Juan Carrillo Soberanis saying that during his upcoming second term, there will be some changes in his administration, and he notes that they will be working on three main issues & modernization of services in the areas of collection and final disposal of garbage, repaving the streets, and public lighting. He talks about maintaining the reputation of Isla Mujeres as a world class tourism destination & working in conjunction with the state and federal governments to provide resources for these needs.
For the second consecutive year, Isla Mujeres hosted the national tournament of beach football "All Day Bowl" which took place at Playa Centro. VIDEO VIDEO
Photos of La Tablita aka Hemingways (an example of Caribbean architecture)
IM Noticias
There is an article about the
fishermen making plans to move into the tourism activity of swiming with tiger sharks and other sharks.
(This information has already been translated.)
There is an article about
the need to rescue the ruins in the municipality and to offer more for tourists based on the culture of the Maya,
and complaints about the lack of interest from the INAH and other bureaucratic agencies and a lack of resources. (This information has already been translated.)
~~~~~~~~~~~~~~~~~~~~~~~~~~~~~
From por esto Link to their Isla Mujeres articles & photos
Steel domes have deteriorated rapidly
Domos de acero se deterioran rápido
+]
Ver masFull article at this link
The domes made of steel are deteriorating from rust in their structures, and residents recommend that maintenance be done before their structures begin to fall apart and present a risk. The domes made of steel include those at the middle school "Benito Juarez" and at the high school Colegio Bachilleres. Other domes that are made of steel are located in the colonias of Salina Grande, Ampliación La Gloria; and two in La Gloria: at the Adult & Youth Education Center and at the Senior Citizens Center.
It is noted that rust can be seen on the domes at Bachilleres and at Salina Grande. Specialists who were consulted said that five years without maintenance is a lot for this type of structure. (
The Bachilleres dome has only been there a couple years
.)
A few months ago, the municipal government renovated the Blue Dome (in Salina Chica), replacing most of its steel structure, after it had gone nine years without maintenance. It is noted that the steel sculptures at Punta Sur,that were donated by 20 artists for the arrival of the new millennium, have deteriorated, and there has been no official interest in rehabilitating them.
The legendary packing plant "Romeo" is in ruins
Se desmorona la legendaria empacadora "Romeo"
[+]
Ver masFull article at this link
For decades, turtle, shrimp, lobster, conch, and various varieties of shrimp were exported from the legendary packing plant "Romeo" which has been abandoned, and the upper floor has collapsed. There are no plans to reconstruct the facility, which stopped operating three decades ago, when production was reduced and it was no longer profitable, according to its owner at the time, Mr Romeo Magana Carrillo (RIP), who was also the owner of the Mexican baseball team the Leones de Yucatan.
Thousands of tons of seafood were exported yearly to the United States in the 1960's, 70's, and 80's, but the breaking point for the seafood business was the arrival of Hurricane Gilberto in September 1988. However, competition came in the form of the shrimp packing coopertive "Boca Iglesia" and the small amount of product that was captured after the hurricane was shared between the two companies. The Romeo Magana family continued to operate for more than a decade after that, until its final closure.
When the reporter visited the property, there were no family members there, just dogs at the main entrance. The family lives in Merida, but frequently visit the island, but it is said that there are no plans for reconstruction. A custodian said the property is not for sale, and it is thought that they will maintain it as it is, in memory of Don Romeo. He passed away in the fall of 2013, which was the same year that three of his brothers died;
first the eldest of them, Don Alvaro, in January;
then in April, the one who was the first mayor of Isla Mujeres, Mr. Ariel Magaña Carrillo;
and in December, Don Raúl.
They were part of a powerful family during the decades of prosperity in the fishing industry, who influenced the economic, social and political life of Isla Mujeres.
Pediatric and gynecological services available at the Red Cross
Cruz Roja con servicio ginecológico y pediátrico
. [+]
Ver masFull article at this link
There was event on Saturday night for the inauguration of gynecological and pediatric services at the Red Cross, which will be available only on Saturdays, by appointment, from 4p to 8p.
Felipe Bierman, who has been president of the local Red Cross for 15 months, reported there have been good results during his administration, with adequate money in the bank to ensure meeting the payroll for the remainder of the year and part of next year.
He said they have realized that a single ambulance is no longer enough, but to be more efficient it will be necessary to have a support motorcycle equipped with a first aid kit and sirens to transport a paremedic to the place of need, because transport to the hospital isn't always required. This paramedic would be able to treat minor accident injuries and cases of dehydration. In more serious cases, the paramedic would have the opportunity to stabilize the patient before the ambulance arrives, and in this manner,
the ambulance might be available for a second emergency during the peak tourist seasons.
Due to the high number of vehicles on the island causing a large amount of accidents, they want to hire an internist and traumatologist.
For more improvements, he urged the general public to continue with their contributions and donations, in order to address the greatest needs.
He said that participation by foreign residents in this effort has been outstanding, which he values ​​and he hopes to continue increasing the level of participation that the Red Cross once had with altruistic foreigners.
The report
Felipe Bierman reported that the average monthly income in the previous period was 65,205 pesos and that from May 2017 to June 2018, this has tripled, rising to 198,166 pesos, from a good portfolio of
benefactors which include hotel companies, restaurants, marinas, leasing houses, merchants and taxi drivers.
This also includes the annual contributions of the Fifth Naval Region and the City Council.
Special benefactors such as the Eagle Wings Foundation of the El Palmar Hotel donated 10,065 dollars donated on April 24.
A patient who suffered a diabetic coma and was treated by the Red Cross, Steve Brankston, donated a thousand dollars in gratitude.
The list of donors is long, from 500 peso donations to those who have been frequent donors and have been awarded a plaque at the entrance of their businesses.
There are also those who give smaller amounts on a monthly basis.
All of them are thanked for their generosity, said the director.
Artist promotes environmental awareness
Artista promoverá conciencia ambiental
[+]
Ver masFull article at this link
This article is very long....manana..
~~~~~~~~~~~~~~~~~~~~~~~~~~~~~
Isla Mujeres Hoy reports: Sanctions threatened for taxi drivers who deny service
Following increasing numbers of complaints by Islanders, and even some visitors, about poor service provided by local taxi drivers, on Sunday a notice was published on the Taxi union letterhead which advises that drivers who deny services to the general citizenry in any part of the colonias, and who are reported, will be immediately sanctioned. Residents seeking taxi service in any part of the island and who are denied transportation are advised that they should go to the union office and report the taxi number and time, so the driver can be identified and punished.
Immediately after the notice was published, there were questions from residents wanting to know if this was legitimate and should they start reporting drivers. Mr. Tomas Gamboa, a socio (member) of the union responded decisively, saying that any person who receives bad service can go to the union any day of the week, as there are delegates available who have instructions to receive and respond to any complaints or concerns. (Note: "Socios" own taxi medallians/placas, while "operators" are drivers, who pay a fee per shift to the socio)
This is in response to many complaints from residents, which increased during this busy vacation season, about bad service, excessive wait times and empty taxis who pass them by because they prefer to provide service to tourists.
(Note: This notice was published on various sites on social media, with many skeptical comments in response, as well as some islanders questioning the timing, since the busy season ends after next weekend.)
~~~~~~~~~~~~~~~~~~~~~~~~~~~~~
This blog is brought to you by....
View from the rooms.
MaraVilla Caribe
Bed & Beach
Three rentals with large glass doors overlooking our white sand beach and the beautiful Caribbean sea, with kitchenettes &
free WIFI.
In the coastal neighborhood of Bachilleres, among upscale villas & boutique hotelitos, convenient to downtown or the colonias, yet separate.

Quiet & Private.
Kitchen in a large studio. (Sur & Norte are identical)



Kitchenette in small room, Medio. There's a table & chairs across from it & a double bed.
A large slider opens from each of the 3 rooms onto the patio where each has a table & chairs, hammock & clotheslines. The BBQ is behind the pole, and the outdoor shower is outa the pic at left.
Large studio (Norte), I'm standing in the kitchen. A queen & single bed.
Free amenities such as hammocks, BBQ grills, outdoor shower, portable beach chairs & beach towels, washer & dryer, loungers.

Breathtaking panoramic views from the rooftop terrace. Large sliding doors open to a patio & our backyard-beach, overlooking the Caribbean sea. Upstairs room also available.

Downtown is ~ a mile away; if you don't feel like walking, flag a $2 taxi. Parking.

You can enjoy the music & crowds downtown, then come home our quiet neighborhood of Bachilleres where you'll

sleep to the sounds of the sea.

.

$275/$325/$425 wk $40/50/$65nt Monthly Discounts


Large studio (Sur) with Queen & Single bed. Slider door & view are behind me.




Fine dining a few steps away at Da Luisa or try the neighborhood eateries a couple blocks farther. Within ten minutes walk are a variety of restaurants including Mango Cafe, Brisas, Manolitos, La Chatita, Green Verde, Kash Kechen Chuc, and the large department store-grocery , Chedraui. Visit marinas, bars, & beach clubs that are minutes away by bike or on foot. Attend Yoga classes a couple villas away at hotelito Casa Ixchel. Fresh juice, produce & tortillas a few blocks away in the village, as well as a variety of other stores and small local restaurants. It takes 20-30 minutes to walk downtown.
```````````````````````````````````````````````````````````````````````
Full moon rising over the Caribbean
Aug 1 10:45
Aug 2 11:23
Aug 26 7:32
Aug 27 8:10
Aug 28 8:46
Aug 29 9:24
Aug 30 10:02
Aug 31 10:42
Painting by Pamela Haase
Sunset ~7:25 to ~7:05 (beginning vs end of month)
Sunrise ~6:20 to ~630
Provided by MaraVilla Caribe & Isla Mujeres Daily News & Events
It's whale shark tour season (thru mid September) and turtle nesting season (thru mid October).
Saturday, August 4
The Plogging volunteers will meet at the Mundaca Hacienda at 8am, and clean up from there until they reach Zama Beach Club, where they will enjoy soft drinks and fruit. A reminder to bring you reusable water bottle and to wear gym shoes.
Sunday, August 5
on the Town Square at 8p Dance troupes and singers from Isla Mujeres and Cancun....Noches Magicas!
Cancelled and you are invited to enjoy Noches Magicas next Sunday at 8p on the Town Square
Tuesday, August 8
Inauguration of the Dog Friendly Beach at 4:30p, below the cell tower and municipal slaughterhouse.
Sunday, August 12
Noches Magicas on the Town Square at 8p
Friday, August 17
Events celebrating the founding of the town TBA. Isla Mujeres was founded on August 17, 1850 as the town of Dolores, which is celebrated annually with events which include placing a wreath at the Cross in the Bay, and performances on the Town Square.
Saturday, August 18
Dance event on the Town Square at 7:30p
Sunday, August 26
The Circuito Maya race in Isla Mujeres will take place on Sunday, August 26, starting at 6:30am, with registration limited to 300 participants, and there will be 5k, 10k, and 15k categories. The kits will be available Saturday, August 25 from noon to 8p. The cost is 250 pesos for residents who present a voter registration card with an Isla Mujeres address and 400 pesos for others.
The Circuito Maya race in Isla Mujeres is the "Air" (Iik') element of the four races, which take place in four Pueblos Magicos in Quintana Roo and Yucatan. The other elements are Fire (K'aak'), Earth (Lu'um), and Water (Ha'). The other races are in Tulum, Bacalar, and Valladolid.
See website for more information: https://www.circuitomaya.mx/
Last year the Gastronomic Competition for Lionfish was held at the end of August.
Plogging events to clean up the island are held on Saturdays
LINK
and here's the
Accion Isla LINK
who are having events associated with project RESCATE.