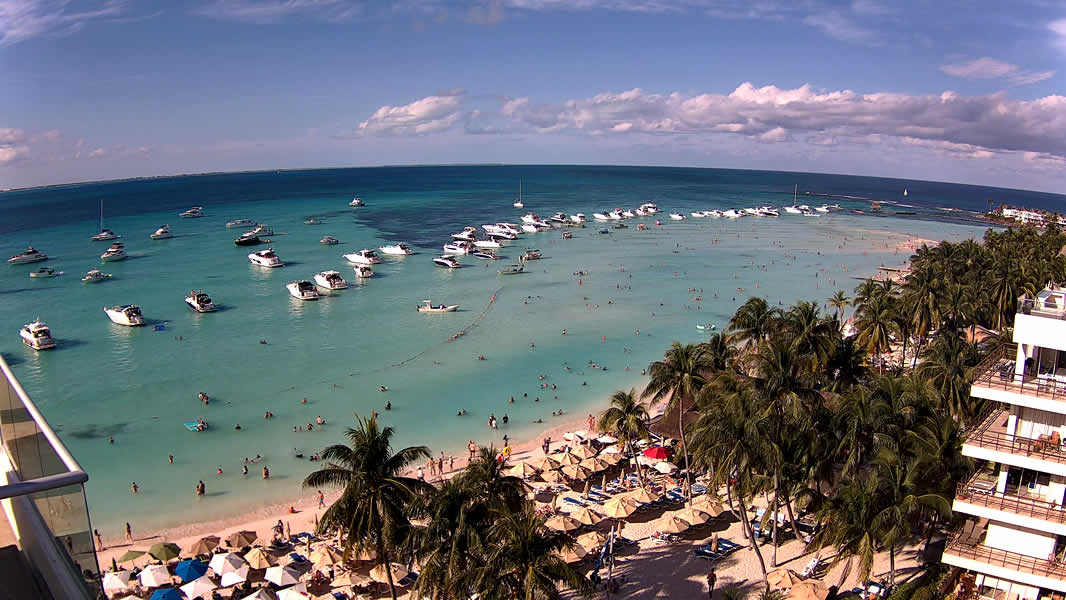 This is the live webcam at North Beach / Playa Norte. HERE is a timelapse version, that you can set to slow or fast (fps-frames per second). It takes a few seconds to load.
Mayor Juan Carrillo: Keeping his promises to athletes
Leer más..Full article at this link.
The mayor said in upcoming days he will be fulfilling his commitment to the athletes of the island and he thanked the various agencies involved. He also asked for the understanding of the athletes and the general public while these improvements are taking place.
The Director of Public Works, Cesar Poot Perez, said one of these works will the rehabilitation of the downtown basketball court, Jose Del Carmen Pastrana, with an investment of 1.4 million pesos. They plan to remove the concrete and replace it with a surface that is 10 centimeters thick, covering 780 square meters. Benches and grandstands will be built, LED lights will be installed, and 600 square meters will be painted to delineate the playing area.
These actions will begin this month, and will not only benefit the athletes who practice sports, but also those who go to recreation areas to spend quality time with their families.
New Committee of Liberal Expression organized to help citizens
Nuevo Comité de Expresión Liberal
Leer más...Full article at this link
The group
Expresión Liberal Democrática
/ Liberal Democratic Expression held a swearing in ceremony before the Municipal Committee. They say they seek to assist the islanders in various areas, and they intend to carry out this action in each of the 11 municipalities, with the intention of helping the general public. This event took place at a hotel on the island with about 50 residents attending, from the island and the Continental Zone. A representative said they have no partisan affiliation and do not receive support from any particular political party, and they are mostly a group of "
cuates
" (friends) seeking to assist the citizens. She said it is too early to talk about campaigns and partisan affiliations. Assistance they are offering includes legal and medical consultations and other general efforts & consultations.
Ultramar operating its whole fleet to transport thousands of tourists
Naviera opera a todo lo que da
Leer más..Full article at this link.
According to workers with APIQRoo, Ultramar is operating their eight boats, with an ability to transport more than 2000 people every half hour. Staff with Ultramar said they are ready to meet the demands of passengers during the Easter holiday, having purchased the Bo Hengy II boat with a capacity for 408 passengers. It alternates crossings with the Mixcoatl, which with the other boats they are operating, offers a capacity of 2050 seats every half hour. Ultramar representatives pointed out that this is part of important changes, with new boats arriving to replace the Ultrajets, with modern, new boats for the comfort of the passengers.
Agencies working together to ensure safety and security in Isla Mujeres
Leer más.Full article at this link..
See City section below....
A clean municipality with improved trash collection: Mayor Juan Carrillo
Garantiza municipio limpio
Leer más..Full article at this link.
Two new trash trucks, one on the island and one for the mainland, were acquired via SEDATU. The Mayor is committed to improving trash collection services and to meeting the demands during this holiday season, when there is a 30 percent increase in trash production. There is an extra brigade of trash collectors and hours have been extended. The island has six routes, operating seven days a week, in the morning, afternoon, and evening, in order to keep the streets clean and prevent the accumulation of trash, which could cause a bad image and infectious diseases.
~~~~~~~~~~~~~~~~~~~~~~~~~~~~~
From

the Municipal Facebook site.....

( FB page link)
The three levels of government are working together to ensure safety and security during this vacation period.
The municipal police implemented Breathalyzer and Radar operations in order to ensure that drivers respect the speed limit and do not to drive under the influence of alcohol, since these are the main causes of vehicular accidents
.
The lifeguards of the Navy and of Civil Protection are working together and North Beach and Playa Centro are receiving thousands of visitors daily. Agencies of the three levels of government are working together to ensure the safety and security of vacationers and residents, including the Navy, Civil Protection, firefighters, municipal police and traffic police, health department, and public services, among other agencies.
Today we celebrate 162 years since the death of Andres Quintana Roo, with respect and honor.
Noches Magicas performances are held on Sunday evenings for the enjoyment of island families and visitors as part of the municipal government's actions to promote art and culture. Sunday night's presentation featured singers Ernesto Rodríguez and Aldahir Dávila and a local dance group. They received applause from the audience and recognition for their participation from the City of Isla Mujeres via the Institute of Art and Culture.
~~~~~~~~~~~~~~~~~~~~~~~~~~~~~
From
Tvisla Mujeres

( link to photos & articles

)
City donates new ambulance to Red Cross
http://www.tvislamujeres.com.mx/ayuntamiento-de-isla-mujer…/
Mayor Juan Carrillo Soberanis confirmed that the new ambulance will soon arrive, which was acquired with municipal resources. He said they had intended to put it into operation during the holiday season, but the company has not finished making adjustments to the vehicle.
He said agencies have been closely coordinated during this holiday period, to guarantee the safety of the growing number of visitors. He said occupancy has reached unprecedented numbers, and could exceed expectations next weekend and this week. He invited tourists to come and enjoy the cleanest, best beaches in the Caribbean, which have international certification at this destination which is the safest you will find.
Workshops encouraged to meet safety requirements
http://www.tvislamujeres.com.mx/urgen-a-talleres-a-cumplir…/
The Director of Civil Protection, Ulises Berman Graniel, said his agency will begin inspecting workshops throughout the colonias on Monday. He said they have inspected the tourism area (downtown), and now will focus on the colonias, where there are several workshops who have not met the minimum safety requirements and are at risk of an accident. He said they will inspect all types of workshops, including carpenters, mechanics, welders, etc. He said Fiscalization (Enforcement) will also participate to ensure their documents are in order. He said they are not trying to cause difficulties, but rather to prevent accidents, especially in areas that are well populated.
Taxi drivers want to offer tourism services
http://www.tvislamujeres.com.mx/piden-taxistas-de-isla-muj…/
April 15 The City of Isla Mujeres delivered over 30 official identification badges to workers and providers of tourism services last Tuesday, after they passed exams including drug testing. The taxi drivers are requesting ID's and to be permitted to offer their services at the Maritime Terminal.
Large investment in rehabilitation of Isla Mujeres sports facilities
http://www.tvislamujeres.com.mx/fuerte-inversion-en-la-reh…/
See translation in DQR section...
Mayor asks SIRESOL of Cancun to stop hindering transferring of Isla Mujeres trash
http://www.tvislamujeres.com.mx/si-continuan-los-problemas…/
Mayor Juan Carrillo Soberanis has asked SIRESOL (Integral Solid Waste Solutions) of Cancun to stop hindering and obstruction the transportation and deliver of trash in the municipality of Isla Mujeres. He reminded the decentralized agency that not a single peso has been paid of the more than 12 million pesos that are owed to the City of Isla Mujeres.
He said, "We have encountered obstacles when arriving at the Intermunicipal Center for Solid Waste. We have sometimes remedied this by talking with them, and these problems are causing delays in the work of cleaning out our Trash Transfer Facility. He said the necessary steps have been taken so this won't happen again, and then they will be able to empty out the Transfer Facility, and he hopes for the support of all parties involved. He said if they do not get a favorable response from this request, they will need to take legal action, however he prefers to resolve it with dialogue and cooperation. He said he has had talks with the Mayor of municipality of Benito Juarez/Cancun, Remberto Estrada, who is interested in paying off this debt.
Medical evacuation of a child by the Navy
http://www.tvislamujeres.com.mx/evacuan-a-un-menor-de-un-c…/
April 17 The Navy conducted a medical evacuation of a seven year old boy who had symptoms of acute appendicitis, while aboard a cruise ship in the vicinity of Isla Mujeres. Last night, the captain of the tourist cruise ship "Carnival Freedom" requested transportation assistance for the child, and a patrol from the Naval Command met the ship and took the child, his mother, and a nurse from the ship to Puerto Juarez. The Naval boat arrived at 5:45am and the child and his companions were turned over to an ambulance to take them to a private hospital. This actions were taken as part of the Navy's commitment to safeguard human lives in the Mexican seas and coastal areas.
-
http://www.tvislamujeres.com.mx/cahuameros-enfrentara-en-c…/
Los Cahuameros of Isla Mujeres Nueva Generación will play against Los Dorados of Playa del Carmen, on Saturday,
April 22, at 8 pm and Sunday, April 23 at 11 am, at the Isla Mujeres Convention Center for the start of the final competition of the state Basketball League. The Isla Mujeres players have been practicing over this holiday period, when the teams have had a week of rest from competition.
~~~~~~~~~~~~~~~~~~~~~~~~~~~~~
From por esto Link to their Isla Mujeres articles & photos
This blog is brought to you by....
View from the rooms.
MaraVilla Caribe
Bed & Beach
Three rentals with large glass doors overlooking our white sand beach and the beautiful Caribbean sea, with kitchenettes &
free WIFI.
In the coastal neighborhood of Bachilleres, among upscale villas & boutique hotelitos, convenient to downtown or the colonias, yet separate.

Quiet & Private.
Kitchen in a large studio. (Sur & Norte are identical)



Kitchenette in small room, Medio. There's a table & chairs across from it & a double bed.
A large slider opens from each of the 3 rooms onto the patio where each has a table & chairs, hammock & clotheslines. The BBQ is behind the pole, and the outdoor shower is outa the pic at left.
Large studio (Norte), I'm standing in the kitchen. A queen & single bed.
Free amenities such as hammocks, bikes, outdoor shower, portable beach chairs & beach towels, washer, loungers.

Breathtaking panoramic views from the rooftop terrace. Upstairs room also available.

Downtown is ~ a mile away; if you don't feel like walking or biking, flag a $2 taxi. Parking.

You can enjoy the music & crowds downtown, then come home our quiet neighborhood of Bachilleres where you'll

sleep to the sounds of the sea.

.

$275/$325/$425 wk $40/50/$65nt Monthly Discounts


Large studio (Sur) with Queen & Single bed. Slider door & view are behind me.




Fine dining a few steps away at Da Luisa or try the traditional neighborhood eateries a couple blocks farther. Within ten minutes walk are the restaurants Mango Cafe, Bahama Mama, Brisas, Manolitos, Green Verde, Kash Kechen Chuc, and the large department store-grocery Chedraui. Visit marinas, bars, & beach clubs that are minutes away by bike or on foot. Attend Yoga classes a couple villas away at hotelito Casa Ixchel. Fresh juice, produce & tortillas a few blocks away in the village, as well as a variety of other stores and small local restaurants. It takes 20-30 minutes to walk downtown.
```````````````````````````````````````````````````````````````````````
April

E

vents
Provided by MaraVilla Caribe & Isla Mujeres Daily News & Event
s
Saturday, April 1 at the Casa de la Cultura 5pm: Festokin with musical guests: Elefangs, Los Afectados, Ultra P, @Kiritz, Isla Sounds Mexico, Mindblowing Sound Corp, and spirulahelix. Creative talent includes muralists, graffiti artists, body painters & more.
Sunday, April 2 Noches Magicas 8p Town Square
Tuesday, April 4 Jazz Dance Classes 6p Casa de la Cultura
Thursday, April 6 Artist Fair 3:30-8:30 Casa de la Cultura Art, Food, Music, Beer
Where can all your dreams come true? The Artist

Fair at the Casa de Cultura has it all. Awesome Art, Delicious Food, Cold Beer, and Great Music. This week's musical guest is Kiritz Reggae, 6 – 8, everything is IRIE
Thursday, April 6 6pm
You are invited to an event about the workshops available at the Casa de la Cultura on Thursday at 6pm. Learn pinata making, hammock making, Yoga, dance & more!
Friday, April 7 Easter Vacation begins
Holy Week begins April 9th with Palm Sunday, with the blessing of the palms and more emphasis will be given to the entrance of Christ (played for the sixth time by Wenceslao Trejo Martinez) into Jerusalem, riding on a small burro, as it says in the Scriptures.
A press conference was held about the event by parish priest Raul Sanchez, who explained that more than 30,000 pesos are being invested in the event, since it celebrates the 25 years of this event as well as 500 years since Isla Mujeres was encountered by Europeans, bringing Catholicism. They are getting new armor from Guadalajara for the Roman soldiers, and a renovation to the wardrobes of the main characters, so they will look more professional and realistic, as well as the costs of the burro.
Azalia León Pastrana will play the role of the Virgin Mary.
According to the calendar of activities, on April 13, Holy Thursday, the ceremony of Foot Washing and the representation of the Last Supper will take place;
Good Friday will begin at the Sacred Heart Church (in la Gloria), at 10:30 in the morning, with the representation of the Stations of the Cross, and will culminate at three in the afternoon at the Church of the Immaculate Conception (on the Town Square) with the crucifixion of Christ.
~~~~~~~~~~~~~~~~~
Friday April 7 6:30-8:30p Cocktail reception for Batik Artist Sergio
Amar Cocina Peruana Restaurant is on the back street Guerrero, just north of Abasolo & the Cultural Center, on the west side of the street. Sergio's impressive batik art can be seen, and purchased, at the Thursday Artist Fairs. He also does murals & sign painting. We love the mural he painted for us! His are will be featured and for sale at the restaurant all month.
Sunday, April 9 Palm Sunday
On Palm Sunday at 9:30am, a procession will reenact the triumphant entry of Jesus Christ into Jerusalem, by walking from Playa Centro to the Town Square, where a mass will be celebrated in front of an audience which is expected to be ~1000 Catholics. Fifty people will participate as actors and 20 will be in charge of logistics.
Another reenactment of the entrance of Christ into Jerusalem is scheduled for 7:30pm from the tourist center at Mundaca Hacienda to the Sacred Heart Church in La Gloria, where Mass will take place.
Noches Magicas on the Town Square 8p
April 11 7:39 Full Moon
April 12 8:30
April 13 9:20
April 14 10:10
April 15 10:59
April 16 11:48
Thursday, April 13 Artist Fair 3:30-8:30 Casa de la Cultura Art, Food, Music, Beer
Holy Thursday, April 13 Foot Washing Ceremony and reenactment of the Last Supper Town Square Immaculate Concepcion Church
There will be two Last Suppers and Washing of the Feet reenactments, with the first at the downtown church Immaculate Conception at 8:30pm and the second is an hour later at the Sacred Heart Church
Good Friday, April 14 10:30am
Sacred Heart Church (in la Gloria), Passion of Christ reenactment with the Stations of the Cross .
On Friday, reenactment of the ViaCrusis (passion play/stations of the cross) will start at 10:30 (at Sacred Heart) and join the other group at the Guadalupe Chapel (overlooking the Caribbean in Salina Chica) and they all will go together for traditional walk to downtown, which is four kilometers
finishing on the Town Square at 3p with recreation of the crucifixion of Christ
.
Easter Sunday, April 16
Thursday, April 20 Artist Fair 3:30-8:30 Casa de la Cultura, Art, Food, Music, Beer
Saturday, April 22, Earth Day
2nd annual Seabed clean up
Sunday, April 30 Children's Day
Sunday, April 30 on the Town Square stage at 8p. A Celebration of the International Day of Dance
Monday, May 1 Labor Day