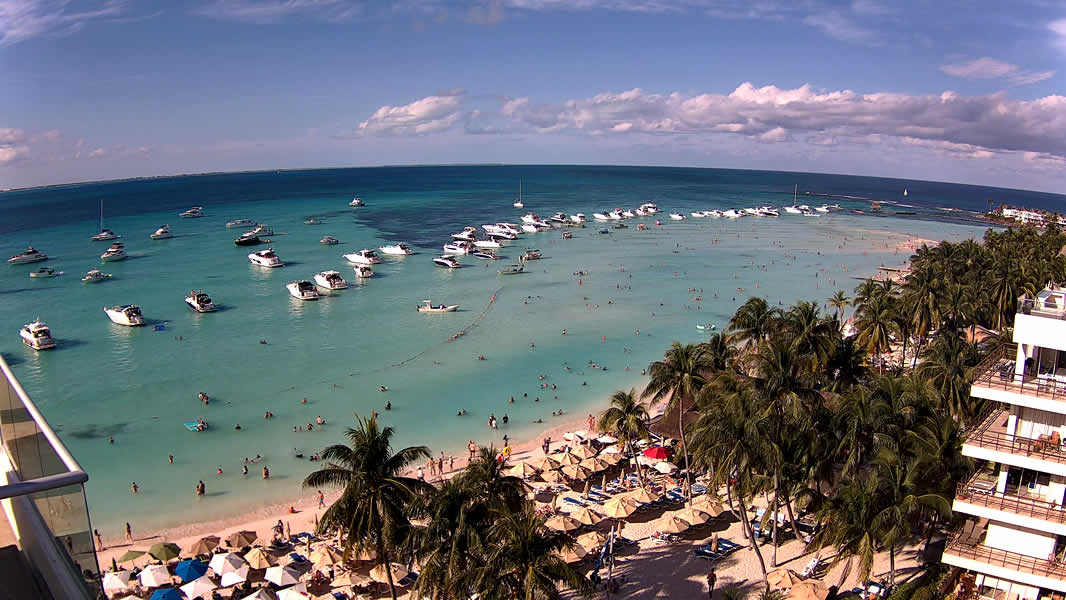 This is the live webcam at North Beach / Playa Norte. HERE is a timelapse version, that you can set to slow or fast (fps-frames per second). It takes a few seconds to load.
Relatives feeling desperate after fishermen missing more than a week
In coordination with these efforts, the Aguakan company is actively participating with a program called Cinema in Your Neighborhood (
Cine en tu colonia
); providing movies about environmental issues to raise awareness.
The municipal Department of Public Relations and the municipal Secretary General are promoting taking care of the beaches and keeping them clean through social networks, with creative designs and helpful messages to motivate visitors to help keep our beaches clean which are considered some of the most beautiful in the world.
Some of these messages are quoted in the article
.
The municipal Department of Public Services has been distributing leaflets to downtown businesses regarding the trash collection schedule as part of an initiative to avoid the accumulation of trash in the streets of the downtown historic center.
General tips are given for a healthier cleaner environment which include: conserve water, conserve energy, generate less waste, use recyclable packaging and avoid plastic bags, reduce your use of chemicals, reuse paper, reduce your use of cars, and take care of the flora and fauna.
~~~~~~~~~~~~~~~~~~~~~~~~~~~~~
From

the Municipal Facebook site.....

( FB page link)
This information is included in the DQR article above.
~~~~~~~~~~~~~~~~~~~~~~~~~~~~~
From
Tvisla Mujeres

( link to photos & articles

)
They are not in Cuba! Our fishermen companeros have not been detained in Cuba and we are continuing to search for them: Jorge de la O Pino
Link to video
(in Spanish)
No están en Cuba! Nuestros compañeros pescadores no están detenidos en Cuba y continuaremos la búsqueda: Jorge De la O Pino.
We are not going to rest until we have news of them, whether they are alive or dead: Father of the captain of the Anastacia
http://www.tvislamujeres.com.mx/noticias-del-dia/yo-no-voy-a-descansar-hasta-tener-noticias-de-ellos-ya-sean-vivos-o-muertos-padre-del-capitan-de-la-anastacia/
Full article & photo at this link
Jorge de la O Pino, father of one of the five fishermen who have been missing for over week, held a press conference to clarify that his son and the other four men are not detained or imprisoned in Cuba, as has been reported on social network sites. He said that via the state government, they have been in communication with the Mexican foreign ministry in Cuba, who confirmed that there are no fishermen from Isla Mujeres in Cuba.
Sr. de la O Pino said, "We sent two people to Cuba to investigate about the whereabouts of our fishermen, who were received at the Embassy in Cuba by the Conuslate representative, Sr. Luis Gonzalez Delgado, who said that the only Mexican fishermen being detained in Cuba were
Yucatecos
(
from the state of Yucatan
) who are being held in relation to other problems that are unrelated to these circumstances
The father of the captain of the Anastacia was accompanied by the Civil Protection coordinator for the Northern Zone,Guillermo Morales Lopez, who said that during the phone call it was explained that in Cuba they provide special attention to shipwrecked sailors, providing care and making prompt reports about them. He said, "Regarding this information, we have followed up on it. Please, dismiss this hypothesis which people have been spreading, because it is a lie, pure BS, garbage!"
He said efforts are continuing by the authorities and have the attention of Mayor Agapito Magana Sanchez to remain directly linked to the search efforts of the Fifth Naval Region. Sr. de la O Pino said, "I must say that in my heart, this is a difficult, painful thing (
la chingada
) but I do not want you to give up; I want you to understand clearly, as do I, that we must do what we believe is correct, and if there is a lack of response regarding international agreements, we will cross a line to rescue our fishermen."
He emphasized that the authorities in Cuba have confirmed that they have not arrested any Isla Mujeres fishermen and that the municipal government is working with them and providing support to help find the missing fishermen. He said, "I want to say that this includes providing all the letters, and the government has helped us financially. There are witnesses among you of the money that has been given by this administration to the wives of the fishermen."
He said, "I am not seeking any type of prominence, because it is my child who is involved and I will not rest until there is news of them; whether they are now living or dead. It is very hard to face, but it is reality, and it is breaking my heart and soul."
~~~~~~~~~~~~~~~~~~~~~~~~~~~~~
From por esto Link to their Isla Mujeres articles & photos
This blog is brought to you by....
View from the rooms.
MaraVilla Caribe
Bed & Beach
Three rentals with large glass doors overlooking our white sand beach and the beautiful Caribbean sea, with kitchenettes &
free WIFI.
In the coastal neighborhood of Bachilleres, among upscale villas & boutique hotelitos, convenient to downtown or the colonias, yet separate.

Quiet & Private.
Kitchen in a large studio. (Sur & Norte are identical)



Kitchenette in small room, Medio. There's a table & chairs across from it & a double bed.
A large slider opens from each of the 3 rooms onto the patio where each has a table & chairs, hammock & clotheslines. The BBQ is behind the pole, and the outdoor shower is outa the pic at left.
Large studio (Norte), I'm standing in the kitchen. A queen & single bed.
Free amenities such as hammocks, bikes, outdoor shower, portable beach chairs & beach towels, washer, loungers.

Breathtaking panoramic views from the rooftop terrace. Upstairs room also available.

Downtown is ~ a mile away; if you don't feel like walking or biking, flag a $2 taxi or hop on the bus. We also have room for parking,

You can enjoy the music & crowds downtown, then come home our quiet neighborhood of Bachilleres where you'll

sleep to the sounds of the sea.

.

$275/$325/$425 wk $40/50/$65nt Monthly Discounts


Large studio (Sur) with Queen & Single bed. Slider door & view are behind me.




Fine dining a few steps away at Da Luisa or try the traditional neighborhood eateries a couple blocks farther. Stroll five minutes southward down the coastal sidewalk to Mango Cafe, Bahama Mama, Brisas, or Manolitos. Walk less than 10 minutes southwest to shop at Chedraui or to dine at Green Verde, Kash Kechen Chuc, or other options. Visit marinas, bars, & beach clubs that are minutes away by bike or on foot. Our guests recommend the Yoga classes a couple villas away at hotelito Casa Ixchel. Fresh juice, produce & tortillas a few blocks away in the village, as well as a variety of other stores and small local restaurants.
A

pril

events
Sunset ~7p
Moon rise over the Caribbean
April 21 6:54pm
April 22 7:44pm Full Moon
April 23 8:33pm
April 24 9:24pm
April 25 10:14pm
April 26 11:04pm
April 27 11:54pm
Every Tuesday & Thursday at 10am
: Sergio's Batik class. ~3 hours long. 400p includes materials.
Kid's classes
every other
Saturday at 12:30: March 26
, April 9 and April 23.
Every Tuesday and Thursday: Free spay/neuter clinic (Isla Animals)
Consults 100p, Vaccines: parvo & distemper 50p, flea & tick meds 20p, wormer 10p. Helpers always welcome! Isla Animals, Mundaca Hacienda, 10am-4pm (No food morning of surgery/water ok)
April 7, Thursday 4-9p Casa de Cultura: Artist Fair (Last of the season)
April 7, Thursday at 6:30pm on the Town Square, in a "Sesion Ordinaria" (That usually means a regular session of the City Council) the Music Trova (repertoire) of Isla Mujeres will officially be declared a part of the Intangible Cultural Heritage of the state of Quintana Roo.
It doesn't mention if there will be a performance, but since it is happening on the Town Square rather than inside the Town Hall, that seems like a possibility.
April 10, Sunday night at 8pm on the Town Square
April 30 Children's Day
May 1 Labor Day