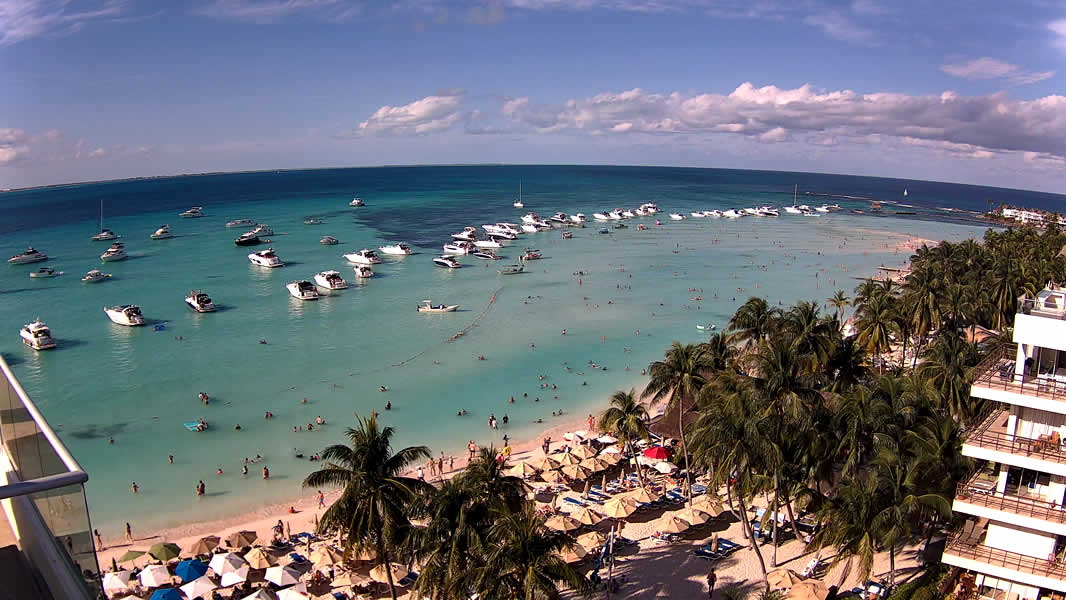 Here's the webcam LINK, which also has time lapse of the past 24 hours.
Join the nearly 10,000 followers of Isla Mujeres News & Events on Facebook for more photos, videos, events & updates
SCROLL DOWN FOR THIS MONTH'S EVENTS SCHEDULE!
~Please visit our sponsors~
~~~~~~~~~~~~~~~~~~~~~~~~~~~~~
Isla Mujeres is the perfect destination to spend an excellent weekend
.
Linked
article about the
benefits of hurricanes:
Dear Hurricane:
Thank you for lowering the temperature of the ocean, the corals are surely celebrating. Thank you for renewing the forests, for cleaning the rivers, for uniting the communities. Thank you for reminding us that the planet is still alive!!! For reminding us that it is warming up and that we have to continue working and educating so that those who live here make definitive changes about it. Thank you for reminding us that we are only human! That we are not superior to the power of nature. Thank you for the families that stay in their homes and share as they did long ago. For the games of "Briscas" and "Uno". Thank you for the neighbors who help their neighbors, for the thoughts and prayers that the friends and family abroad dedicate to us. Thank you for those who give us a hand! Thank you for what you give us and for what you will take away from us. Maybe what you take from us will help us to have a simpler life, without vain attachments and to be more focused on things that are really important. Thanks

Benefits of hurricanes

1. Are a natural mechanism that cools down the planet, helping to cool the oceans and thus prevent the death of reefs and fish.
2. They affect the rivers and ravines and take care of cleaning the trash accumulated by humans.
3. Their powerful winds clean the forests by knocking down old and weak trees to give way to new and stronger trees.
4. They cool the atmosphere and clean the air contaminated by the aerosols.
Much of the damage caused by hurricanes is due to the poor planning of humans, they build houses near the rivers that flood when these are cleaned by hurricanes. They build wooden houses on weak grounds when they know that every year hurricanes can cause strong winds and landslides.
Nature has its natural processes, but we humans are committed to altering those processes and the balance of the earth, those processes existed sinc the beginning of creation and will continue to occur.
In Conclusion: Hurricanes are not bad, it's people who make them look bad, because it is a balance that has to happen, like it or not.
The caption says "Today's local weather forecast" but this is actually a graphic from the NHC in Miami.
Here's this morning's graphic with additional info...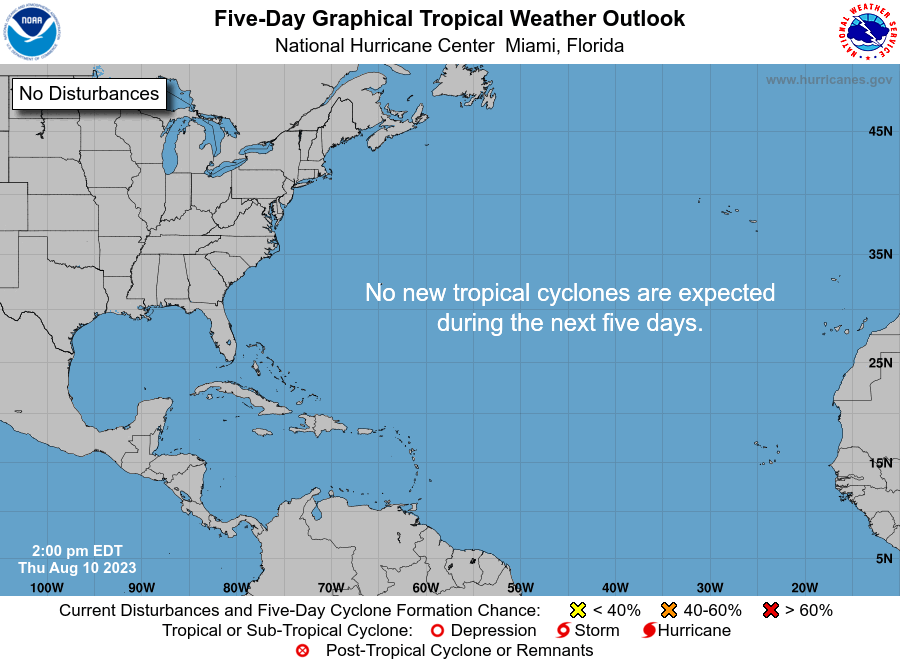 This is what the NHC says about the lower system:
1. A weak area of low pressure, associated with a tropical wave,
continues to produce disorganized showers and thunderstorms
about midway between the Cabo Verde Islands and the Windward
Islands. Some slow development of this system is possible during the
next two or three days before upper-level winds become unfavorable
for tropical cyclone formation. This system is expected to move
generally westward across the tropical Atlantic Ocean for the next
several days.
* Formation chance through 48 hours...low...20 percent.
* Formation chance through 5 days...low...30 percent.
On Sept. 8th in
1849, Jacinto Pat, was killed in Holchén, in the municipality of Tekit, Yucatan
. He is the most famous of the Mayan Chiefs, who was the Initiator of the caste war

⚔️

along with Cecilio Chi.
From
Por Esto :
Breakwaters yield good results
In Saturday's article, Por Esto mistakenly wrote that many of the breakwaters were paid for by the Magana-Fernandez family, which should have been the Lima-Fernandez family.
Navy to take legal action for collision damage
The driver of a grey compact Mazda crashed thru the south gate of the Naval base just before dawn on Sunday, and abandoned the vehicle. After knocking down the metal gate, it went about 10 meters farther and hit the Search and Rescue facility, which wasn't occupied. A legal complaint hadn't been filed by noon on Sunday, and the Commander explained that should happen on Monday and there will be an investigation.
Later, a military source said the person who is allegedly responsible had come forth and promised to pay for the damages, including replacement of the gate. Their name wasn't provided.
The right front section of the car was damaged and no drugs or alcohol were found inside. The vehicle was taken away to the impound yard. Until the new gate is installed, there is a large truck blocking the entrance with caution tape around the area. A guard will be posted at the site at night.
It appears the vehicle was traveling quickly from south to north, and perhaps the driver dozed (lit. "blinked") for a moment or was under the influence. There are no indications or suspicions that it was an attack.
Taxpayers benefit from discounts
The City is offering discounts of 25 to 50 percent, and forgiveness of surcharges for some fines and fees from Sunday, September 15 until November 30.
More information is available from the municipal Department Public Safety and Traffic during office hours, who offer a 50% discount on many fines, excepting infractions such as driving under the influence or any that are "enervante".
Similar discounts are available for debts owed to the Public Services Department for collection services (to businesses who pay for this service, which is free for residents). The Civil Protection Department also offer a 50% discount for services and fees, and forgiveness of surcharges. Discounts are also available for payments owed for other City fees and permits including land use renovations, signage-announcements, Ecology permits, and work permits.
This provides residents with an opportunity to "normalize" their accounts if they are in an "irregular" status and to meet their obligations more affordably. Islanders are encouraged to go to the municipal Treasury Department for more information.
Some massage tents temporarily closed for low season
Some massage providers have closed temporarily for low season, and those who remained open say business has dropped to about 20 percent. They said it had dropped to 40 percent during the summer. The closed businesses plane to reopen in early December. It is estimated that about 10 percent of small businesses close during this low season. The CROC labor union reports there are still jobs available with several hotels and restaurants.
It is noted that a third Barcos Caribe ferry arrived and is moored with the other two, and that there are some islanders who are in favor of them providing ferry service, but had been said the boats are for sale, and no other information has been released. There has been no information from Marinsa, either.
~~~~~~~~~~~~~~~~~~~~~~~~~~~~~
This blog is brought to you by....
View from the rooms.
MaraVilla Caribe
Bed & Beach
Three rentals with large glass doors overlooking our white sand beach and the beautiful Caribbean sea, with kitchenettes &

fast WIFI.
In the coastal neighborhood of Bachilleres, among upscale villas & boutique hotelitos, convenient to downtown or the colonias, yet separate.

Quiet & Private.
Kitchen in a large studio. (Sur & Norte are identical)



Kitchenette in small room, Medio. There's a table & chairs across from it & a double bed.
A large slider opens from each of the 3 rooms onto the patio where each has a table & chairs, hammock & clotheslines. The BBQ is behind the pole, and the outdoor shower is outa the pic at left.
Large studio (Norte), I'm standing in the kitchen. A queen & single bed.
Free amenities such as hammocks,bikes, BBQ grills, safes, portable beach chairs & beach towels, washer & dryer, loungers.

Breathtaking panoramic views from the rooftop terrace. Large sliding doors open to a patio & our backyard-beach, overlooking the Caribbean sea. Upstairs room also available.

Downtown is ~ a mile away; if you don't feel like walking, flag a $2 taxi. Parking.

You can enjoy the music & crowds downtown, then come home our quiet neighborhood of Bachilleres where you'll

sleep to the sounds of the sea.

.

$275/$325/$425 wk $40/50/$65nt Monthly Discounts


Large studio (Sur) with Queen & Single bed. Slider door & view are behind me.




Fine dining a few steps away at Da Luisa or try the neighborhood eateries a couple blocks farther. Within ten minutes walk are a variety of restaurants including Mango Cafe, Brisas, Manolitos, La Chatita, Green Verde, Kash Kechen Chuc, and the large department store-grocery , Chedraui. Visit marinas, bars, & beach clubs that are minutes away by bike or on foot. Attend Yoga classes a couple villas away at hotelito Casa Ixchel. Fresh juice, produce & tortillas a few blocks away in the village, as well as a variety of other stores and small local restaurants. It takes 20-30 minutes to walk downtown.
```````````````````````````````````````````````````````````````````````
Full moon rising over the Caribbean

September 13 6:56
September 14 7:30
September 15 8:04
September 16 8:38
September 17 9:14
September 18 9:51
September 19 10:33
September 20 11:18
Painting by Pamela Haase
Sunset ~7:00-7:05p (start-end/mo)
Sunrise ~6:30-6:36a (start-end/mo)

Provided by MaraVilla Caribe & Isla Mujeres Daily News & Events

Wednesday nights

at 8:45p

, the group "Isla en Bici" bike around the isle, meeting at Juarez & Abasolo. Lights required, helmet recommended.

LINK In September, fishermen in this region are banned from catching Shrimp & Conch LINK The new date for the Women's Fishing Tournament

"El Dorado del Caribe" still hasn't been announced.
By Diane Daniel
Protection of nesting sea turtles continues on the east coasts of the island thru mid-October and the eggs are collected and taken to the incubation pen at the Tortugranja. Releases of the hatchlings are done by personnel with the facility at sunrise or sunset when there is less heat and fewer predators. Three species nest on the island, with the most nests being from Green turtles, second are the Loggerhead, and third are the Hawksbill.
Incubation pen
Nests & tracks at MVC B&B
By Tony Garcia
Whale shark tour season ends in mid-September. September tends to be one of the busier months for storms & hurricanes.
Sunday, Sept. 8-Soccer at 5p at the field in Salina Chica--Club Isla Mujeres vs Noh Bec
Saturday, Sept 14
-8a Boat procession taking the Virgin of Caridad del Cobre to Isla Contoy from the Marine Terminal pier, after the 7a mass and a procession to the dock. About 1200 participants are expected, and about 120 small and medium sized boats.
Independence Day Celebrations:
Sunday, Sept. 15
-Town Square in the evening-celebrations & "Grito" before midnight read by the Mayor and ringing of the bell
Monday, Sept 16
-Parade on the main street usually scheduled to start around 8. It usually goes from South to North from the Naval base, with a reviewing stand in the vicinity of the 7-11.
Monday, Sept. 23-
Equinox-Autumn begins
.
Sources for Weather Information:
LINK to Civil Protection Q Roo weather bulletin (Spanish)
LINK to Mexico National Weather Service (Spanish)
LINK to satellite images for the Mexico National Weather Service
LINK to GOES East Band 16 GIF (animation)
LINK to a private weather station on Isla Mujeres
LINK to NHC