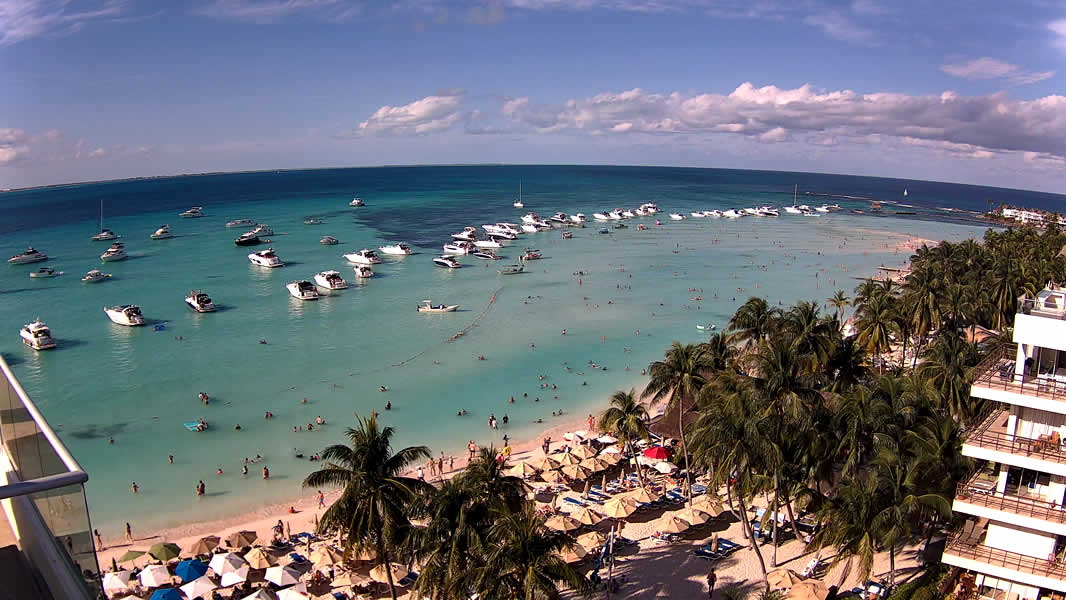 Here's the webcam LINK, which also has time lapse of the past 24 hours.
Join the nearly 10,000 followers of Isla Mujeres News & Events on Facebook for more photos, videos, events & updates
SCROLL DOWN FOR THIS MONTH'S EVENTS SCHEDULE!
~Please visit our sponsors~
~~~~~~~~~~~~~~~~~~~~~~~~~~~~~
Inauguration of the Municipal Boxing School at 5pm tomorrow,
Wednesday, Aug. 7 in colonia Salina Grande, at the Jaula park Dome.
A meeting was held between representatives of the state and local governments, and 'maritime entrepreneurs' concerning the need to work together to clean out the Trash Transfer Facility
.
City campaign to raise awareness about being responsible for your pet
which includes cleaning up their feces.
In the three months that Dr. Layli Osorio Mares has been Director of the Community Hospital, Services have improved and increased, while complaints have decreased about 80 percent
.
LINK
Dr. Osorio said there have been many improvements, and that the number of complaints have decreased considerably is proof of that. She said patients no longer have to wait a long time before receiving care and more than 50 surgeries have been performed successfully in the past three months.
Formerly, patients were having to go to Cancun for these surgeries which were performed at the hospital and included C-sections, appendectomies, and hernia repairs, among others. Telemedicine services have been available, and 15 consultations have been done successfully, which decreases the number of visits to Cancun, because these types of specialists are not available on the island. She admitted that some patients are still being sent to Cancun, but that number has been reduced.
She acknowledged that there still aren't emergency care doctors available 24 hours, and there are still no intensive therapy services. She said that laboratory service has been extended, which was previously only available during the morning shift, but is now available during the later shift also.
(There are various complaints in the comments, saying there is still a lack of doctors and a need to improve service. About two weeks ago, veterinarian Dr. Delfino was in the news because of a broken foot from a vehicle accident & the hospital was unable to provide xrays, in the afternoon, so he did them himself at his animal hospital.)
The Director of the Community Hospital, Leyli Guadalupe Osorio announced that free Psychology services will be available
on Monday thru Friday 8a-4p starting Monday, August 5.
The small tour boats are operating at 80%
in the midst of the summer holiday period.
Via the DIF social service agency, the City is promoting values of inclusion with murals
that have themes such as tolerance, gratitude, love, responsibility, and inclusion, which will last for six months before being replaced with illustrations of new themes. The slogan for the program is ""Píntate de Inclusión" and it is beginning in the "Las Tortugas" park in colonia La Gloria.
The Isla Mujeres Cockteleros have qualified for the final competition,
after beating the Cancun Baseball Boys 7-0. They are waiting to see which team will qualify to compete against them
between the Los Chuchos de Playa del Carmen y Los Ejidatarios de Bonfil.
This is for the Puerto Morelos league, group B. In Group A, the final teams will determined from the winners of the
Aguilas de Cancún vs Rockies de Cancún; and the Los Rockies de Puerto Morelos vs Los Pericos de Bonfil. Then the winners in Group A will compete against the winners in Group B for the overall championship.
From
Por Esto :
Isla Mujeres news briefs
Breves de Isla Mujeres
On Monday, a motorcyclist was injured on the road to Garrafon Park, at colonia Canotal, when a motorist opened their vehicle's door, and injured the motorcyclist's foot. The door was damaged. The paramedics didn't think it was broken, and took him to the hospital for further assessment. The driver went to the police station to determine responsibilities, and the motorcycle was also taken there.
The other brief is about the Cockteleros, see above.
Residents in colonia"Lol-Beh" having intermittent electrical interruptions
A member of the Sosa family said that residents in colonia "Lol-Beh" have experienced power outages during three nights recently, which made it difficult to sleep. She said the interruptions have not been continuous, and was off one day, and normal for two. Another resident went to the CFE, but didn't get an answer, so they plan to talk to the executives. Several residents of block 167 plan to go to the CFE offices together on Tuesday.
Many visitors arriving
Mural painted over at children's park
Members of the associations "Revolution-Art" and "Barracuda Collective", were unhappy that the mural on the wall of the "Las Tortugas" playground was painted over with plain paint and asking why this was done. The mural was paintedon January 28, 2019, with participation by children and young people of Isla Mujeres, with muralists from other states in Mexico. (See Isla Mujeres Al Dia, above)
Finalizing details for the children's Regional Baseball Tournament
The competition begins Thursday, Aug. 8, but no times are given. See events section below.
~~~~~~~~~~~~~~~~~~~~~~~~~~~~~
This blog is brought to you by....
View from the rooms.
MaraVilla Caribe
Bed & Beach
Three rentals with large glass doors overlooking our white sand beach and the beautiful Caribbean sea, with kitchenettes &

fast WIFI.
In the coastal neighborhood of Bachilleres, among upscale villas & boutique hotelitos, convenient to downtown or the colonias, yet separate.

Quiet & Private.
Kitchen in a large studio. (Sur & Norte are identical)



Kitchenette in small room, Medio. There's a table & chairs across from it & a double bed.
A large slider opens from each of the 3 rooms onto the patio where each has a table & chairs, hammock & clotheslines. The BBQ is behind the pole, and the outdoor shower is outa the pic at left.
Large studio (Norte), I'm standing in the kitchen. A queen & single bed.
Free amenities such as hammocks,bikes, BBQ grills, safes, portable beach chairs & beach towels, washer & dryer, loungers.

Breathtaking panoramic views from the rooftop terrace. Large sliding doors open to a patio & our backyard-beach, overlooking the Caribbean sea. Upstairs room also available.

Downtown is ~ a mile away; if you don't feel like walking, flag a $2 taxi. Parking.

You can enjoy the music & crowds downtown, then come home our quiet neighborhood of Bachilleres where you'll

sleep to the sounds of the sea.

.

$275/$325/$425 wk $40/50/$65nt Monthly Discounts


Large studio (Sur) with Queen & Single bed. Slider door & view are behind me.




Fine dining a few steps away at Da Luisa or try the neighborhood eateries a couple blocks farther. Within ten minutes walk are a variety of restaurants including Mango Cafe, Brisas, Manolitos, La Chatita, Green Verde, Kash Kechen Chuc, and the large department store-grocery , Chedraui. Visit marinas, bars, & beach clubs that are minutes away by bike or on foot. Attend Yoga classes a couple villas away at hotelito Casa Ixchel. Fresh juice, produce & tortillas a few blocks away in the village, as well as a variety of other stores and small local restaurants. It takes 20-30 minutes to walk downtown.
```````````````````````````````````````````````````````````````````````
Full moon rising over the Caribbean

August 15 7:42
August 16 8:20
August 17 8:55
August 18 9:29
August 19 10:03
August 20 10:37
Painting by Pamela Haase
Sunset ~7:25-7:05p (start-end/mo)
Sunrise ~6:20-6:30-a (start-end/mo)


Delta Aquarids Meteor Shower

July 12-August 23, peaked in late July

Provided by MaraVilla Caribe & Isla Mujeres Daily News & Events

Wednesday nights

at 8:45p

, the bicycling group "Isla en Bici" invite people to join them for healthy recreation, meeting at Juarez & Abasolo. Lights required, helmet recommended.

LINK In August, fishermen in this region are banned from catching Shrimp & Conch LINK The baseball games

at the El Pescador stadium in front of Chedraui are usually held on Sundays, starting around 1p, when there's a 'home' game.

The new date for the Women's Fishing Tournament

"El Dorado del Caribe" hasn't been announced yet.
Guests assisting Tortugranja worker collect from two nests on July 29th.
Turtle nesting season continues throughout August.
The turtles nest along the eastern beaches in the wee hours of the night and Tortugranja staff and volunteers gather the eggs and incubate them in a pen outside the facility. Three species nest annually in Isla Mujeres; Greens, Loggerheads, and Hawksbills. The sex of the turtles is determined by the temperature of the sand, which is common in reptile
s.
Photo by Tony Garcia Whale sharks are filter-feeders who eat plankton.
Whale shark tour season
continues throughout August, ending in mid-September. The eight-month lobster catching season thru the end of February, and this year's prices are:
whole live- 400 to 450 pesos per kilo and tails- 580 to 600 pesos (~$16us/lb-tails).
Thursday-Sunday August 8-11:
At the children's baseball field "Ariel Picho Magana" Players age 11 & 12 from the states of
Tabasco, Campeche, Yucatan and of course Quintana Roo, including some from Isla Mujeres will compete. There will be two teams from each state. About 100 players and their families are expected.
Monday, August 12
: Perseids Meteor Shower peaks, but the nearly full moon will interfere.
Saturday, August 17: Commemoration of the Founding of the town (of "Dolores") in 1850.
There may be a "Cabalgata" horse procession, but that is more likely at the Patron Saint commemorations and the Revolutionary and/or Independence Day parades.
There are events on the Town Square recognizing the founding families, reading the founding declaration, and folklorico dance troupe performances, as well as live music and dancing.
The Circuito Maya race
will probably be held in August in Isla Mujeres, and is one of a series of four races held annually in four Pueblos Magicos in Q.Roo and Yucatan, named after the four elements. The
race in Isla Mujeres is the "Air" (Iik') and the others are Fire (K'aak'), Earth (Lu'um), and Water (Ha'), for the races held in Tulum, Bacalar, and Valladolid
.
The Lion Fish Culinary Competition
may be held in August. They are an invasive species who eat many young lobster, grouper, and other commercial seafood. They are caught by spearfishing, and are a mild-flavored white fish. Asia Caribe has won awards in this competition ,as well as recognition for featuring them on their menu (when available), and will prepare them a variety of ways.
Sources for Weather Information:
LINK to Civil Protection Q Roo weather bulletin (Spanish)
LINK to Mexico National Weather Service (Spanish)
LINK to satellite images for the Mexico National Weather Service
LINK to GOES East Band 16 GIF (animation)
LINK to a private weather station on Isla Mujeres
LINK to NHC