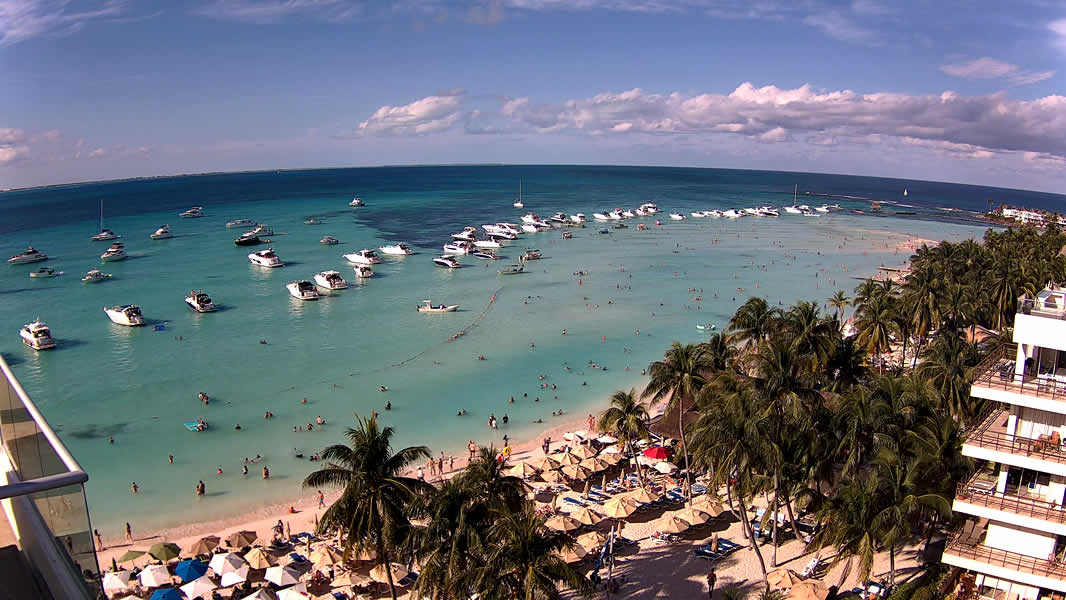 This is the live webcam at North Beach / Playa Norte.
Follow Isla Mujeres News & Events on Facebook for highlights of news & events, and more photos & videos
~~~~~~~~~~~~~~~~~~~~~~~~~~~~~~~~~~~~~~~~~
~~~~~~~~~~~~~~~~~~~~~~~~~~~~~
News from the Municipal Facebook site.....

( FB page link)
The municipality of Isla Mujeres, in coordination with the Commission for Youth and Sports of Quintana Roo (COJUDEQ), showed their support for the promotion of physical activities and sports on the island and in Continental Zone by signing a collaboration agreement for sports promotion and equipment delivery.
The State Government promised to grant the island a boxing ring in the near future.
~~~~~~~~~~~~~~~~~~~~~~~~~~~~~
FB News Sites about Isla Mujeres
Tvisla Mujeres
Future of "Maritima Isla Mujeres" company is uncertain
LINK
VIDEO
It will be decided on April 13 at a meeting.
Due to an economic crisis at the company Maritima, the crossing of the ferry "Isla Blanca" have been suspended.
LINK
Two Mexicans were detained after a fight yesterday with a foreign tourist
LINK
(
The comments have another version of what happened
)
City is repairing potholes
LINK
VIDEO
City participates in launching of the Red Cross donation drive
LINK
City kicks off campaign with 100,000 pesos donation
VIDEO
Nineteen streetlights in colonia "Cañotal" were rehabilitated and 29 were renovated in colonia "Caridad del Cobre".
LINK
Government of Isla Mujeres promotes the inclusion of persons with autism
LINK
Isla Mujeres is ready to participate in the first National Campaign Against Arbovirosis
LINK
The campaign against will take place April 8-12
Arboviruses are generally acute febrile diseases of tropical and subtropical areas. At least 2.5 billion people live in high risk areas, which is why these diseases represent an important Public Health problem, since they cause large epidemics and cause large financial expenses related to diagnosis and treatment.
The slogan for this national campaign against arboviral diseases, is "Holidays without Dengue", and it will occur at the beginning of the Easter holiday period.
This campaign involves the formation of youth groups for the dissemination of the information about arboviruses, their pathology, what is dengue and preventive measures.
The director of the Revenue Collection office in Isla Mujeres said 80% of the businesses with liquor licenses took advantage of the discount program for payment of the permit renewal. LINK
Isla Mujeres Al Dia
1900 vaccines administered on the island and in the Continental Zone during the anti-rabies campaign
The International Day of Artisans was celebrated March 19 and in honor of this the City offered recognition to five local artisans who participate in the Art Fair. An invitation was extended to local artisans to participate in the next Fair and information is available at the offices in the Casa de la Cultura between the hours of 9a and 4p.
The Cit continues repairing street lights (photos and article). In the colonias of Colonia "Salina Grande", "Caridad del Cobre", and the first part of "Cañotal", the City has renovated 63 street lights and they will continue in Sac Bajo where they plan to chage 16 posts. The residents are asked to be patient during about the workers and their machinery, with the work taking place throughout the day at various parts of the island.
The island hosted the 3rd meeting of the municipal groups against Family and Gender Violence of the group "GEAVIG".
Noti Isla Mujeres
Of about 500 businesses with liquor licenses, about 100, or 20% didn't take advantage of the 50% discount which was available from Jan 1 to Feb. 28. Since April 2nd, there are not only responsible for paying 100% of the tax, they are also accumulating a fine.
Isla Mujeres is ready to participate in the Tianguis Turistico Tourism Fair in Acapulco, with two Isla Mujeres Hotel Associations participating
VIDEO
IM Noticias
~~~~~~~~~~~~~~~~~~~~~~~~~~~~~
Link to Por Esto's Isla Mujeres section
Click on Spanish headline for the original article & photos
"Surada" winds from the south for the weekend
Fin de semana con "surada
"
The island hosts the 3rd meeting Against Family and Gender Violence / "GEAVIG"
Expecting everything to be full during the Easter holidays
Municipal government donated 100,000 pesos to the Red Cross
New operation by Federal Police
Isla Mujeres news briefs
Power interruption for more than 24 hours in the commercial zone
Sorry, I don't have time to finish this today

~~~~~~~~~~~~~~~~~~~~~~~~~~~~~
This blog is brought to you by....
View from the rooms.
MaraVilla Caribe
Bed & Beach
Three rentals with large glass doors overlooking our white sand beach and the beautiful Caribbean sea, with kitchenettes &

fast WIFI.
In the coastal neighborhood of Bachilleres, among upscale villas & boutique hotelitos, convenient to downtown or the colonias, yet separate.

Quiet & Private.
Kitchen in a large studio. (Sur & Norte are identical)



Kitchenette in small room, Medio. There's a table & chairs across from it & a double bed.
A large slider opens from each of the 3 rooms onto the patio where each has a table & chairs, hammock & clotheslines. The BBQ is behind the pole, and the outdoor shower is outa the pic at left.
Large studio (Norte), I'm standing in the kitchen. A queen & single bed.
Free amenities such as hammocks,bikes, BBQ grills, safes, portable beach chairs & beach towels, washer & dryer, loungers.

Breathtaking panoramic views from the rooftop terrace. Large sliding doors open to a patio & our backyard-beach, overlooking the Caribbean sea. Upstairs room also available.

Downtown is ~ a mile away; if you don't feel like walking, flag a $2 taxi. Parking.

You can enjoy the music & crowds downtown, then come home our quiet neighborhood of Bachilleres where you'll

sleep to the sounds of the sea.

.

$275/$325/$425 wk $40/50/$65nt Monthly Discounts


Large studio (Sur) with Queen & Single bed. Slider door & view are behind me.




Fine dining a few steps away at Da Luisa or try the neighborhood eateries a couple blocks farther. Within ten minutes walk are a variety of restaurants including Mango Cafe, Brisas, Manolitos, La Chatita, Green Verde, Kash Kechen Chuc, and the large department store-grocery , Chedraui. Visit marinas, bars, & beach clubs that are minutes away by bike or on foot. Attend Yoga classes a couple villas away at hotelito Casa Ixchel. Fresh juice, produce & tortillas a few blocks away in the village, as well as a variety of other stores and small local restaurants. It takes 20-30 minutes to walk downtown.
```````````````````````````````````````````````````````````````````````
Full moon rising over the Caribbean

April 19 7:36
April 20 8:36
April 21 9:36
April 22 10:33
April 23 11:28
Painting by Pamela Haase
Sunset ~7p-7:10
Sunrise ~6:40a-6:15

Provided by MaraVilla Caribe & Isla Mujeres Daily News & Events

On Saturday's

at 8a-11a, Plogging events to clean up the island are held, meetup locations at this LINK . Bring your refillable bottle & they'll supply gloves, water, & bags, Here's the Accion Isla LINK

On Wednesday's

, 11:30a-1p, The Little Yellow School House

is serving tasty lunch specials that change weekly, located on Paseo de Peces in La Gloria, the wide east-west street with Mundaca, Catholic Church & University and the Bead Coop. LYSH provides education & therapy for Isla's special needs kids. More info:

LINK

Wednesday nights

at 8:45p

, a new bicycling group invite people to join them for healthy recreation, meeting at Juarez & Abasolo. Lights required, helmet recommended.

LINK

On Thursday's

3p-8p, Artists Fairs

are held in front of the Casa de la Cultura on the back street Guerrero at the cross street Abasolo, weather permitting.

In April, fishermen in this region are banned from catching Lobster and Octopus in April.

Lobsters kept in captivity continue to be available, along with frozen tails.

LINK At the Maritime Terminals

, security measures will be implemented with metal detectors and a button for passengers to push, with a red light indicating their possessions will be inspected.

~~~~~~~~~~~~~~

Monday, April 1

at 9a

Civic Ceremony on the Town Square
Tuesday, April 2
at 9a-2p, free rabies vaccinations in the La Gloria park. Pets must be at least 3 months old and not pregnant or lactating.
Wednesday, April 3
at 9a-2p free rabies vaccinations at the park in colonia Electristas. Pets must be at least 3 months old and not pregnant or lactating.
Friday, April 5
at 10a, Art Exposition at the Casa de la Cultura by artist Scarlett Mora representing the Mayan culture and the culture of the Zone of Quintana Roo "Tzolkin Ante Mis Ojos" (Tzolkin before my eyes...Tzolkin is the Mayan Calendar of 260 days). Guerrero at Abasolo.
Saturday, April 6
The Red Cross will kick off its annual donation drive, when entrepreneurs and municipal and Naval authorities traditionally contribute, as well as local business owners. Students will be collecting donations and receptacles will be available at businesses. In 2018, the ambulance went out an average of 4.5 times daily. The number of average daily ambulance runs has doubled, compared to 2016. About 200,000 pesos will be needed for the upcoming year.
Sunday, April 7
at 7a there will be a free running competition at the Mundaca Hacienda for kids and an award ceremony at 10a at the El Pescador beach club-water park. With categories for boys and girls, kids who are ages 4-5 will run 200m, 6-7 run 400m, 8-9 run 800m, and 10-12 run 1600 meters.
Saturday, April 13
Easter Vacation period begins until the students return to school on Monday, April 28, when the number of visitors arriving to the island daily is one of the highest year-round, with last year's record being about 27,000.
Sunday, April 14
Palm Sunday There is usually a reenactment
Link to the FB page
of the downtown Catholic Church, Our Lady of the Immaculate Conception
Thursday, April 18
There is usually a reenactment on the Town Square of the Last Supper and the washing of feet.
Friday, April 19
The Viacrusis/Passion of Christ reenactment begins at the Sacred Heart church on Paseo de Peces in La Gloria, goes to the Guadalupe Chapel overlooking the Caribbean in Salina Chica, then downtown to the Town Square in front of Our Lady of Immaculate Conception church.
Sunday, April 21
Easter
Monday, April 22
Earth Day Probably the fourth annual Earth Day clean-up, removing debris from the seabed and beaches, and inventorying it.
Sunday, April 27
Last day of Easter holidays
Wednesday, April 30
Children's Day
Thursday, May 1
Labor Day
Whale shark tour season is from mid-May to mid-September. Turtle nesting season is from May-October.
The Cosme Magana fishing tournament will be May 18 & 19, with over a million pesos in prizes. The women's tournament "La Dorada Del Caribe 2019" will be held June 28 & 29.
Sources for Weather Information:
LINK
to Civil Protection Q Roo weather bulletin (Spanish)
LINK
to Mexico National Weather Service (Spanish)
LINK
to satellite images for the Mexico National Weather Service
LINK
to GOES East Band 16 GIF (animation)
LINK
to a private weather station on Isla Mujeres