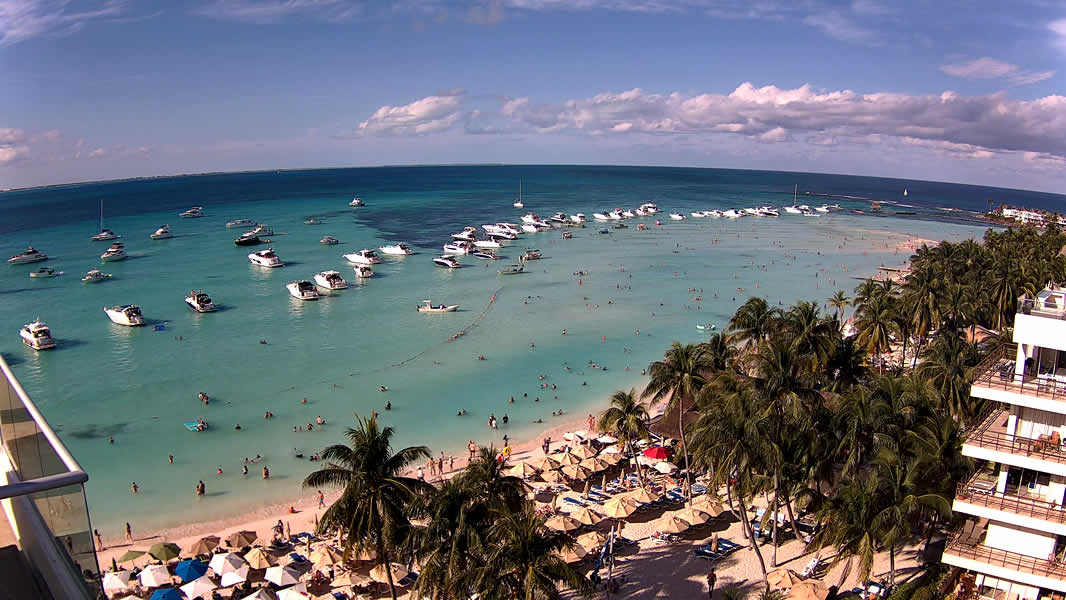 This is the live webcam at North Beach / Playa Norte.
Follow Isla Mujeres News & Events on Facebook for highlights of news & events, and more photos & videos
~~~~~~~~~~~~~~~~~~~~~~~~~~~~~~~~~~~~~~~~~
~~~~~~~~~~~~~~~~~~~~~~~~~~~~~
FB News Sites about Isla Mujeres
Tvisla Mujeres
There is a
video
whose caption says: Isla Mujeres firefighters attend to an emergency downtown from a short circuit.
Isla Mujeres Al Dia
There are photos of voters in line at Julio Saury school in colonia La Gloria
Noti Isla Mujeres
IM Noticias
Islanders can vote at the Special Ballot Box
For the first time in the history of elections in Isla Mujeres, there will be municipal ballots included in the special ballot box that is traditionally installed at the Maritime Terminal of this vacation destination, which previously only had ballots for the federal election, ie, the President, Senators, and Federal Deputies (legislators).
The President Councilor of the Municipal Electoral Council of the island, Manuel García García, said that having ballots for the election of municipal candidates in the special box, destined only for federal ballots, is a provision of the National Electoral Institute (INE), and
that there was no way to avoid it.
He explained that the INE added the municipal ballots in this special box of the maritime terminal of Isla Mujeres, to facilitate islanders exercising their right to vote. This is aimed at residents who leave their homes very early to go to work, or to the doctor, or for some other reason don't have time to go to the voting area that corresponds to them and is close to their home, either on the island or in the Continental Zone. There are a total of 150 municipal ballots available, which may only be used by residents of the island or Continental Zone.
This has also been approved by representatives of the different parties and coalitions.
~~~~~~~~~~~~~~~~~~~~~~~~~~~~~
From por esto Link to their Isla Mujeres articles & photos
Guaranteeing the right to vote
Garantizado el derecho al voto
.. [+]
Ver masFull article at this link
The police chief explained that more of his personnel are being sent to the Continental Zone where he estimates passions could rise, and there will be checkpoints so that the two polling stations don't have any problems before, during, or after the vote. The number of voters in the last election in that area barely exceeded 100.
Security will also be coordinated with the Navy, state police, and officials with the state and national electoral institutes. The eight voting locations on the island are
"Andrés Quintana Roo" primary school, the Town Square;
the "Benito Juárez" middle school, the "César Mendoza Santana" elementary school, the "La Jaula" park in the colonia Salina Grande,"Tláloc" kindergarten;
"Julio Sauri" primary school, and the Red Cross.
Many tourists visiting
Buena afluencia de turismo
. [+]
Ver masFull article at this link
Many tourists were observed arriving on the ferries and other boats, and visiting the beaches, as well as renting golf carts to tour the attractions of the island including Punta Sur, Mundaca hacienda, and the Tortugranja at Sac Bajo. About 80 percent of the golf cart fleet of 830 vehicles was rented and some merchants were complaining that sales could be better.
Hotel occupancy is reported to be over 60%, but some small hotel owners say that percentage seems high compared to their occupancy rates. Ultramar ferries continue to be fuller than their competitors, but the number of locals using these other two companies is increasing.
48 hour 'Dry Law"
Ley seca por 48 horas
+]
Ver masFull article at this link
The 48 hour prohibition on alcohol sales began at midnight on Friday and will end at midnight on Sunday (00:00 Saturday to 00:00 Monday), with the exception of foreigners in tourist areas, such as Isla Mujeres, who may purchase alcoholic beverages with food, in businesses with a food license.
Friday evening, some islanders were purchasing two or more six packs or more than one bottle of liquor "to enjoy at home with their families while watching the World Cup games". Others said while it is customary for them to drink on Sundays with friends, they are aware that they have a civic commitment to vote first.
The prohibition is aimed toward promoting sound judgment to choose the best options to direct the destinies of Isla Mujeres in the upcoming three years and the nation, in the upcoming six years.
Estimates that 70% of eligible voters in Isla Mujeres will cast a ballot on Sunday
Estiman superar el 70% de sufragios en IM
[+]
Ver masFull article at this link
The
president of the District Electoral Council, Manuel García, estimates that 70 percent of the
20,624 registered voters of the island and Continental Zone will cast their vote on Sunday at the 31 ballot boxes installed in the municipality of Isla Mujeres.
Some lobster fishermen are in debt as the season begins
Inician la temporada de langosta con deuda
.. [+]
Ver masFull article at this link
Some lobster fishermen have taken loans from friends or banks, while others have debts at corner stores for food, according to members of the five cooperatives. They are expecting good catches and plan to begin paying off their debts. There are also members of some cooperatives who are over 60 and can no longer work, especially in the case of the Caribe cooperative. Members long for the municipal and state support that they haven't received since 2013.
~~~~~~~~~~~~~~~~~~~~~~~~~~~~~
From

the Municipal Facebook site.....

( FB page link)
In accordance with the electoral laws, the municipal Facebook site has suspended the release of information as of March 29, until after the election on July 1st.

~~~~~~~~~~~~~~~~~~~~~~~~~~~~~
This blog is brought to you by....
View from the rooms.
MaraVilla Caribe
Bed & Beach
Three rentals with large glass doors overlooking our white sand beach and the beautiful Caribbean sea, with kitchenettes &
free WIFI.
In the coastal neighborhood of Bachilleres, among upscale villas & boutique hotelitos, convenient to downtown or the colonias, yet separate.

Quiet & Private.
Kitchen in a large studio. (Sur & Norte are identical)



Kitchenette in small room, Medio. There's a table & chairs across from it & a double bed.
A large slider opens from each of the 3 rooms onto the patio where each has a table & chairs, hammock & clotheslines. The BBQ is behind the pole, and the outdoor shower is outa the pic at left.
Large studio (Norte), I'm standing in the kitchen. A queen & single bed.
Free amenities such as hammocks, BBQ grills, outdoor shower, portable beach chairs & beach towels, washer & dryer, loungers.

Breathtaking panoramic views from the rooftop terrace. Large sliding doors open to a patio & our backyard-beach, overlooking the Caribbean sea. Upstairs room also available.

Downtown is ~ a mile away; if you don't feel like walking, flag a $2 taxi. Parking.

You can enjoy the music & crowds downtown, then come home our quiet neighborhood of Bachilleres where you'll

sleep to the sounds of the sea.

.

$275/$325/$425 wk $40/50/$65nt Monthly Discounts


Large studio (Sur) with Queen & Single bed. Slider door & view are behind me.




Fine dining a few steps away at Da Luisa or try the neighborhood eateries a couple blocks farther. Within ten minutes walk are a variety of restaurants including Mango Cafe, Brisas, Manolitos, La Chatita, Green Verde, Kash Kechen Chuc, and the large department store-grocery , Chedraui. Visit marinas, bars, & beach clubs that are minutes away by bike or on foot. Attend Yoga classes a couple villas away at hotelito Casa Ixchel. Fresh juice, produce & tortillas a few blocks away in the village, as well as a variety of other stores and small local restaurants. It takes 20-30 minutes to walk downtown.
```````````````````````````````````````````````````````````````````````
Full moon rising over the Caribbean
July 1 10:14
July 2 10:53
July 3 11:31
July 27 7:32
July 28 8:14
July 29 8:54
July 30 9:32
July 31 10:09
Painting by Pamela Haase
Sunset ~7:25
Sunrise ~6:05
Provided by MaraVilla Caribe & Isla Mujeres Daily News & Events
It's whale shark tour season (thru mid September) and turtle nesting season (thru mid October). Plogging events are on Saturdays, planning for two in the mornings and two in the afternoons.
LINK
Sunday, July 1 Election Day Polls open 8a-6p Alcohol will only be sold to foreigners with food purchase at businesses with a food license, until the 48 "Dry Law" expires at midnight. Mexico will electsa president for a single six-year term, and 628 members of the national congress, who for the first time in nearly a century can be reelected. Voters are also choosing nine governors, ~1600 mayors, and thousands of state and local lawmakers.
Monday, July 2 Mexico vs Brazil 9a World Cup Islanders can watch at the large screen on Playa Centro provided by the Posada, or at a variety of bars.
Wednesday, July 4 US Independence Day, may be celebrated in some bars
Friday, July 6th at 8pm at the Convention Center. Renatta Dance Studio would like to invite you to our 6th annual end of school year show!
The theme is 'Mexico Without Borders' and the show includes more than 50 dancers and special performers. Join us for this wonderful dance and musical tribute to Mexico! Local island children from 4 years up to their teens will be performing, as well as professional dancers and special performers from the island and Cancun.
Tickets are $50 pesos for adults and $30 for children in advance. And $70 pesos and $50 pesos at the door.
July 20 & 21 Friday & Saturday Barracuda Fishing Tournament
July 20-22 Fri, Sat, Sun. 11th Annual Whale Shark Festival Schedule TBA
Sources for Weather Information:
LINK
to Civil Protection Q Roo weather bulletin (Spanish)
LINK
to Mexico National Weather Service (Spanish)
LINK
to satellite images for the Mexico National Weather Service (Yucatan peninsula is under Satellite GOES Este, I recommend "Animacion")
LINK
to GOES East Band 16 GIF (animation)
LINK
to a private weather station on Isla Mujeres This link is currently not working.
LINK
to Tropic Watch (in English)
LINK
to NHC in US (in English)
LINK
to Tropical Tidbits (in English)