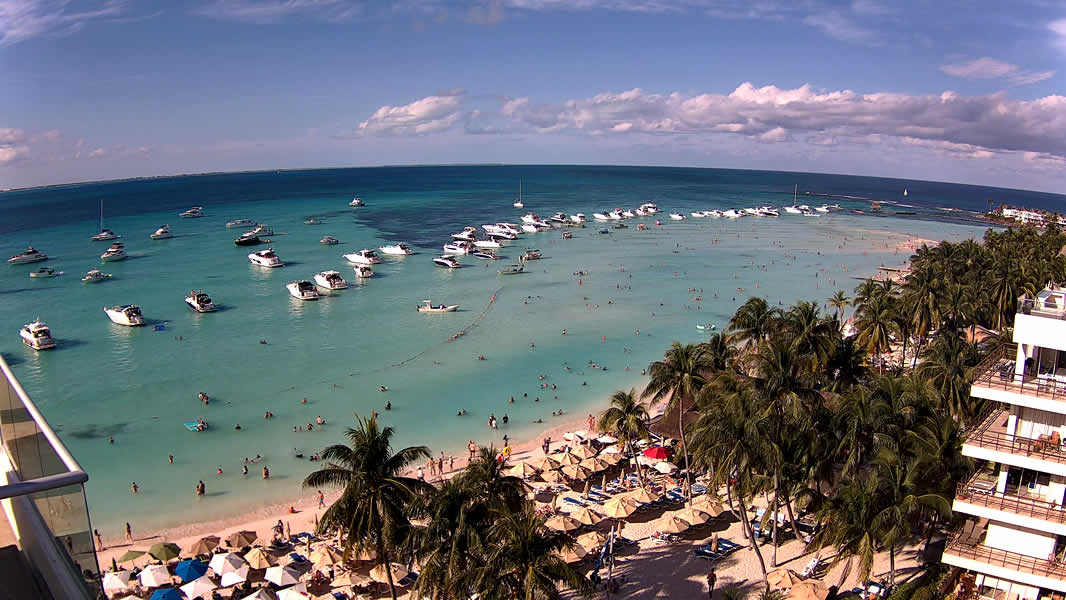 This is the live webcam at North Beach / Playa Norte.
Follow Isla Mujeres News & Events on Facebook for highlights of news & events, and more photos & videos
~~~~~~~~~~~~~~~~~~~~~~~~~~~~~~~~~~~~~~~~~
~~~~~~~~~~~~~~~~~~~~~~~~~~~~~
News from the Municipal Facebook site.....

( FB page link)
~~~~~~~~~~~~~~~~~~~~~~~~~~~~~
FB News Sites about Isla Mujeres
Tvisla Mujeres
Fire at airport paralyzed activities for 40 minutes
At the Cancun airport, operations were halted for 40 minutes in Terminal 3, and tourists were evacuated when a fire broke out briefly, caused by a short circuit in the sign of the Bubba Gump Restaurant. A press release by ASUR ( Aeropuertos del Sureste) said that the fire was controlled within 5 minutes by CREI (Rescue & Fire Extinction Group/ Cuerpo de Rescate y Extinción de Incendio) and that no lives were at risk at any time. Five passengers were treated for nervous stress and who had stumbled during the evacuation. The number of passengers who were evacuated due to the cloud of smoke was not specified. After the fire was extinguished, a thorough cleaning of Terminal 3 was carried out, so that visitors could board their flights to their countries of origin.
LINK
Complaints from whale shark tour providers
It has been a little over a month since the whale shark tour season began, and boat captains agree that the market continues to cheapen, while others make more than 50 percent of the gross income without investing a peso. They said there are currently a large number of whale sharks in the observation area, but the demand for their services has decreased or at least is less than it was in the past.
Some attribute this to the holiday season and the constant threat of hurricanes, while others say there are permit holders who have decided to sell their services very cheaply, even though the intermediaries and agencies take 50 percent of what the tourists pay.
Many of the 240 boats authorized by SEMARNAT (Secretary of the Environment and Natural Resources) are going out without having a full quota. The licensees say those who make the money aren't the boat captains who are offering the service, it is those who are acting as agents and getting the people to fill the boats.
They explained that one portion is taken by the agency and another by the intermediary, and the last one who is paid is the one who actually made the entire investment. One licensee explained, "
The large wholesale agencies may sell the package for more than $250, but when it reaches the owner of the boat, he receives just $50 per person." They acknowledged that it is unfortunate that many have not cared to organize themselves and maintain an official price so that everyone can succeed evenly.
Naval rescue of yacht with five people aboard
The Department of the Navy (SEMAR) provided assistance to a yacht with five crew members aboard that was adrift without power about 35 nautical miles (67 km) northwest of Isla Mujeres.
After the call was received at the SEMAR Command and Control Center that the boat "XTUP" had lost power, the Naval "Defender" boat was dispatched to search for the vessel. After the rescue, Naval medical personnel provided first aid and found the five crew members were in good health, and the boat was towed to safe harbor in Isla Mujeres.
With these actions, the Department of the Navy of Mexico, as the National Maritime Authority, reiterates its commitment to the citizenry to safeguard human lives at sea. (
The other news sites also carried this story
.)
There is
video
from El Pescador water park.
A male body was found along the Caribbean coast below the cliffs in front of Isla 33, with no signs of life, whose identity was unknown at that time
, when they were awaiting the arrival of the Red Cross and the officials to come and identify and remove the body. There are curious onlookers.
VIDEO
Video and Video from the Election agency of Juan Carrillo receiving the notification of winning the election for Mayor.
Isla Mujeres Al Dia
The lifeless body of a person was found below the cliffs in front of Isla 33 condos. Experts and ministerial agents as well as the municipal police are on the scene. So far the identity of the deceased person is unknown. (photos)
EDIT>>>This graphic is incorrect. The ban in this region is Dec. 16-July 31.
It says to
respect the ban when octopuses are reproducing and don't catch them, don't buy them, and don't eat them from August 1 to November 30. THIS IS INCORRECT> The ban on octopus in this region ENDS on August 1st. It is Dec. 16-July 31. LINK
Sunset photos
Photos from the procedures with representatives of the IEQROO (
Municipal Council of the Electoral Institute of Quintana Roo) officially recognizing the reelection of Juan Carrillo Soberanis who will serve as Mayor for a second term of three years, and VIDEO of the procession to celebrate.
Noti Isla Mujeres
Video
of
lifeless body, covered with a sheet, below cliffs along Caribbean coast in front of Isla 33
condos with caption noting it is a male who appears to be less than 30 years of age and the reporter says that officials are investigating.
Video
IM Noticias
~~~~~~~~~~~~~~~~~~~~~~~~~~~~~
From por esto Link to their Isla Mujeres articles & photos
Rescue of a yacht that was adrift
Rescatan yate a la deriva
[+]
Ver masFull article at this link
Lifeless body removed from below cliffs by Isla 33 condos
Rescatan cadáver en el acantilado de La Gloria
. [+]
Ver masFull article at this link
July 8 Yesterday afternoon the lifeless body of a young man of about 25 years of age was removed from below the cliffs along the Caribbean coast, in the area of colonia Amplification La Gloria. His identity and the cause of death are unknown at this time.
Shortly before 3p, authorities were notified of the discovery of the body of a young man, full of sand, who could be one of those dedicated to drinking in a daily manner, according to the preliminary indications, since this area of the cliffs is known as the "zona de muerte de alcohólicos". The holes/caves in the cliffs serve as temporary shelters for indigents, and along this 500 meter stretch of coast, four homeless people have died within three years. One of the deaths occurred when one of them slipped and fell on the rocks, but that does not seem to have happened in this case.
Officials reported that the deceased is dark skinned and Mexican. The cause of death will be known following an autopsy, and his identity should also be known during the course of tonight or tomorrow, according to ministerial agents.
Tropical wave #13 didn't affect tourist activities
Onda tropical no afectó la actividad turística
+]
Ver masFull article at this link
July 8 Tropical wave #13 didn't interrupt tourism activities this weekend, except an occasional drizzle, and officials are monitoring the advance of the next tropical wave that could affect the coast of Quintana Roo in two days, s well as the advance of Tropical Storm Beryl. (
There are several paragraphs about Beryl, which continued to deteriorate, and was downgraded to 'Remnants of Beryl" by NHC on Sunday evening
.) The Naval forecast is for a stable climate on Tuesday and throughout the week, except for possible effects from Beryl, depending on its route.
~~~~~~~~~~~~~~~~~~~~~~~~~~~~~
From Accion Isla & Kai Creamer:
Thank you so much to all of our volunteers who came out so very early this Saturday to Plogg the beaches of Isla Contoy.
Isla Contoy is a National Park located 25km North of Isla Mujeres. The island is mainly uninhabited, the only permanent residents are the Lighthouse keepers Gerardo and Arturo who were gracious enough to show us around. Four Navy personnel and three biologist also rotate through shifts on the island to protect it true residents, and incredible array of flora and fauna.
We were granted special permission to access the north side of the island by the National Park Service CONANP and the Navy SEMAR, who do an incredible job of maintaining this slice of paradise.
Despite being far from the sprawling mass of human encroachment on the land, the island has not dodged the bullet that is plastic pollution and ocean contamination.
We took on a gruelling job, covering 2km of beach and rocky coastline to remove almost 250kgs of mainly plastic waste. Toothbrushes, deodorant bottles and disposable lighters a plenty, and more plastic bottles and bottle tops than we could count. It was hard work in the hot sun, but was well worth it as we hauled almost 50kgs of ghost nets off the beach and away from the animals and ocean environment it threatens.
Our prize of cooling of in the crystal clear waters and observing the beautiful nature all around us was well earned and the delicious burritos from
Beachin' Burritos
, and fresh fruit which restored our strength was very well deserved.
We we thrilled to be invited by
Saving Our Sharks
and are grateful for the opportunity to make a difference and to do so in such a beautiful setting and with such great people!
Special thank you to Patria y Progreso Fishing Coop and the fishermen and captain's who ferried us, and the trash, to and from Isla Contoy. We could not have done it without them.
We we're so happy to see how many people were excited about partaking in this activity, and though we sadly could not take everyone, we are happy to announce there will be more opportunities in the future as this will not be our last cleanup on Isla Contoy.
Please 'like'
Acción Isla
to stay abreast of future projects and cleanups. And please remember to reduce your plastic waste production by
#
DitchingDisposable
and always
#
RefuseToUse
Single Use Plastics.
~~~~~~~~~~~~~~~~~~~~~~~~~~~~~
This blog is brought to you by....
View from the rooms.
MaraVilla Caribe
Bed & Beach
Three rentals with large glass doors overlooking our white sand beach and the beautiful Caribbean sea, with kitchenettes &
free WIFI.
In the coastal neighborhood of Bachilleres, among upscale villas & boutique hotelitos, convenient to downtown or the colonias, yet separate.

Quiet & Private.
Kitchen in a large studio. (Sur & Norte are identical)



Kitchenette in small room, Medio. There's a table & chairs across from it & a double bed.
A large slider opens from each of the 3 rooms onto the patio where each has a table & chairs, hammock & clotheslines. The BBQ is behind the pole, and the outdoor shower is outa the pic at left.
Large studio (Norte), I'm standing in the kitchen. A queen & single bed.
Free amenities such as hammocks, BBQ grills, outdoor shower, portable beach chairs & beach towels, washer & dryer, loungers.

Breathtaking panoramic views from the rooftop terrace. Large sliding doors open to a patio & our backyard-beach, overlooking the Caribbean sea. Upstairs room also available.

Downtown is ~ a mile away; if you don't feel like walking, flag a $2 taxi. Parking.

You can enjoy the music & crowds downtown, then come home our quiet neighborhood of Bachilleres where you'll

sleep to the sounds of the sea.

.

$275/$325/$425 wk $40/50/$65nt Monthly Discounts


Large studio (Sur) with Queen & Single bed. Slider door & view are behind me.




Fine dining a few steps away at Da Luisa or try the neighborhood eateries a couple blocks farther. Within ten minutes walk are a variety of restaurants including Mango Cafe, Brisas, Manolitos, La Chatita, Green Verde, Kash Kechen Chuc, and the large department store-grocery , Chedraui. Visit marinas, bars, & beach clubs that are minutes away by bike or on foot. Attend Yoga classes a couple villas away at hotelito Casa Ixchel. Fresh juice, produce & tortillas a few blocks away in the village, as well as a variety of other stores and small local restaurants. It takes 20-30 minutes to walk downtown.
```````````````````````````````````````````````````````````````````````
Full moon rising over the Caribbean
July 1 10:14
July 2 10:53
July 3 11:31
July 27 7:32
July 28 8:14
July 29 8:54
July 30 9:32
July 31 10:09
Painting by Pamela Haase
Sunset ~7:25
Sunrise ~6:05
Provided by MaraVilla Caribe & Isla Mujeres Daily News & Events
It's whale shark tour season (thru mid September) and turtle nesting season (thru mid October).
Sunday, July 1 Election Day Polls open 7a-6p Alcohol will only be sold to foreigners with food purchase at businesses with a food license, until the 48 "Dry Law" expires at midnight. Mexico will electsa president for a single six-year term, and 628 members of the national congress, who for the first time in nearly a century can be reelected. Voters are also choosing nine governors, ~1600 mayors, and thousands of state and local lawmakers.
Monday, July 2 Mexico vs Brazil 9a World Cup Islanders can watch at the large screen on Playa Centro provided by the Posada, or at a variety of bars.
Wednesday, July 4 US Independence Day, may be celebrated in some bars
Friday, July 6th at 8pm at the Convention Center. Renatta Dance Studio would like to invite you to our 6th annual end of school year show!
The theme is 'Mexico Without Borders' and the show includes more than 50 dancers and special performers. Join us for this wonderful dance and musical tribute to Mexico! Local island children from 4 years up to their teens will be performing, as well as professional dancers and special performers from the island and Cancun.
Tickets are $50 pesos for adults and $30 for children in advance. And $70 pesos and $50 pesos at the door.
July 20 & 21 Friday & Saturday Barracuda Fishing Tournament
July 20-22 Fri, Sat, Sun. 11th Annual Whale Shark Festival Schedule TBA
Sources for Weather Information:
LINK
to Civil Protection Q Roo weather bulletin (Spanish)
LINK
to Mexico National Weather Service (Spanish)
LINK
to satellite images for the Mexico National Weather Service (Yucatan peninsula is under Satellite GOES Este, I recommend "Animacion")
LINK
to GOES East Band 16 GIF (animation)
LINK
to a private weather station on Isla Mujeres
LINK
to Tropic Watch (in English)
LINK
to NHC in US (in English)
LINK
to Tropical Tidbits (in English)