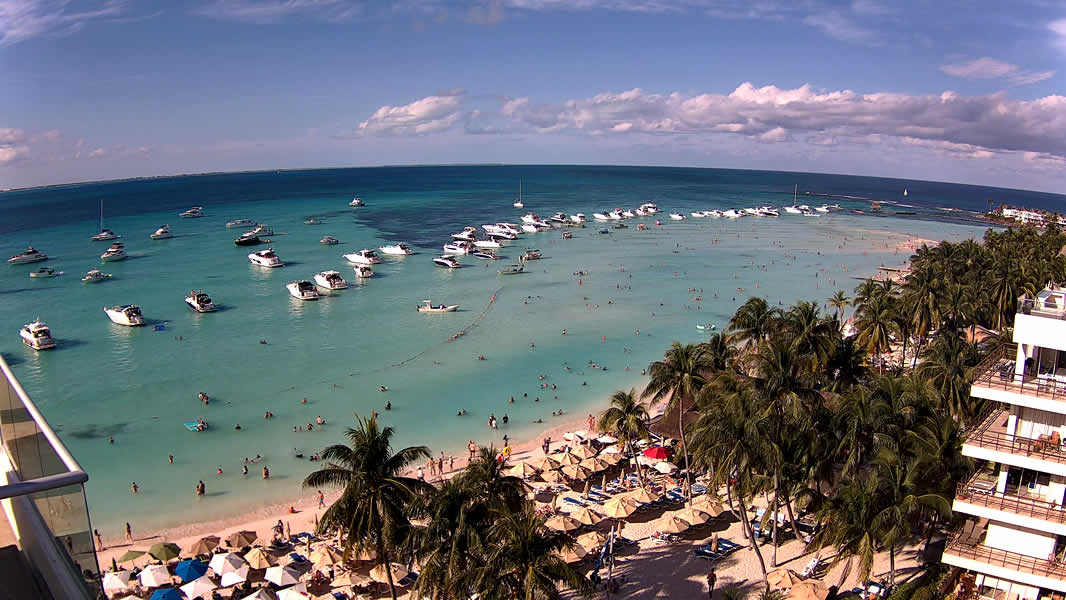 This is the live webcam at North Beach / Playa Norte. HERE is a timelapse version, that you can set to slow or fast (fps-frames per second). It takes a few seconds to load.
Working for security
Mayor Juan Carrillo: Keeping his promises
Leer más..Full article at this link.
The Mayor, Juan Carrillo Soberanis, has worked during his first 100 days in office to make the streets more secure with improved public lighting, and he has begun to improve police training and equipment. During the first hundred days efforts were initiated to modernize the police vehicle fleet with two new patrol vehicles and three motorcycles, as well as computer equipment, weapons, and radio communication equipment, using resources from the Federal FORTASEG program. Officers will also receive more training to gain skills to do their job more effectively.
The City instituted a "Zero Alcohol" breathalyzer program which reduced the number of accidents by 60 percent, and has contributed to an increased awareness about the risk of driving under the influence of alcohol. Police were increased, including the ongoing patrol and surveillance operations to ensure the security of the citizenry.
During the holiday season, the three levels of government worked together, including the emergency services, to ensure the vacation period ended in a '
saldo blanco
' (no incidents), protecting the lives of tourists and residents.
This administration has finished renovating more than three kilometers of public lighting along the eastern coastal highway, as well as repairing lights at various parks including Las Gaviotas, Las Hormiguitas, Las Fragatas, and along the walkways in Salina Grande and near Isla 33, and at the soccer fields and sports domes. Lighting has also been improved in the Continental Zone of the municipality, on the mainland.
Intense work by CFE to restore power after blackout
Leer más..Full article at this link.
After working intensely, the CFE (Federal Electrical Commission) reported that service was 99 percent restored to the island. In a statement, they said that they mobilized more than 100 workers, seven emergency 'plants' (generators), and 30 vehicles.
They said the interruption in electrical service was due to a failure of one of the underground cables at the Bonampak substation, located in Cancun. The failure affected ~6550 customers (
and their families and guests
) on the island.
Contact information to notify the CFE of failures is given as the free national phone number 071 and on Twitter @CFE_Peninsular y @CFEmx .
~~~~~~~~~~~~~~~~~~~~~~~~~~~~~
From

the Municipal Facebook site.....

( FB page link)
Municipal government remains vigilant while electricity is being re-established
For the second consecutive day, there were problems with the electricity supply, and meanwhile staff with the City agencies, in particular the officers of Public Safety and Civil Defense, continue to work to ensure the tranquility of island families until this vital service is restored.
The Municipal President, Juan Carrillo Soberanis, has instructed the various agencies that make up the city of Isla Mujeres, to assist the residents and let them know that they have the support of their authorities, who in turn are in direct communication with the representatives of the CFE (Federal Electricity Commission), in order to see that efforts are accelerated to restore electrical service as soon as possible.
The Mayor emphasized that for this administration it is important that islanders can count on their basic services and necessities, such as electricity, which is why he is staying in communication with the superintendent for the Cancun area of the CFE, Capi Madera Gil, to know the details of the work being done and to see that it is completed in the shortest possible time.
Juan Carrillo Soberanis, reiterated that he is very aware of this situation and is working in coordination with the relevant agencies, seeking to restore electrical service, and in the meantime the officers of Public Safety and Traffic will be patrolling the colonias to ensure the welfare of Isla families.
(
Around dusk, it went out again for a couple hours. The Super Xpress and Chedraui apparently have generators & were open. The former was out of candles, and Chedraui was rationing them at one to a customer. People were being polite & friendly & the store was very busy. The franchise convenience stores like Oxxo, Willy's, & 7-11 were closed and the minisupers were open
.)
We have been working for 100 days to transform Isla Mujeres.
Llevamos cien días trabajando para transformar
#
IslaMujeres
#
100DíasHaciendoFuturo
There are four photos that make one poster
(
I can't get them to be side by side
), saying
100 Days, Making our Future. A Secure Isla Mujeres, A Clean Isla Mujeres, that is well governed, with a high quality of life and a healthy economy.
There are photos of a clean up at the high school on the mainland part of the municipality.
In these 100 days our work has achieved good results, we will continue transforming Isla Mujeres with dedication and effort.
En estos 100 días nuestro trabajo ha logrado buenos resultados, con dedicación y esfuerzo seguiremos transformando a
#
IslaMujeres
There is a repost at midnight yesterday from the Mayor's page with assurances that there was a security operation in place to ensure the safety and confidence of the population during the black out
.
~~~~~~~~~~~~~~~~~~~~~~~~~~~~~
From
Tvisla Mujeres

( link to photos & articles

)
From around 6p yesterday...
Another electrical failure in Isla Mujeres. The CFE made assurances that it won't be long until it is reestablished
.
Una falla eléctrica deja sin electricidad nuevamente a Isla Mujeres; CFE asegura que esta vez no demorará mucho su restablecimiento
.
~~~~~~~~~~~~~~~~~~~~~~~~~~~~~
From por esto Link to their Isla Mujeres articles & photos
This blog is brought to you by....
View from the rooms.
MaraVilla Caribe
Bed & Beach
Three rentals with large glass doors overlooking our white sand beach and the beautiful Caribbean sea, with kitchenettes &
free WIFI.
In the coastal neighborhood of Bachilleres, among upscale villas & boutique hotelitos, convenient to downtown or the colonias, yet separate.

Quiet & Private.
Kitchen in a large studio. (Sur & Norte are identical)



Kitchenette in small room, Medio. There's a table & chairs across from it & a double bed.
A large slider opens from each of the 3 rooms onto the patio where each has a table & chairs, hammock & clotheslines. The BBQ is behind the pole, and the outdoor shower is outa the pic at left.
Large studio (Norte), I'm standing in the kitchen. A queen & single bed.
Free amenities such as hammocks, bikes, outdoor shower, portable beach chairs & beach towels, washer, loungers.

Breathtaking panoramic views from the rooftop terrace. Upstairs room also available.

Downtown is ~ a mile away; if you don't feel like walking or biking, flag a $2 taxi. Parking.

You can enjoy the music & crowds downtown, then come home our quiet neighborhood of Bachilleres where you'll

sleep to the sounds of the sea.

.

$275/$325/$425 wk $40/50/$65nt Monthly Discounts


Large studio (Sur) with Queen & Single bed. Slider door & view are behind me.




Fine dining a few steps away at Da Luisa or try the traditional neighborhood eateries a couple blocks farther. Within ten minutes walk are the restaurants Mango Cafe, Bahama Mama, Brisas, Manolitos, Green Verde, Kash Kechen Chuc, and the large department store-grocery Chedraui. Visit marinas, bars, & beach clubs that are minutes away by bike or on foot. Attend Yoga classes a couple villas away at hotelito Casa Ixchel. Fresh juice, produce & tortillas a few blocks away in the village, as well as a variety of other stores and small local restaurants. It takes 20-30 minutes to walk downtown.
```````````````````````````````````````````````````````````````````````
January

E

vents
Provided by MaraVilla Caribe & Isla Mujeres Daily News & Event
s
Jan. 1 Sunday New Year's Day
Jan. 5 Thursday 4-9 Artist Fair Casa de la Cultura Art, Food, Craft Beer, Music
Jan. 6 Friday Three King's Day Children receive presents & the holiday season ends
Jan. 12 6:55 Full Moon
Jan. 13 7:56
Jan. 14 8:55
Jan. 15 9:51
Jan. 16 10:44
Jan. 17 11:36
Yoga at the Casa Cultura on Monday & Wednesday mornings at 9am and Tuesday & Thursday evenings at 6pm. On the back street, Guerrero, at Abasolo.
Jan. 15 Sunday 8p Town Square Noches Magicas performance
Jan. 19 Thursday 4-9 Artist Fair Casa de la Cultura Art, Food, Craft Beer, Music
Jan. 22 Sunday 8p Town Square Noches Magicas performance
Jan. 26 Thursday 4-9 Artist Fair Casa de la Cultura Art, Food, Craft Beer, Music
Jan. 29 Sunday 8p Town Square Noches Magicas performance
~~~~~~~~~~~~~~~~~~~~~~
The Artist's Fairs are scheduled weekly on Thursdays at the Casa de Cultura, 4-9 thru April 20.