Stolen Boat Still In Isla Mujeres
Por Esto reports a boat stolen from Miami is being held by authorities in Isla Mujeres, and complains they are not giving interviews or information about it. PE says the name of the boat is "Tic Tac".
This is probably the same stolen boat I wrote about on Nov. 24:
Enfoque Radio reports an American boat stolen on November 14 in Miami was found a week later in dry dock at Villa Vera marina in Isla Mujeres. A representative from Nautilus Investigations reported the Sea Ray Sedán Bridge, a 55 foot boat, had been located here.
Hotel Occupancy Improving Slowly
Por Esto reports hotel occupancy is at 54% and showing slow improvement since Tropical Storm Rina with expectations that it will continue to increase as cold weather arrives in the north and tourists seek the pleasant climate of Isla Mujeres. PE says Thanksgiving holiday did not cause a large increase, but the payment of December bonuses and arrival of the holidays are expected to improved tourism and the local economy.
PE's Religion & Politics
Por Esto recounted the priest's sermon and mentioned Advent has begun.
The fourth article in Por Esto is about their favorite political party, PRI, which had more elections.
Ferry Statistics
Diario QRoo interviewed a representative of the state port authority (API)in Benito Juarez, Ricardo Ancona Argáez., who believes that promotional efforts by the state government have been successful. He said they expect ~130,000 passengers to be transported to Isla Mujeres monthly on the ferries. He said in October they moved 83,857 passengers which is five percent less than last year, but he notes the port was closed for three days for Tropical Storm Rina, adding they were transporting about 3000 passengers daily on the ferries which are Magana, UltraMar, and the ferry from Punta Sam.
(There are many other boats transporting tourists to Isla Mujeres, as well as many non tourists riding the ferries.)
Increased Competition With Slow Tourism
Diario QRoo reports that tourism providers are feeling the effects of the season resulting in more competition among providers of services. A representative of the tourism coop Isla Blanca told DQR that sales plummeted with TS Rina, reducing boat tours by 80%, and sales have not recovered despite the improved weather. He said despite many men not offering tours because they need to feed their families, there is still intense competition among providers for the few tourists seeking services. It says they are pleased about the webcam on North Beach transmitting photos 24 hours a day, adding that millions of pesos are spent promoting Isla Mujeres, but not to the satisfaction of everyone.
Mayor Talks Trash
The mayor of Isla Mujeres visited the waste processing plant in Tlaxcala, with the mayors of Benito Juarez and other municipalities, which Diario QRoo reports, "Left a good taste in his mouth", meaning that it made a good impression. The municipalites of BJ and IM are planning a waste management plant on the mainland to serve both communities. The reports says the municipality of Isla Mujeres generates 35 tons of solid waste daily and that demand on the mainland area of Isla Mujeres is growing rapidly. Mayor Hugo Sanchez says the project expects 24,000 hotel rooms in five years where there are now 2000. He added that the population of the municipality in general is currently ~22,000 inhabitants, although the census only reported ~16,300, adding that there is also the "floating" population to consider.
(I was tempted to substitute a picture of the landfill, since these talking head pictures get redundant, but the eagle wing made his haircut interesting in this photo.)
TV IslaMujeres & the municipal website have been overly quiet lately.
I found a little news from other sources online:
Mural Honoring Shipwrights of Isla Mujeres
SIPSE reports a mural is being painted on the steps of city hall to commemorate the carpenters who built the wooden ships of Isla Mujeres, featuring different aspects of the town including the wooden Victorian-style houses, the Mayan culture, and the turquoise sea. The work is being donated by artists Dhante Alexandro Loyola Hernández and Christian Carrasco Rangel who have consulted with local historian Fidel Villanueva, who supplied photos and information.
Making a Better First Impression
La Verdad de QRoo reports the Ministry of Transport and Infrastructure (SINTRA) is investing 40 million pesos to improve the image of Puerto Juarez,

the doorway to Isla Mujeres,

which he says is the 'most Caribbean' port. Improvements include repaving the access, finishing the sidewalks, handicapped access, bicycle path (ciclopista), new fittings, and benches.
Most Photographed Boat In Isla Mujeres
There have been a number of photos online of this boat ("Desesperado")in Isla Mujeres for the past month, which piqued my curiosity. Today I found his
blog here
(in English, outa NY & UK). I linked to the entry where he arrives in Isla Mujeres, sailing from Holbox. (He immediately takes a side trip to Guatemala, leaving his boat behind. He does not write about that, except to say he got conned for 'a lot of money' and returned to Isla Mujeres, feeling stranded and depressed.) Work your way
up
the list to read them in order; in his most recent entry he is departing. Photo taken by Eric Shott. The author notes this version of the photo is distorted, saying that he is not that wide and the boat is not that long. The log is serving as an outrigger for stability because he says it is not as calm as the picture appears. His departure was thwarted by windy weather. He experienced TS Rina in Isla Mujeres. His name is Christobal, tho at Barlito he was also affectionately known as "the biscuit man". He does not explain, yet, why he is sailing a canoe down the coast, saying he is still figuring that out.
This is time lapse footage from Nov. 16, 2011 showing the arrival of a storm over Cancun and compresses 20 hours into about a minute. Posted by by webcamsdemexico on
Oct 16, 2011. It is not Rina who visited on October 27, but is a bout of strong winds that closed our port to small boats. Watch the clouds, rather than waves.
Playa Norte In Real Time Today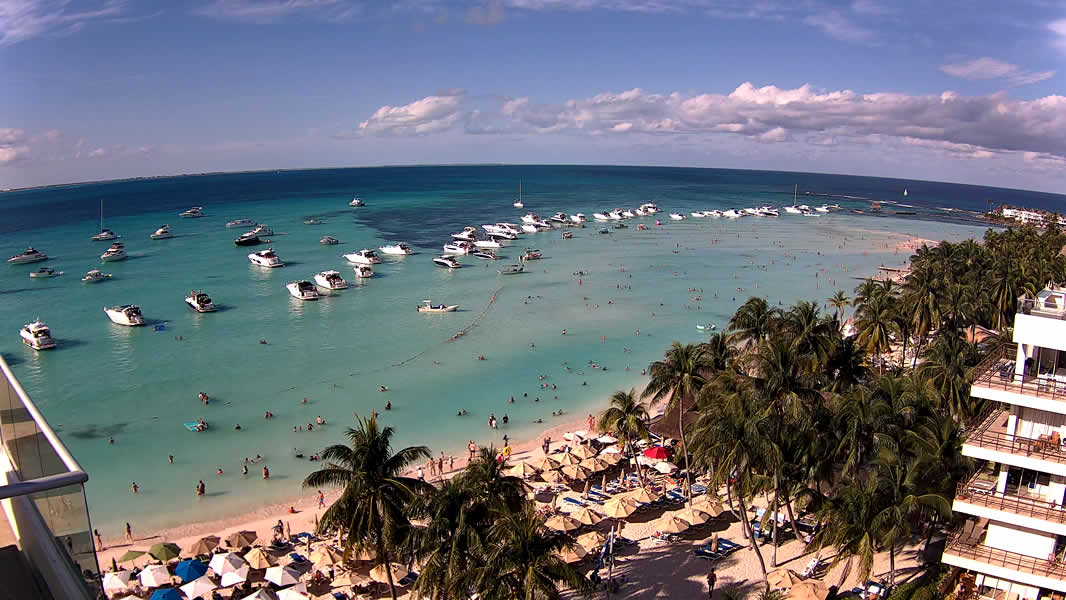 This is the current view from the Playa Norte webcam. The photo changes every twenty seconds, and shows the photo on display when you loaded this page. To see a newer photo, refresh the page. It changes more dramatically around sunrise and sunset.
This blog is brought to you by...

.
MaraVilla Caribe

Bed & Beach





$325-425/wk Dec-April


Free:

WiFi, Bikes, Washer/Dryer, Portable Beach Chairs, Beach Towels, A/C, BBQ, Hammocks, Pure Water, Loungers,
Where all rooms have a sea view, kitchenette, & private bathroom.

From the rooftop terrace you can watch




sunrises, moon rises, & sunsets from the 360 degree panorama



You can enjoy the noisy Celebrations of

New Year's Eve

downtown, and enjoy our quiet neighborhood where you can sleep to the sounds of the sea. One

room still available!

Food In Isla Mujeres



Talking Turkey In Isla Mujeres
When we ate roasted turkey for the first time in Isla Mujeres, it was with local friends celebrating the New Year. We were surprised to find they

stuffed it with ground meat,

which turns out to be customary on the island. Isla families eat turkey on Christmas and New Year's Eve.

To roast a turkey Isla Mujeres style, first you marinade it overnight in a pot using juice from both....read more here.
MaraVilla Caribe Photos
By Sr. WentCoastal
Sunset from the rooftop terrace of MVC B&B.
Playa Norte/ North Beach In Isla Mujeres
Iguana "guarding" a dangerous path at Punta Sur, where there is now a stone fence.
Church of the Immaculate Conception on the town square before the antenna tower was constructed behind it.